Special feature: Kobelco SK210LC-10 excavator
---
Auckland-based earthmoving company Dirtworks recently started using Kobelco excavators. Deals on Wheels went along to find out more.
This changed from the mid-1980s when import restrictions were progressively removed and machinery started flowing in, primarily from Japan.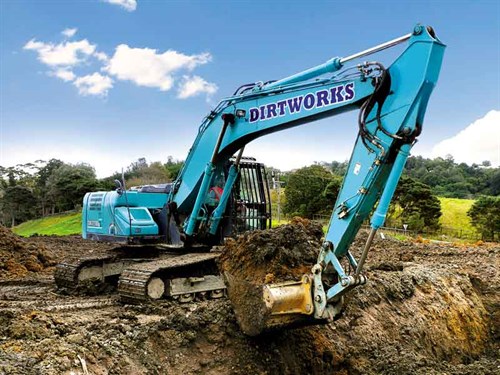 From then on out, it became easier for owners to keep their fleets to one singular brand of preference, and this is the position that Auckland-based business Dirtworks found themselves in: one brand, one company to deal with and one less thing to think about when ordering parts or when service time came around.
Switching to Kobelco excavators
However, in mid-2017, following a Kobelco SK210LC-10 excavator demonstration at Auckland Airport, Dirtworks moved from a singular brand of excavator. Long story short, they liked what they saw and a deal was struck soon after for two 22-tonne machines.
Intended initially as a bit of a foray into the unknown, the contracting business had received good reports from other businesses about the Kobelco brand, and once Dirtworks operators got behind the controls, they liked what was on offer.
Carrying out bulk work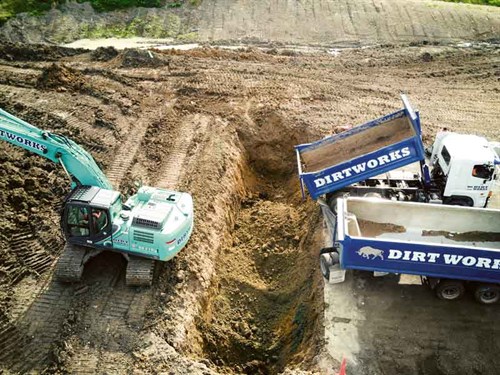 With a staff of 40, the company runs 16 truck and trailer units, along with excavators and other ancillary equipment across the Auckland region, primarily working on bulk excavations and developmental work, such as cuts, removal of surplus spoil, and other earthmoving-related work.
Alongside this, the business also owns and manages a number of cleanfill sites at selected locations, primarily in the north and western areas of Auckland. The largest site to date is their Waimauku cleanfill situated some 35km north-west of Auckland central.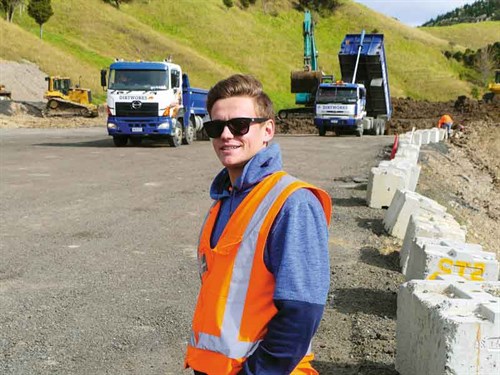 With a capacity of around one million cubic metres, the Dirtworks Waimauku cleanfill site has been constructed to the latest environmental standards, utilising technology and efficient work methods to eventually create a finished landscape that will turn steep, difficult-to-manage land into useable pasture. Dirtworks project manager Josiah Steiner elaborates further:
"We opened our new cleanfill site at Waimauku in late November 2017, and it became apparent we'd need to up our capability to ensure the equipment could keep up with the incoming vehicles. It turns out, the Kobelcos suited our type of work."
Reading between the lines here, it appears Josiah is referring to power—pure, raw, pulling dirt out of a hole fast power.
Kobelco SK210LC-10 features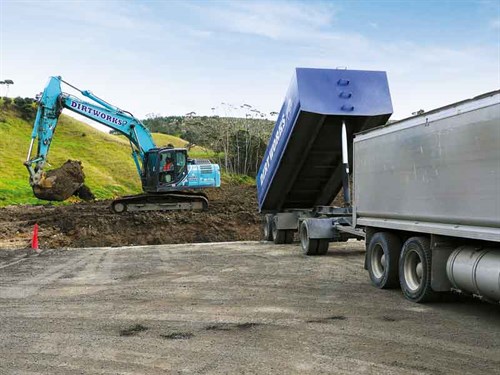 Josiah says their decision to move across to Kobelco equipment was also influenced by fuel burn. "Our two Kobelcos are delivering good fuel economy despite our operators telling us they are moving material at a faster rate than previously," he says. 
Operator experience is also positive about the Kobelcos. "Once we got up to speed on this new cleanfill, our old machines were like meh and meh," Dirtworks operator Lance Betterton says. "They found it difficult to handle the pace, and slewing with a full bucket out of the hole wasn't a good experience." Lance says that as soon as he climbed aboard
the Kobelco the first time, it was a whole other experience.
"I've been on many machines and did like a couple of other brands before climbing onto these, but I have to admit that Kobelcos are probably one of the best I've been on. Pulling a full bucket out of the hole and throwing back for the bulldozer is no problem at all," he says.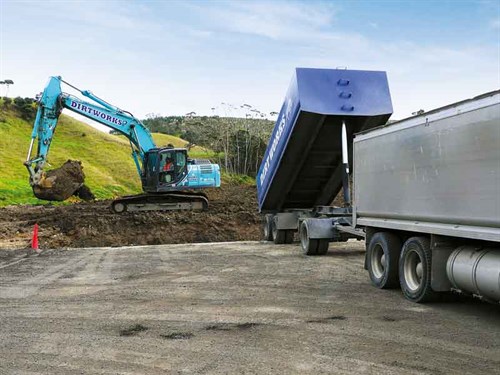 Lance is also at a loss when questioned about things he doesn't like about the Kobelco. "These machines suit our purpose well. They are powerful and are nice to be in all day. If I do think of anything, I'll let you know."
Josiah agrees with Lance's sentiments. "It was a big step across to a new brand, but we can't go past the results the Kobelcos are providing.
"The operators speak highly of them, and we take their feedback seriously. People want to work for us because we provide good equipment to ensure they can do their jobs well. The Kobelcos have helped us transition well and will be a big asset coming into winter."
Kobelco SK210LC-10 specifications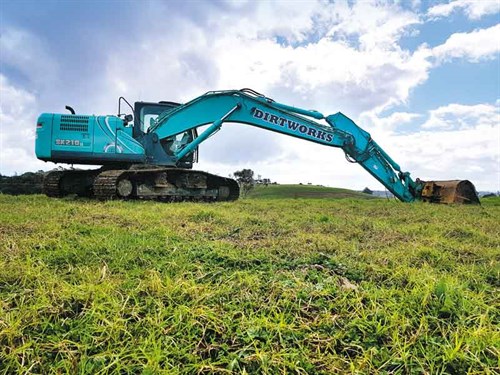 Operating weight (standard)
21,100kg
Engine
Hino J05ETA-KSSE
Power
118kW (158hp) @ 2000rpm
Max torque
592Nm @ 1600rpm
Pumps
2 x variable displacement + 1 x gear
Max flow

2 x 220L/min
1 x 20L/min
1 x 44L/min (optional gear pump)

Max reach at ground level
9900mm
Max digging depth
6700mm
Max dump height
6910mm
Video: 
Kobelco SK210LC-10 excavator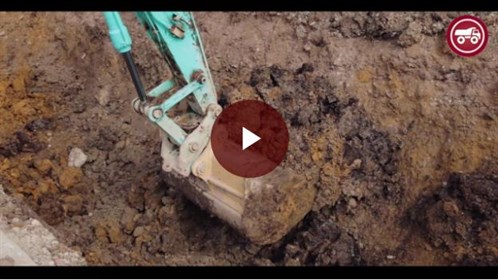 Click on the video above to catch the Kobelco SK210LC-10 in action
Keep up to date in the industry by signing up to Deals on Wheels' free newsletter or liking us on Facebook.