New owner for Takeuchi NZ
---
Tenby Powell re-invests in the Takeuchi construction equipment brand in New Zealand
Tenby Powell of Hunter Powell Investment Partners has re-invested in the Takeuchi construction equipment brand in New Zealand, with agency agreements also in place for the Pacific Islands, including Papua New Guinea.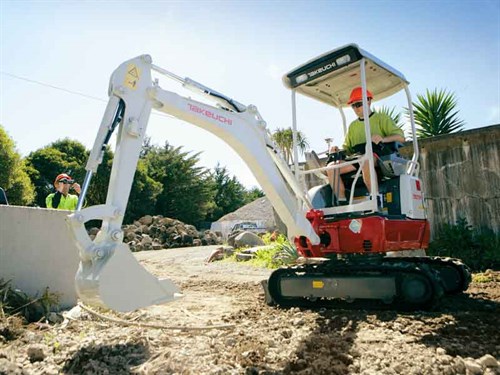 Together with private equity partners, Tenby acquired Auckland-based hire company Hirepool in 2003, selling it for what was reported to be a substantial profit three years later.
One investment during the Hirepool era was the Takeuchi agency in 2005, which marked the beginning of Hirepool's retail division, which was subsequently sold in 2006. Now, more than a decade later, Tenby says he didn't think twice when offered the opportunity to re-purchase the Takeuchi brand.
"I'm thrilled to be back in the construction and contracting industry where I have many friends and associates," says Tenby. "Takeuchi is a highly valued brand and has a loyal following in New Zealand and throughout the world."
The New Zealand Equipment Group (distributor of Takeuchi) says the revamped business has undergone major changes since the change of ownership in October 2017. "It's been more than just a breath of fresh air. It has been a whirlwind to be honest," says CEO Paula Evans.
"In eight weeks we have [launched] a new cloud-based computing system, a new inventory and parts management system.
"New key appointments have been made, all bringing a wealth of industry experience, and we have re-established our national service network. Soon we will have announcements about new agency agreements.
"Takeuchi provides a firm base from which a range of additional ground engaging equipment lines can be anchored and we have reached agreement on representing other globally proven brands in the New Year.
"We are all very pleased to have a professional, well-resourced investor like Hunter Powell Investment Partners take over the New Zealand Equipment Group. I'm looking forward to growing a burgeoning New Zealand SME business into a larger company," Paula said.
Keep up to date in the industry by signing up to Deals on Wheels' free newsletter or liking us on Facebook.