Special feature: Duck Bros
---
A simple social media post a few weeks back of a photo of some kids sitting on a truck created such an unbelievable response that the Ed figured the story of the company in question would be worthy of a follow-up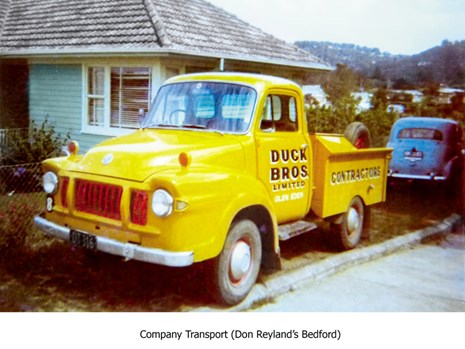 The photo in question would've been taken some time in the late 1960s or early '70s and belonged to an iconic West Auckland earthmoving firm called Duck Bros Ltd. Anybody in the earthworks game who was around in the '50s, '60s, and '70s had either worked at or at least knew of someone who'd been employed by the company at some time or another in their career.
This writer can attest to this as his half-brother Earl operated a Cat 955 Traxcavator for Duck Bros while an ex-workmate was a mechanic there for a time as well. The first point of contact for the article was Kathy Duck, who suggested that a call to her brother Phil would prove fruitful in getting the history of the company.
Backstory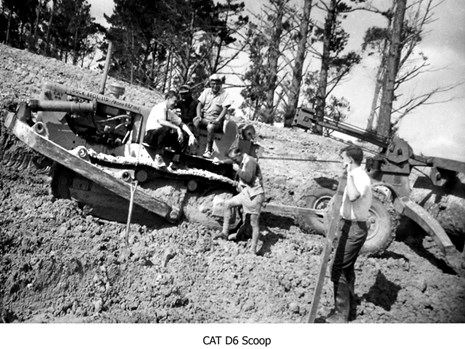 Phil was only 16 when his father Gordon died in 1976 at the age of 56, so even some of the information he had on the company wouldn't be entirely accurate or for that matter, complete, he says.
What's known is that two brothers Jack and Gordon Duck formed their company in 1952 operating out of a property on the New Lynn–Kelston border. An early photo shows them standing beside two trucks with the signwriting New Lynn Transport on the doors, however, Phil thought that perhaps his uncle and his father had bought New Lynn Transport as a going concern and later changed the name to Duck Bros Ltd.
Unfortunately, none of the early employees of the company are still around to convey the facts surrounding the early operation. However, Phil was able to point us in the direction of three men, Don Reyland, Eddie Sanders, and Ralph Broadley who collectively have recollections of Duck Bros dating back to the early 1960s.
To make it even more interesting, one was a machine operator, one a truck driver, and the other a mechanic, but more about that later. Phil says that he's always felt that he led a privileged childhood being what he calls the "boss' brat", as even at a very young age, he could sneak down the back of the yard and hop on a machine or even into a truck and have a bit of a tool around the yard.
Writer's note: For the benefit of any younger readers, rules in the workplace were somewhat more relaxed in the pre-OSH days of the '60s and '70s, so much so that motor scrapers were road-registered and driven to and from jobs as opposed to being taken there on a transporter but then there wasn't as much traffic around back in the day.
Duck Bros yard was situated where West Coast Road and Great North Road intersect, with the intersection still being referred to as 'Duck Brothers Corner' by some locals to
this day.
Fancy runabouts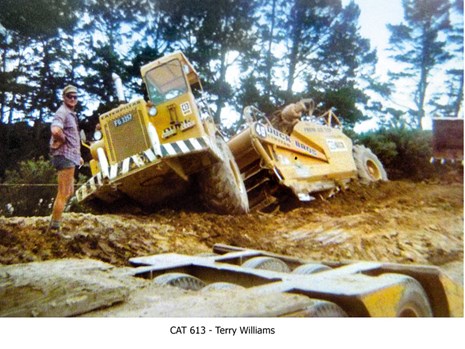 The unusual surname 'Duck' wasn't lost on the people who had the privilege of bearing the name with this giving rise to a pretty fancy logo adorning the doors of some of the company's early E83W Fordson operator's runabouts.
Unfortunately, although Phil did have a colour cartoon of a duck operating what looks to be a Cat D4, no photos of any of the austere Fordsons the guys used as transport could be found, so the best we could do was use a photo of someone else's to at least give a nod to the experience.
Duck Bros had a small fleet of these that were often seen being towed behind a motor scraper or grader, so the operator had a means of getting to and from the worksite. The little buggies were later replaced with Morris Oxford utes and still later with JO and J1 Bedfords.
In speaking of the unusual Duck logo, Phil recalled a story his uncle Harry relayed to him of a trip the elder Duck took on a cruise to Hawaii, probably sometime in the 1960s (Walt Disney died in December 1966) when he had a chance encounter with the world-renowned entrepreneur.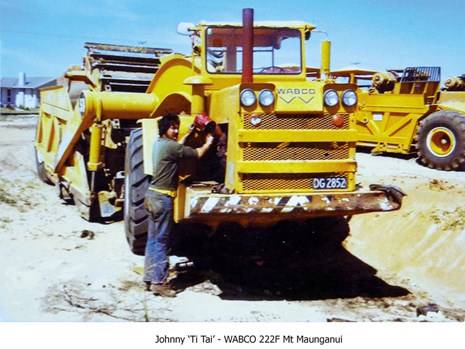 Harry jokingly told the famous man that the Duck family of New Zealand should be collecting a royalty for the use of their name. As no written account of the conversation
exists, the response Harry received is only a matter of conjecture.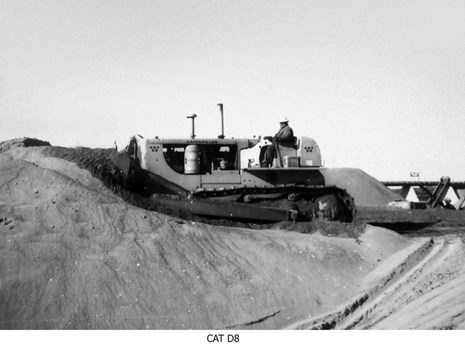 As is the case with most contractors and business owners throughout the country, both Jack and Gordon were passionate about their line of operation, with Gordon spending many years with the Contractors Federation and taking that passion one step further by sitting on the Federation's council and eventually being made a life member.
He also spent two years creating (and constantly updating) what was known as 'the Blue Book'. The Blue Book was essentially an almanac of hourly rates for trucks and machinery, along with recommended hourly rates for drivers and operators.
The book also covered topics such as repairs and maintenance regimes. While it appears that the brothers got along just fine on a personal basis with the two of them enjoying a few bevvies and a cigar together on weekends, etc., at a business level, they didn't have the same aspirations for the company, so Jack went a separate way, forming Kelston Contractors around 1968.
Duck Bros Ltd continued with Gordon at the helm until 1972/73 when investment company Broadlands Group purchased the business and rebranded the livery from yellow to white but keeping Gordon on as general manager until his untimely death in 1976.
The name Duck Bros continued under the Broadlands umbrella until 1981 when it ceased trading. The company was often ahead of its game in New Zealand and according to anecdotal evidence, were second contractor in the country to own and operate an elevator motor scraper and a Ditch Witch trenching machine, to mention just two.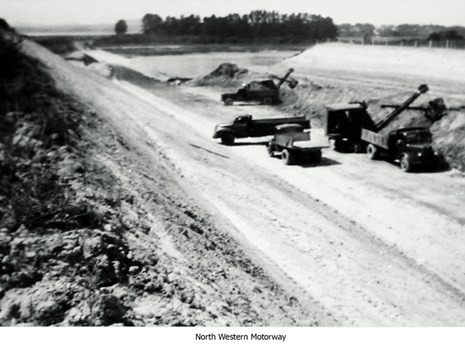 Apparently, they were also the first contractor in the country to own and operate a Cat 941 Traxcavator and a CAT 814 self-propelled compactor. At one stage, Duck Bros had the largest fleet of elevator motor scrapers in the country, working on large subdivision jobs for Neil Housing in Pakuranga and the North-Western Motorway extension.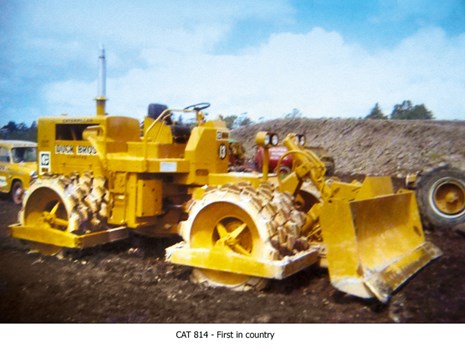 Having been brought up surrounded by trucks and machinery, a natural progression for Phil was to become a diesel mechanic, a driver-mechanic and later working for Air New Zealand as an aircraft engineer.
However, with diesel still coursing through his veins, he later went back into contracting with various trucks and trailers, painted of course in yellow, with a duck smoking a cigar gracing the corner of the cab. These days, he's a repair manager for heavy trucks and machinery working for Ando Insurance.
Phil's passion for the company his father and uncle built is evidenced by his stock of some 300 photos that he has captured and archived to pass on to future generations of the Duck family.
Found among his memorabilia was an excellent article in the August 1962 edition of Quarry News written by Fred C. Symes, who opened his article with the statement "Beauty is not normally associated with the quite functional business of quarry operating". He went on to wax lyrical on the surroundings of thick Waitakere Ranges bush with 50 to 60 feet kauri trees, a mountain stream, and wild goats at the quarry edge.
The writer was also impressed with the fact that Duck Bros Quarries Ltd was able to up its production of blue metal from 60 cubic yards per day at the time of its inception in 1955 to 10 times that amount a mere six years later. It was a most interesting and informative article, however, limited space in this article prevented it from being printed in its entirety.
Len Duck (Jack's son)
Being some 10 years older than his cousin Phil, Len does have a few earlier recollections of the company, although, he says he never worked for Duck Bros as such, given that he was only in his teens when his Dad formed Kelston Contractors Ltd. Len formed his own contracting company while still in his late 20s, calling the firm Kelston Contractors (1978) Ltd, the company has since been on-sold and is still trading.
Don Reyland (machine operator and earthworks foreman 1964–1981)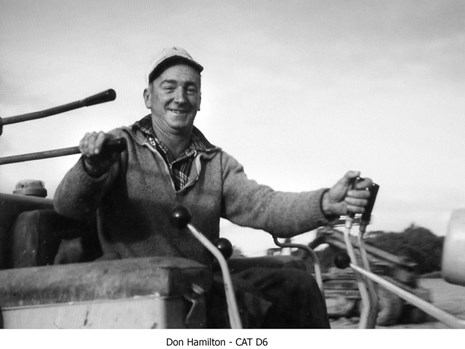 Having operated all manner of machines, from an International TD14 machine, towing a Hamilton Tumbles scoop (prior to his time at Ducks) to 22 cubic yard WABCOs and almost everything in between, Don is a wealth of information when it comes to large-scale earthworks.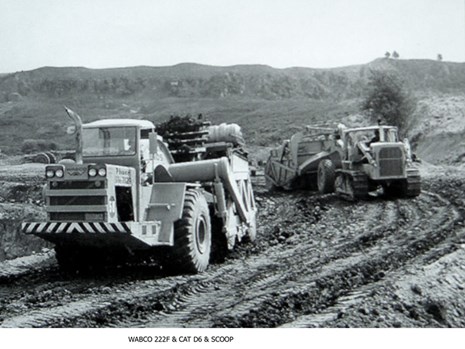 In fact, he's generally recognised as an authority on Le Tourneau Westinghouse machinery, which later became WABCO (Westinghouse Air and Brake Co). Don was a young man operating those machines back in the day where some operators were converting the noisy in-line four-cylinder Detroit-powered WABCO 111As from the toggle-switch operated electric steering mechanism to hydraulic steering because some operators found the electric steering a bit hard to handle, especially on the road.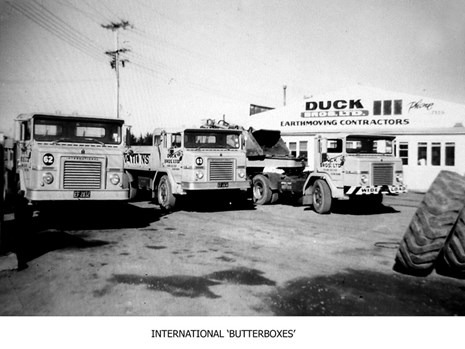 Don reckoned though that once you got used to steering the machines with two dash-mounted one-inch-long switches, steering the things soon became a piece of cake.
A job that was of particular interest to Don was the widening and realignment of Piha Road in the 1970s; it was a job he spent many months on.
Eddie Sanders AKA 'Dutchie' (truck/transporter driver 1967–1974)
Eddie says he had a foot in both the Duck Bros and Keltson Contractors camps, working for both firms periodically, as Jack and he had a "love-hate" relationship, which often led to Jack giving him the sack one day and then asking him back a short time later.
A story that Phil related was one time when as a relative youngster, he went out on a transporting job up the Scenic Drive with Eddie and when Eddie wasn't watching he 'stole' the truck and tried to turn it around with the result that he tore the hydraulic hoses out from under the low loader.
After a swift telling off from Eddie, they took the truck back to the depot where Gordon spied the damage and asked what had happened. Not wanting to dob young Phil in to his Dad, Eddie simply said that he misjudged the contour of the road.
The damage was quickly repaired and nothing more was spoken on the matter.
Phil says he's always felt indebted to Eddie for not dropping him in "it" with his father.
Eddie's brother Bill also worked for the firm but died in a drowning accident not long after the Broadlands takeover
Ralph Broadley (mechanic 1972–1975)
Ralph served his time as a mechanic with Tappenden Motors Ltd, Vauxhall, and Bedford agents, before working for Duck Bros and like every person interviewed for this article said, it was like one big family working at Ducks.
Ralph tells the following funny story:
"One time when I went to fix a machine on the Piha Road, I had to go out there to repair the tandem drive chain on one of the graders one weekend. The weather was atrocious, work on the road had stopped, and the partially formed road was a sea of mud with cars whizzing down the hill just feet away from me as I worked.
I solved the problem, however, by parking a bulldozer on one side of the road, effectively narrowing it and slowing the traffic down. I got a good telling off on the Monday morning though."
Ralph went on to form Waitemata Hydraulics Ltd after becoming frustrated with inconsistencies in sourcing engineering supplies, hydraulic hoses, and fittings. Waitemata Hydraulics and Engineering Supplies, which is still owned and operated by Ralph and his business partner Greg, currently has branches in Henderson and Manukau.
Every person interviewed for this article fondly remembers their time at the firm, even though for some, that time was more than half a century ago, everyone has memories of it being of a family-type environment.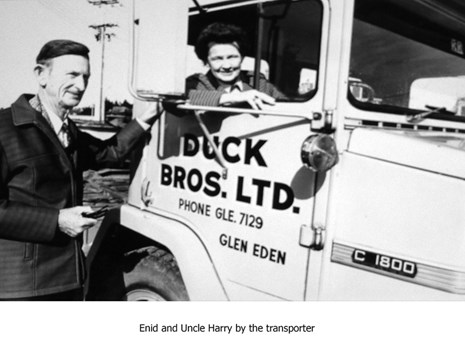 In case that sounds somewhat of a cliché, it's true, perhaps that both Jack and Gordon Duck married sisters Ona and Enid Stott. There were an outstanding number of skilled operators who were at the top of their game, they worked hard, but they also played hard. Given Phil Duck's huge collection of photos, perhaps there'll be a book about the company coming to a bookshop near you; perhaps a retirement project.
Find new and used heavy machinery for sale in NZ
Keep up to date in the industry by signing up to Deals on Wheels' free newsletter or liking us on Facebook.