Product feature: Komatsu DP61PXi-23 dozer
---
Cameron Civil recently acquired the Komatsu D61PXi-23 dozer fitted with a fully factory integrated iMC system
Specialist earthmoving contractor Tony Wilson's relentless obsession with providing his clients with a completely perfect surface—which in most cases means level—base on which to build has led him with partner Allan Cameron to even invent their soil and earth compactor, the Pacific Cameron Compactor.
According to Tony the new machine, developed entirely in New Zealand, has far less drag substantially reducing the tearing of the fill, with a fuel-saving of up to 50% and less environmental impact compared to commercially available compactors.
Field trials have been so successful that they intend to take the machine to market by the end of 2021. It's a big step up for the CEO of family-owned Cameron Civil, a 44-machine strong company, which Tony started with his wife Lynley, in 2002.
Tony and Lynley bought the business from Allan Cameron, a long-time Auckland contractor, who remains a mentor and supplier of machinery to the business. Their daughter Katie made news in Auckland two years ago when she bought her own Komatsu D65 bulldozer and became, at 19, one of the first female earthmoving contractors in New Zealand.
Tony almost simultaneously bought a Komatsu D61PXi-23 dozer fitted with a fully factory integrated intelligent machine control (iMC) system to use initially, on a major project for the RNZAF's Whenuapai airbase in West Auckland.
According to Tony, the OEM iMC system enabled the bulldozer to achieve grader-quality trimming tolerances of 25mm, better than half that of aftermarket GPS solutions he had been using.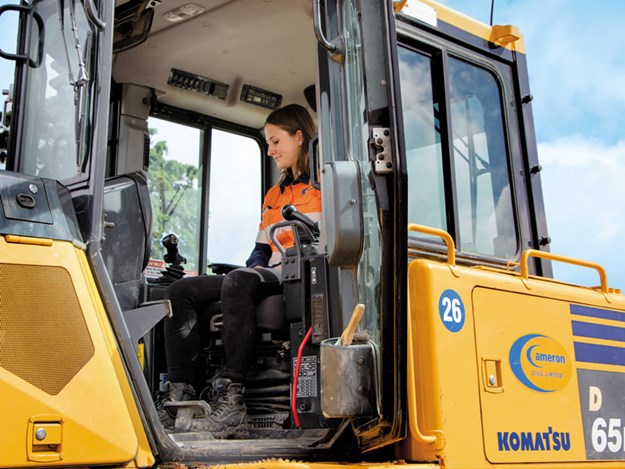 The iMC system incorporates stroke sensing hydraulic cylinders with load-sensing hydraulics that automatically adjust to enable the transition from rough dozing to high-precision finish grading.
"In many cases, we've been able to eliminate the grader phase of a final finish operation because the D61 has delivered the required quality," he says. As part of his pursuit of the perfect surface, Tony had been an early adopter of aftermarket trimming systems, achieving between 50 and 70mm tolerance, enough to enable a grader's final finishing pass to be relatively simple.
On each job, he established a flat plane surface on which the cutting and trimming coordinates of his machines were checked daily to ensure they were optimised. It's a technique similar to setting up successful racing cars to ensure all corners of the vehicle are evenly balanced.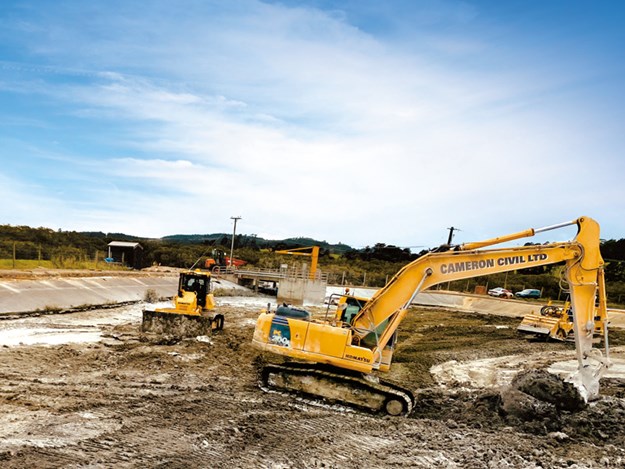 "With the D61, we have a Komatsu technician come on-site to fine-tune the electronics specifically to requirements of the job to ensure it's providing the maximum result," he says.
The Whenuapai airbase required ground preparation to a depth of 1.1 metres to construct 15,000 square metres of hardstand and taxiways. Cameron Civil achieved the complex task the first time and ahead of schedule.
Cameron Civil is now trialling Komatsu's PC210LCi-10 excavator with iMC, with the view to expanding its range of OEM-fitted precision aids. "The iMC system on both the Komatsu dozer and excavator are semi-autonomous and don't require special operator skills to run it," Tony says.
"We employ skilled operators for their general proficiency because our jobs will always benefit from having people with years of experience who know best how to employ the tools we use."
Tony makes a point of spending time on his machines himself. "It's important to know what we're doing and hands-on experience brings with it, a respect from the operators that you wouldn't otherwise necessarily get," he says.
For more information, visit komatsu.co.nz.
Find new and used dozers for sale in NZ
Keep up to date in the industry by signing up to Deals on Wheels' free newsletter or liking us on Facebook.