Product feature: Magnum Equipment second-hand dozers
---
Magnum Equipment are putting a renewed focus on their roots of supplying quality used imported equipment
With all the focus on Magnum Equipment's business expansion into new machinery over the last few years with their Hidromek and Morooka distributorships within New Zealand, it's not hard to forget the company cut its teeth in the game for many years as the importer and seller of quality used second-hand machinery.
This memory loss is something that Magnum Equipment founder and director Liam Field and the sales team are now working to rectify. "For a heck of a long time, we dealt in used machinery, bringing in something like 100 machines a year. It's only since 2017 that we moved into new machinery and some people forget we started in business more than 20 years ago," Liam says.
"Back then, we spent a lot of time building relationships with suppliers overseas, and this enabled us to bring in low-hour machinery and develop our own niche market with Kiwi buyers. It's those long-term relationships that helped us establish the business we have today."
Liam says the overseas used equipment market was once filled with lots of low-hour machines, and it eventually got tapped by buyers from the US, Russia, and Europe, but fortunately, the relationships Magnum Equipment had built up previously with suppliers enabled them to continue procuring quality equipment often before others had the opportunity to see it.
"Like our customers here, we have formed a similar bond with our key suppliers overseas. They often will let us know of something that has just arrived in, and thanks to the mutual trust we have for each other and because we don't have layers of suits to get approval from, a decision to purchase a quality machine can be almost instantaneous."
Once a used machine arrives at the Magnum Equipment yard, it's thoroughly inspected and serviced before being made available for sale. "Our workshop is equipped to handle everything thrown at it, and with the good staff numbers we have, there's no need to rush things to get through the workload," says Liam.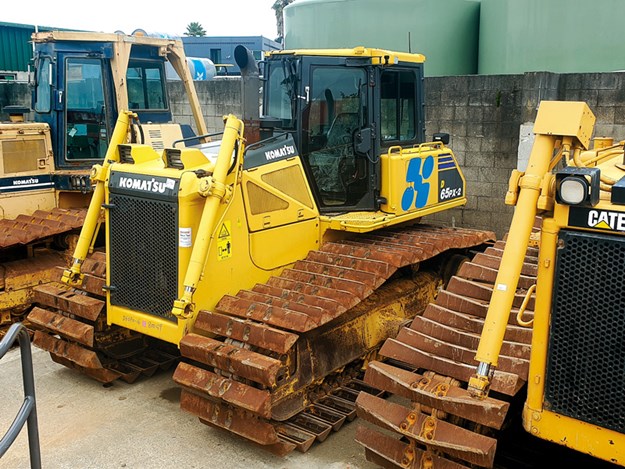 However, if you think the focus on past business practices is something to do with a slowdown in the new equipment market, then think again. "There's a strategy behind this," Liam says.
"As our business has expanded with the Hidromek and Morooka brands, our sales team has expanded, so with more people on the road, to us, it makes perfect sense to offer potential customers a wider range of machinery that fit different budgets and job requirements.
"One of our sales team called on a client recently to discuss the purchase of a new Hidromek excavator. While there, the talk diverted to their requirements for a bulldozer and from that we ended up supplying them a low-hour Komatsu D6R-2 machine, which will suit their needs and budget perfectly."
In preparation for the upcoming earthworks season, the primary used equipment focus for Magnum Equipment currently is around dozers and wheel loaders, with the occasional roller thrown in for good measure.
"Traditionally, this is the time of year when well-organised contractors are prepping equipment for the season ahead, and likewise, it becomes a busy time for us. We anticipated this and prepared well beforehand by bringing in a selection of machines that we know will be in demand within a few weeks."
Understanding the market and knowing buyers' likely requirements come with being an experienced trader, something essential with the shipping delays around the world due to the global pandemic.
"This is where our ability to make decisions not necessarily based upon the say-so of a bean counter sitting in an obscure office has helped us keep ahead of the curve and work not from fear but anticipation of how the market will seasonally respond to work needs," says Liam.
"I've seen a lot of big companies not just in our industry but many others begin to flounder when someone in charge of the purse strings doesn't understand how a business operates.
You have to jump sometimes, but don't do it blindly. Make sure you understand what you're doing extremely well. "It's like the used equipment we specialise in. We understand it better than most and this is where buyers benefit from our lengthy subject matter knowledge."
For more information, visit magnumequipment.co.nz.
Find new and used dozers for sale in NZ
Keep up to date in the industry by signing up to Deals on Wheels' free newsletter or liking us on Facebook.