Forestry commentary: The savage chainsaw
---
A quick look back at the history of chainsaw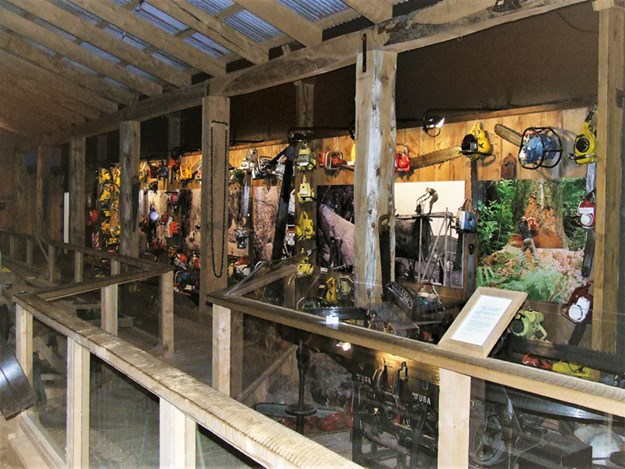 As loggers, we probably don't give much attention to the history of the product we're using. We're given a tool to do a job and that's that. My curiosity got the better of me​,​ and I wanted to know a little bit more about the history behind the invention of the chainsaw.
In some ways, I wish I hadn't looked, as its first design by two Scottish physicians and its intent would put any woman off from going through childbirth. It was a very brutal tool.
Women in labour back in the late 1700s who were found in delivery to be having a big baby that would not pass through the ​​​​birthing can​al, would have their pelvis split by knife and saw in a bloody and messy procedure called symphysiotomy.
It was a painfully brutal option with no anaesthetic to allow the baby to be born, often losing the mother in the process. The two Scottish physicians developed a small hand-driven chainsaw.
For its time, this was a precision type instrument with a small bar, chain tightener, and a wooden handle with a handle driven gear. It proved to be efficient for the job, but I'm sure if modern women looked at this piece of equipment today, there would be a lot fewer pregnancies.
This piece of surgical endless sharpened chain was used right through the 1800s. Dr Aitken's partner in the invention was Dr Jeffray, who studied at both Glasgow University and Edinburgh University, and was known for dissecting the bodies of people executed for murder.
It would be fair to say an idea was born, but it would be another 100-odd years before a power-driven chainsaw was designed for commercial use. Woodcutters of old did not hold a high place in society, and it was considered to be the lowest form of work one could undertake.
The idea of an endless sharpened chain was born, and it was not until 1926 when Andreas Stihl from Germany designed, hand-built, and presented to the world, the first electric chainsaw did the idea start to take hold.
Andreas' first saw was an ugly beast weighing in at 64kg and running on electricity, with some of the early models built on wheels to move them around. His sales grew slowly, as these were the depression years, labour was cheap, and the two-man hand saw being already proven for falling and cutting up trees backed up with an axe, so chainsaws took a back seat.
There were many manufacturers keen to further develop chainsaw use for woodcutters, and in 1927, Dolmar developed the first petrol-driven chainsaw. Between this time and 1950, many saws were produced, ​​unwieldy two-man beast of things weighing in at 60kg with standard updraft or down draft carburettors so you always had to keep the saw upright or it would run out of gas.
Some had the ability to rotate the angle of the bar; one bushman would operate the motor end and the other guy held the handle at the bar end. This would have been dangerous had the chain broken and I'm sure they did.
Finally, in 1950, the first one-man saw came on the market, weighing in in excess of 12kg. What I find astounding is I went into the bush in 1973—only 23 years after the first one-man saw came out.
My first saw was an R17 50cc partner; nine months later, I was working in old crop radiata throwing around a 125 McCulloch with a 28-inch sprocket nose bar. The same motor in the McCulloch chainsaw was also used in racing go-karts.
Anti-vibration mounts were introduced in 1964; the earlier models without the anti-vibration destroyed a number of bushman's hands with the onset of Raynaud's disease. It's interesting to note that with the introduction of the one-man saw in the '50s, there was a shortage of loggers to use them.
The logger's reputation did not offer to the new generation a desirable place to work, and there was a lot of marketing required to make the forestry industry an attractive place to work in.  
The progress on the development of the one-man saw was very rapid. The chain brake was introduced in 1972, the quick-stop in 1982, and different chain types, more compact saws, and lighter weight saws have since followed on.
In modern times, leading the charge would have been Stihl and Husqvarna. Andreas had a vision that probably exceeded his wildest dreams. In 2010, Stihl employed approximately 8000 people, including designers and engineers with 35,000 dealers in 160 countries.
Husqvarna did not enter the saw market until 1959. One of their goals was to produce a lightweight saw and to reduce the noise level. Their engineers went to work and produced Husqvarna 90 that came onto the market with a noise reduction around 50% lower than their competitors.
Husqvarna is now a world leader in the development of safe chainsaws, making saws to suit the needs of different environments, like in 1999, when they introduced a saw specifically for arborists. Husqvarna has 18,000 dealers in more than 100 countries.
This is just a couple of major professional brands. There's plenty on offer out there for the home handyman to the professional, but what I find amusing is the rapid rise in the development of the chainsaw, from its humble beginnings in the 1780s and what it was
used for. Who would have thought that it would go from cutting human flesh to cutting down trees?
The modern chainsaw has had a rather short life span, as competition in the early '90s from the development of processing heads has seen a dramatic reduction in chainsaws being used in logging work.
We will always need them, but one thing is a given; no matter how many safety features they build into chainsaws, I still consider them one of the most dangerous pieces of equipment anyone can use, and they deserve the utmost respect the moment you pick one up.
Find new and used heavy machinery for sale in NZ
Keep up to date in the industry by signing up to Deals on Wheels' free newsletter or liking us on Facebook.