Forestry comment: Greatest impact on NZ logging
---
A look back at some of the machines that made an impact on NZ logging
Having been involved in the New Zealand logging industry since driving a Leyland Hippo twin-stick crash box into Campbell's logging crew in Kaingaroa in 1972, looking back now, I can see what had the biggest impact on changing the logging scene.
Now, 49 years after 1972, we've had steady progress of high-revving compact powerful chainsaws. Cable crane loaders to hydraulic excavators and rubber tyred loaders, the progress has also been steady and often it's not until we look back that we can see how developments have increased logging production.
So, let's go back 42 years from 1972. For me, the biggest impact came in 1930 with the introduction of the 1929 Caterpillar petrol 60 crawler tractor. Logging in New Zealand from the late 1800s was native logging, and Northland forests were the king of the crop, producing many board feet of kauri for a developing nation.
The tools of trade back then were handsaws, axes, steam trains, flood dams, timber jacks, and bullock teams; all of these were needed to extract the huge trees. Then the revolution came; the Caterpillar 60 was imported from Australia, thought to be by the Collins Brothers.
It was then taken over by William Dyer and his brother-in-law William Rogers and they put it to work at Titoki in Northland. This 1929 Caterpillar 60 with 60hp and a 44-gallon petrol tank to feed its 14-tonne weight and nine-foot height with a winch attached gave it a 25-tonne pulling capacity.
It put out of work eight bullock teams, equalling 112 animals. This one event completely revolutionised the New Zealand logging industry forever. I can't think of one machine that has done the same since.
Apparently, the Cat 60 was no angel to drive and an absolute dangerous mongrel to start, this done by priming all the cylinders, setting fuel flow, and starting by inserting a crowbar into the impulse magneto, which was a skill on its own.
It must have been a bit like grabbing the prop of the old planes, but in the Cat 60's case, you had to be quick to get the crowbar out, otherwise, it would smack into the frame and probably take a few fingers off.
There's a YouTube video showing the start-up process, and I cringed looking at the many exposed moving parts. The machine was produced with no bonnet, cab, or any safety thoughts at all, and the noise generated when running could be heard from kilometres away I'm told.
Those early loggers did make a few modifications, building a radiator guard and adding under belly guarding. This made sense, as getting parts back then would have been difficult.
This mean machine with its 25-tonne winch made logging kauri and other native timbers easy in comparison to what loggers were used to. The Lovatt family bought it in 1938 from the original owners Dyer and Rogers.
The son Bruce Lovatt, as a 17-year-old, got in the driver's seat to spend his working days in extreme heat and roaring exhaust noise, using 60 gallons of petrol in a 12-hour shift.
Another young son of a bushman remembers as a 12-year-old the noisy beast.
The only time it fell silent for a few weeks was when it got sabotaged with sugar in the fuel tank. The Cat 60, on occasion, was used for work outside of logging and in 1933 pulled the old Towai Hotel built in 1892 to its new location.
The Towai pub was part of a small community with a post office and flax mill and at one stage had the reputation of the being roughest pub in Northland. The last owner of the Cat 60 was bushman and sawmiller George Smith from Whangarei, and in 1969, he presented it to the Matakohe Museum with this quote: "60 is going to a good home".
Many will file past her and think nothing of the hard toil she saved many from and those who are living in this generation do not know about bullocks on a bush track, with mud up to the knees or over, slogging a heavy timber jack on your shoulders.
And there she sits in the Matakohe Museum in all her glory, one of only two in the world still in working condition. The staff fire up this feisty old beast a few times a year just to remind us that this was the most important machine to revolutionise our logging industry to this day.
Bush Whim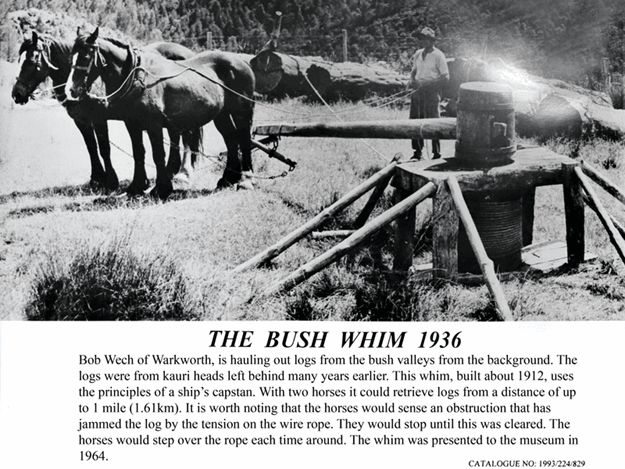 Back in the February issue (DOW #334) we covered the early Puhoi Bohemian settlers and kauri loggers. While researching the Cat 60, I came across an interesting piece of logging equipment used by the Puhoi people to pull headwood and smaller native trees up to one point six kilometres out of the bush.   
The Bush Whim was built in 1912 by Joseph Bayer from Puhoi on the same principles of a capstan winch on ships. It was capable of pulling logs up to 20 tonnes, was portable, and could be disassembled and relocated to a new haul site.
It consisted of a heavy-duty frame with the winch barrel made from Ake Ake—an extremely hard Northland timber, similar to the Mairi tree from further south. A long pole was inserted, and two horses would work the winch.
They got so used to the work, they knew when to step over the winch cable and could also sense when a log got snagged and would stop. To keep the winch running freely, they constantly lubricated the barrel with animal fat.
The winch changed hands and was still in operation in 1936 with Bob Wech of Warkworth, who was still pulling leftover logs recovered from Kauri heads left behind many years prior.
The Bush Whim was donated to the Matakohe Museum in 1964.
Many a logger originated from the North and when finally the native logging chapter drew to a close, the pine forests were ready to start harvesting. The Kauri Coast is steeped in so much of our logging history with the machines we have today inspired by these early bushmen. We've taken their inspiration and gone on to build a mechanised industry that is world-class.
Find new and used forestry machinery for sale in NZ.
Keep up to date in the industry by signing up to Deals on Wheels' free newsletter or liking us on Facebook.