Product feature: Hidromek HMK 102S Supra
---
Deals on Wheels takes a look at the Hidromek HMK 102S Suprafirst, the first tractor loader in NZ
Deals on Wheels' sister magazine Farm Trader would normally be the place to see the premiere of a tractor, but Magnum Equipment's latest addition can't rightly be buttonholed into the rural category, especially with construction companies targeted as the primary buyers for the nine-tonne Hidromek HMK102S Supra.
With their backhoe tractor range being the European manufacturer's biggest selling product, their New Zealand distributor wanted to get one of the machines in the country and obtain feedback.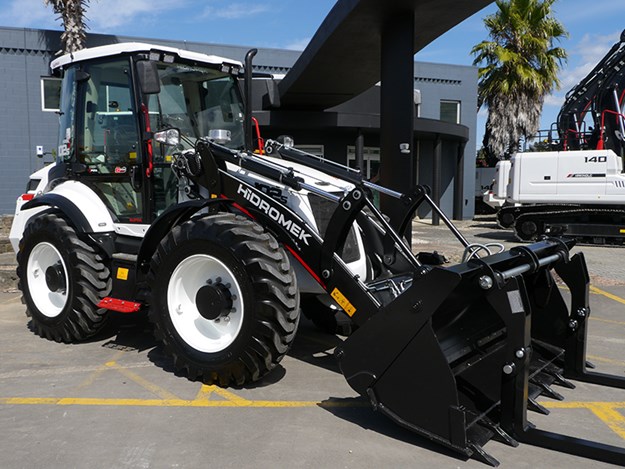 "Backhoe tractors are not really a thing here, but we like the platform they are built on, so decided to bring a loader version in and see how it performed," says Paul Gorrie, Magnum Equipment's general manager of sales.
"We think the versatility of the machine will get the attention of forward-thinking business owners."
Target market
One area the Hidromek HMK102S (S=Supra) should fit in nicely is the subdivision niche, especially on sites where it has the breathing space to do its thing. From delivering pipes and equipment around a job to keeping the construction and access areas tidy and, therefore, safe, its value appears to be in its versatility and solid build quality.
"Any medium to large subdivision would benefit from one of these and with the 102S being made for predominately rock-type environments, it's more than capable of handling everything that is thrown at it," says Paul.
Another practical use for the HMK102S are large construction sites, where the machine can be used as a shuttle.
"Some places hold up activity while truck and trailers negotiate through tight areas to unload, but with a good machine like this on point duty, loads can be left at a safe drop-off point, and it can be used to deliver equipment and materials around the site," says Paul.
4-in-1
Fitted with a 1.2 cubic metre capacity 4-in-1 bucket, versatility has also been increased with the fitment of pallet forks. The lifting capacity will make the machine more than capable of carrying pipes and small equipment around the site.
There may not be too many skilled with using a 4-in-1 bucket these days, but once familiar with its capability, a good operator could keep a job site in top order, especially some of those haul roads that deteriorate quickly.
"It's a pretty decent-sized bucket as well, so for backfilling trenches or placing strategic stockpiles around for the drainlayers, the machine becomes a real handy beast," says Paul.
Steering modes
Another reason why the Magnum Equipment team is convinced there will be uptake from the construction sector for the HMK102S are the steering modes, which allow the machine to go from standard front-wheel steer to four-wheel steer for tight turns, as well as four-wheel crab steer for those delicate movements.
"Sometimes, it reminds me a little of a telehandler with its steering modes, but in my opinion, unless you need to stack stuff high, then the HMK102S will run rings around a telehandler any day of the week, but to be fair, they are machines for different applications," says Paul.
Power plant and transmission
One hundred horses (100hp [74.5kW] @2200rpm) is tucked under the hood courtesy of a Perkins 1104D-44TA designed specifically for use with Tier 3 equivalent emission standards, according to the engine manufacturer. This gives a maximum torque of 410Nm@1400rpm, so nice and lean, bearing in mind this model is often paired with a hydraulic backhoe.
The autoshift transmission has six forward and three reverse gears, with the two-wheel and four-wheel drive modes electrically controlled.
In cab
Compared to the small open-cabbed wheel loaders and even the larger closed cab models that predominate worksites, there's no denying that the Hidromek HMK102S is built for operator comfort, featuring an air suspension seat that can spin 180 degrees if required. Full air-conditioning from some 15 different vents will keep the temperature at just the right spot in what must be one of the largest and most comfortable looking cabs in the market.
Visibility would be difficult to beat, especially from the huge rear window, which reminds of its backhoe heritage. Not ones to let a detail go amiss, Hidromek has provided a small window in the rear floor area that allows a view of the tow coupling.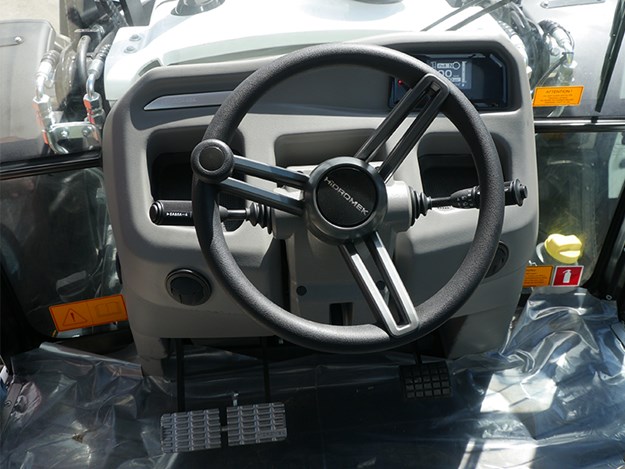 The controls are well set up and placed, with dual instrument panels (think backhoe use) and dual controls. In the case of this machine, a joystick controls the bucket as well as forward and reverse modes. For the more traditional operators, forward and reverse can also be controlled from a stalk alongside the steering wheel.
End thoughts
"This machine is a bit of an experiment for us, but we can see an application for it in the New Zealand construction marketplace. It's powerful, comfortable, and I think has more uses than immediately come to mind," says Paul.
"We're pondering on whether we should put it into the Magnum Hire fleet and that would allow a number of different users to get an appreciation for it because it's only when it gets onto a job, users will come to fully appreciate its capability."
For more information, contact Paul Gorrie 021 338 159 or paul@magnumequipment.co.nz or visit magnumequipment.co.nz.
Find new and used machinery for sale in NZ
Keep up to date in the industry by signing up to Deals on Wheels' free newsletter or liking us on Facebook.