Product feature: Attach2 hitch
---
A new digger with hitch and bucket combo is helping Drainways carry out its projects efficiently
In recent years, Drainways has been aiming to grow their enterprise in the Hawke's Bay region.
Initially performing drainage services as a subcontractor for primary contractors on projects, Mark Currie, MD of Drainways, says that their services in project management have been increasingly demanded and have thus become the lead earthworks contractor on notable projects throughout the region.
"If you can do drainage well, you can do the rest well, as civil works like subdivisions, rely on the drainage to be completed on time and perfectly meet spec. If they're not, things such as roading crews, and footpaths are held up, which are often only available on a tight schedule," says Mark.
But it's not just subdivisions that Drainways do, although, it's something they've done more of recently.
Key drainage and water infrastructure jobs for the regional councils is what Drainways consider their foremost ambition and their key driver in striving for excellence.
Like most of us in modern society take for granted, freshwater systems, stormwater, and sewage systems aren't just for our day-to-day lives but critical to coping with weather or system failure events.
New digger with hitch and bucket combo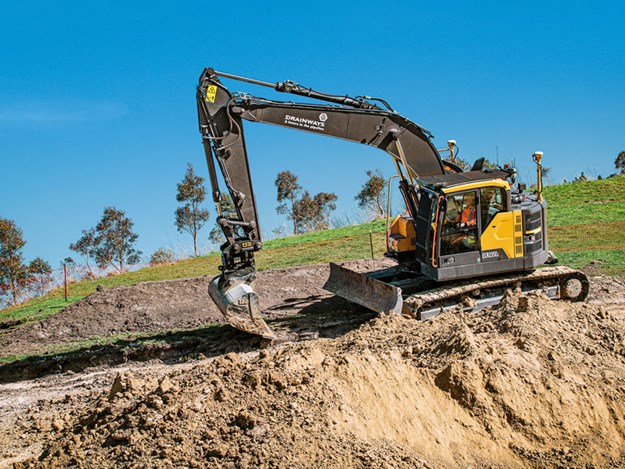 Waimarama is a small beachside village 30 minutes from Havelock North is the location of Drainways smaller projects but no less important. Situated on a gently rising hill, Jaydon Currie (Mark's brother and one of Drainways on-site project managers) is preparing the hillside for a new expanded water treatment plant for the local community.With a new ECR235 equipped with 3D GPS and Heli-Tilt hitch, Jaydon has everything at hand to shape, batter, and bulk out the first stage of the project, preparing it for future concrete and pipework.
"I find the Attach2 hitch and bucket very good. The bucket especially is a good shape, and the hitch is beautifully smooth. It does what it needs to do, and I like the attachment detach and attach side of it; it's nice and easy," says Jaydon.
Like most earthworks contractors, Drainways needs equipment that matches what they do, with particular attention to breakout performance, uptime, and job efficiency.
Since adding GPS and tilting hitches to their equipment spec, they've noticed a tremendous increase in productivity and efficiency.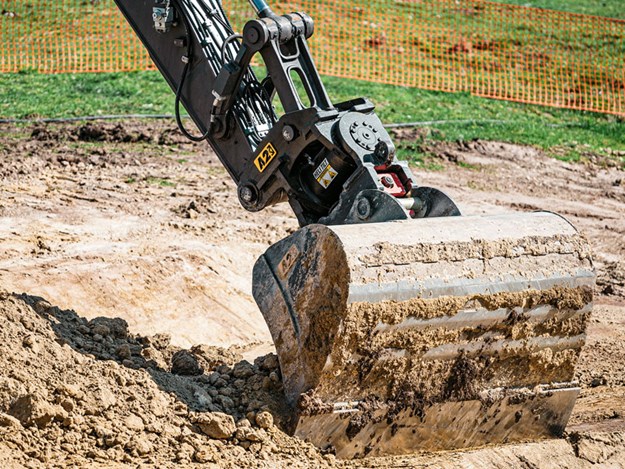 "GPS means the operator has all the information for the job in the digger; there's also a massive surveying cost-saving, no skewed trenches when it's windy, bumped pegs, or lasers to set up.
"I was told when we got our first tilt hitch that we wouldn't go back and we haven't. It makes a difference being able to tilt any of the attachments and change them from the cab."
Mark says that their primary driver in choosing Attach2 as their hitch supplier has been around service.
"Like any piece of equipment, we've had a problem at some point, and when we have, Attach2 has been there the next morning."
Downtime is the biggest cost to any business and Mark says choosing companies that deliver good service is what matters to them the most.
For more information, visit attach2.com.
Find new and used machinery for sale in NZ
Keep up to date in the industry by signing up to Deals on Wheels' free newsletter or liking us on Facebook.