Northpine scholarship winner
---
Northland student Camryn Stewart was named the Northpine scholarship winner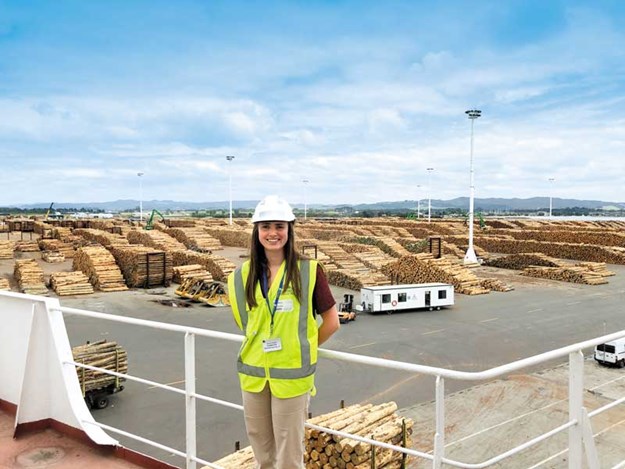 Northland student Camryn Stewart has received an academic scholarship from Waipu-based timber manufacturer Northpine. In her fourth and final year of a Bachelor of Forestry Science at the University of Canterbury, Camryn says the financial grant from Northpine is a huge help to put towards her course fees and costs.
"As a student, you don't really have a lot of money, and it's such a massive help financially. I'm putting it towards my course fees and extra course costs such as field trips," she says.
As a Northlander born-and-bred in Kaitaia, Camryn has spent some of her practical course work interning for another Northland company, Summit Forests, completing practical experience in plotting and helping with trials. 
After graduating from her Bachelor of Forestry Science, she hopes to work in forestry management or forestry marketing and supply chain operations. "The variety and flexibility of the forestry industry appeals to me, and I enjoy being outdoors on the job," she says.
"I'm excited about the possibilities and what my future holds."
The scholarship was presented to the industry at the Northland Forestry Awards in September 2019 and was endorsed by the Northland Wood Council. Applicants can apply via the Northland Wood Council website northlandwoodcouncil.co.nz.
"I'm extra grateful to receive this support from a company in Northland. I extend my thanks to Northpine for their generosity," says Camryn. Employing more than 60 people, Northpine is a privately-owned timber manufacturer based at Waipu (Northland), with a distribution centre in Silverdale (Auckland).
Northpine processes high-quality structural pine grown in the north. Its specialist range
of large-dimension timber beams and square posts, sold under the brand name Northbeam, is available nationwide via building supply merchants. Northpine general manager Bruce Larsen says supporting forestry students in their studies is part of their commitment to the industry and fostering the next generation.
"Northpine is delighted to award this scholarship to Camryn, who's committed to her studies and is working towards a career in forestry," he says. "We're committed to encouraging each individual to achieve their full potential, and this extends to our next generation who are currently students."
Scholarship criteria
A student enrolled in full-time relevant tertiary study OR An employee within the industry who aspires to improve their skills, knowledge, and value to their employer with extra study
Pre-course academic achievement, including grades, standardised test scores and achievement test scores
Expected career outcome in specific industry activities, either forestry and/or timber manufacturing/processing industries
Work history, awards, and recognition
Recommendation of Principal Tutor or employer
Community/extracurricular involvement
NZ Citizenship or Permanent Resident
Normally a resident of Northland (Tai Tokerau) region of New Zealand
For more information, visit northlandwoodcouncil.co.nz.
Find more trucks for sale in NZ
Keep up to date in the industry by signing up to Deals on Wheels' free newsletter or liking us on Facebook.