Cover story: Hidromek H4 HMK230LC
---
Hidromek is popular across the globe for a reason, and now these state-of-the-art machines are making their way into the NZ market. Deals on Wheels checks out the HMK230LC.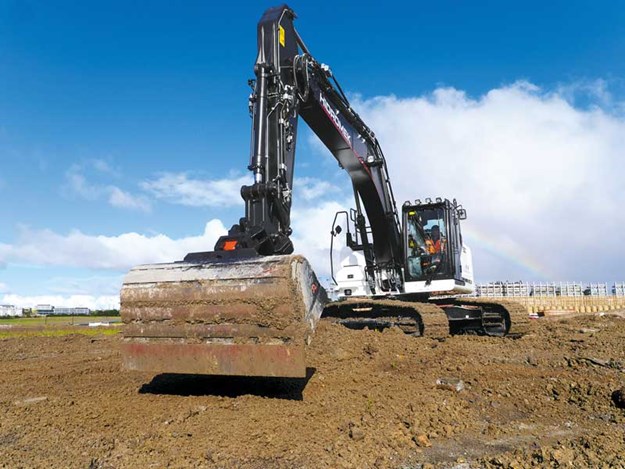 Sitting on a site at Westgate in north-west Auckland, the latest Hidromek HMK230LC is one of the first 23.4-tonne machines in the latest H4 series to arrive in the country and is ready to receive the stamp of approval from users.
"Isn't that the sexiest machine you have ever seen?" says Magnum Equipment founder and director Liam Field. "You put that alongside any other machine and there's no comparison. Trust me, I've done it and the guys in those other excavators can't wait to swap into a Hidromek. This is what operators mean when they talk about digger porn."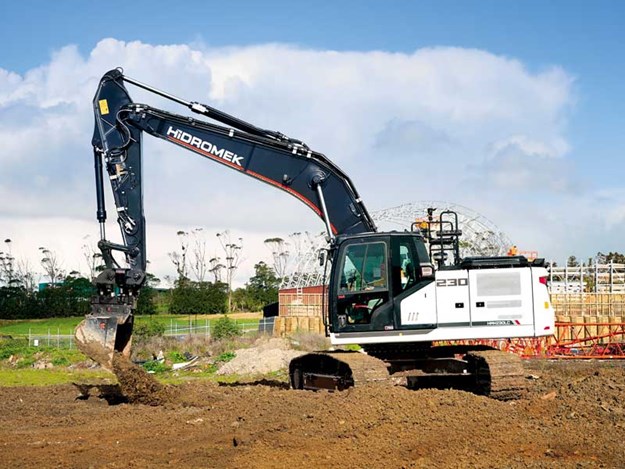 So, as you can see, Liam is excited; he's very excited. And the reason is he's starting to see the fruits of his vison, which is to plaster black and white (the Hidromek colours of course) excavators across the country.
You may recall in last month's issue (DOW 325 'Hidromek invades Waikato'), we profiled the first of the H4 series, which, as we speak, is clocking up hours in the hand of owner-operator Corey Van de Steeg. He even mentioned something about falling in love all over again with the new H4.
A look inside
Superseding the Gen-3 models, design-wise, the H4s have headed into the territory of the high read-ended models, which seem to be the flavour of excavator designers these days.
However, the aesthetics of the new models have given the Turkish manufacturer an opportunity to look at the machine as a whole, especially where it's most important component is concerned, the operator.
The significantly spacious cabin has been set up with the purpose of ensuring the operator can put in those long hours and still feel ready to head out on the town with a few mates.
"Have you seen inside these machines yet?" Liam says as he swings open the door to the Hidromek HMK230LC and gives it a thump with the side of his fist. "Hear that thud? That's the sign of quality, good solid steel."
If you're an operator, then there's an upside of being assigned a Hidromek. First off, there's the most important part to keep your body better prepared for old age—that is the seat: heated, air-suspended, and with a 35-degree backrest angle for those real slow days. Trust me, it sounds as good as it feels.
Then, of course, there are the myriad of controls and proportional adjustments available to custom-purpose it for performance in any digger-related situation. 'What about the sounds,' I hear you say?
Yep, there are eight speakers, along with the obligatory grunty aircon (30% best cooling in class they say) and six silicone dampers to keep that in-cab vibe nice and low. And I shouldn't forget to mention the heating-cooling box to help keep those soon-to-be digested calories at just the right temperature.
Bring in the reinforcements
Looking over the machine, it's quickly evident that attention has been paid to reinforcement in key areas of stress, and why not, one could ask? Anyone who has visited the manufacturers' home base of Turkey will soon realise a significant proportion of the country is hard rock, so Hidromek owners in New Zealand reap the benefits of excavators designed for hard work. The reinforced arm supporting joints and reinforced boom structure, along with the reinforced lower frame and undercarriage components are examples of this.
SmartLink
Another reason Liam thinks the H4 series are the sexiest machines in the market is the SmartLink telematic system, which helps owners maximise output and efficiencies. SmartLink enables owners to track work time and location of their machines, view work modes, check maintenance schedules, and contact the service agent.
All of this will provide reports to help maximise efficiencies and save the owner dollars and ultimately heartbreak. "You don't need to be a computer whizz to use and understand this," says Liam. "Maintenance, tracking, fuel usage; it's all here. "The only problem is people keep telling me the fuel consumption part doesn't work because it's showing no fuel use," he laughs.
The business end
For the technically-minded, the H4 HMK230LC is powered by an Isuzu AI-4HK1X, four-cylinder direct injection diesel engine with turbocharger and intercooler. This gives it a gross output of 128kW (172hp)@2000 rpm, providing gross torque of 677Nm@1600 rpm. It's emission class is EU Stage 3-A.
Maximum pump flow from the two axial piston pumps with variable displacement and swashplate is rated at 2 x 231L/min, with maximum working pressure for attachments and travel typically sitting around 350kgf/cm2 (4978 psi), and able to be pushed to 370kgf/cm2 with power boost when required.
With a standard boom, the H4HMK230LC has a maximum digging reach on ground level of 9390mm, a maximum dumping height of 6840mm, and a minimum swing radius of 3550mm. Suffice to say around 1000mm can be added to reach capabilities with a different arm set-up.
A short stint
But how is it working on a job you may ask? Well, during my short stint behind the controls, it felt nice and smooth; it's certainly a comfortable environment to operate from. However, not being behind the controls of an excavator for a while, I asked experienced operator Deveraux Marshall to give the HMK230LC a run and I wasn't surprised that we both came away with similar positive verdicts.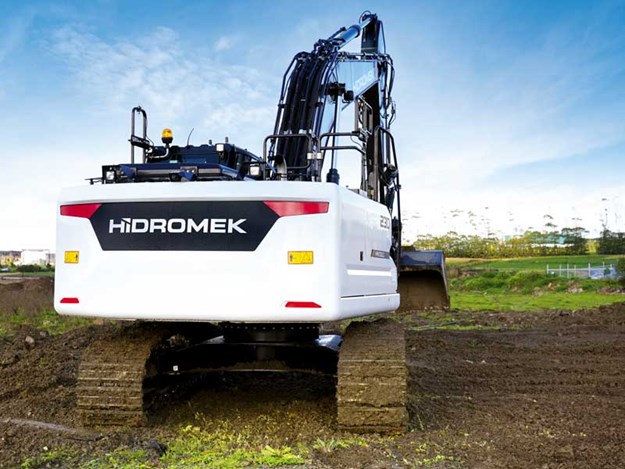 "It's a nice machine. I would like to have more time to spend on it and see how it performs compared to my usual excavator," says Deveraux. Of course, we didn't have the time to sit on the machine all day and get a real feel for it, but Liam tells me that he'll do just that for someone who's interested in seeing exactly what the H4 series of Hidromek excavators can bring to a business. That's got to be an offer worth looking at and who knows, it could be beginning of a beautiful love affair.
Hidromek H4 HMK230LC specifications
Operating weight (mono boom)

23,400kg
Engine
Isuzu AI-4HK1X
Power (gross)

128kW (172hp) @ 2000 rpm

Max torque (gross)

677Nm @ 1600rpm

Emission class

EU Stage 3-A/U.S. EPA Tier 3

Max pump flow

2 x 231L/min

Working pressure

305-370kgf/cm2

Pilot pump pressure

40kgf/cm2

Overall length
(mono boom)

9680mm

Max reach at ground level

9390mm

Max dig depth

6210mm

Max dump height

6840mm

Track length

4460mm

Ground clearance

464mm
For more information, visit magnumequipment.co.nz.
Find excavators for sale in NZ
Keep up to date in the industry by signing up to Deals on Wheels' free newsletter or liking us on Facebook.