Profile: AWHI RT400
---
With a massive strength that eases the load when it comes to clearing land for cultivating, the AWHI RT 400 is proving its worth for a Levin owner–operator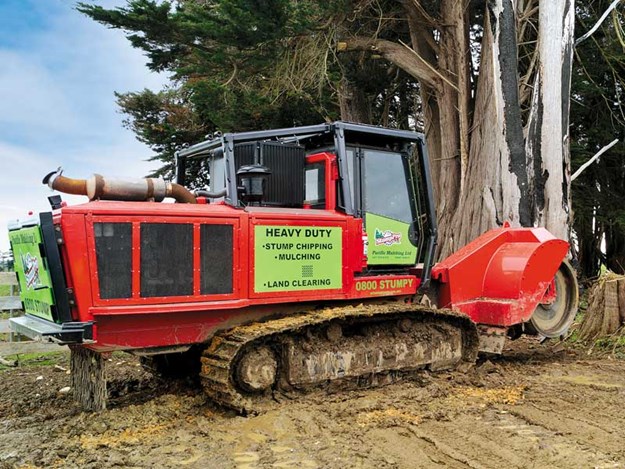 The AWHI RT 400 crawler tractor is the perfect machine for Neville Rodgers, owner–operator of Pacific Mulching Ltd, a heavy-duty stump chipping and mulching business. He's been operating since 2008 and has worked on a few similar machines, some of which he built himself.
In comparison, this one, he says, is outstanding. "There's nothing it can't do, apart from cutting through steel and concrete," he says. Neville imported the factory-built, pre-used AWHI from overseas two years ago. "It came with a mulching head. In addition to this, I built and attached a stump chipping head so it could handle the larger trees we have in this country."
The AWHI's weighty Cat D5 undercarriage and crawler tracks mean it sticks like glue to the terrain, even in bad weather. "I work all year round in any conditions. The air-conditioned, suspended cab is quiet and comfortable."
In action
The AWHI works like a gigantic milling machine chewing up any stumps and vegetation and drilling down to a depth of 600mm as it goes. It's quick and efficient. The resulting mass of wood chips is then mixed back into the soil, retaining moisture and adding nutrients. 
Range of work
Pacific Mulching is a fully mobile unit. Neville loads the AWHI plus his 20-tonne excavator, used for raking, onto his transporter and off he goes anywhere the work is, throughout the North and South Islands.
Neville explains, "The bulk of work carried out by Pacific Mulching is for owners of dairy, sheep and beef, and horticultural properties who want their land cleared for further development.
Often, they need stumps chipped so that centre pivot irrigators can be put in or orchards and shelterbelts chipped and mulched. Then there's also clearing of cutover pines, mulching, slash, scrub, gorse, heavy tops and limbs, and fire breaks." Before he got into the stump grinding business, Neville, who lives near Levin, was a diesel mechanic for many years.
His work took him overseas to Egypt, Africa, and Australia but he said "got sick of grovelling in the dirt and grease and crap and wanted a change." Initially, he began part-time while continuing to do fly-in and fly-out contracts. Soon the chipping and mulching work picked up, and he was able to do it full time.
DIY maintenance
Being a diesel mechanic, Neville does all the repairs on the AWHI himself. "Because it's constantly doing such heavy-duty work, it requires a large amount of maintenance. After each job, there's always a lot of work to be done to keep the teeth and head up to scratch. I make these and weld them on; it's very time-consuming."
Recycling ethic
Recycling is a vital part of te process carried out by Pacific Mulching. Neville says it makes sense to put the woodchips generated by the AWHI back into the soil rather than burning or cutting out old stumps, as was the custom in the past.
It's a much more efficient way to get rid of tree stumps of any size; some of these can be around 100 years old and are massive. It doesn't take long, and they are all gone. "If you dig stumps out, you're leaving big holes, which you've then got to fill in. Then you've got to take the stumps to the landfill, come back, and add topsoil to fill the holes. It's so much mucking about."
Neville reckons the leftover waste from felling pine forests could be more effectively cleaned up. "I'm currently exploring ideas for recycling forestry, green, and demolition wastage. There seems to be a big demand for this.
A lot of earthquake-prone buildings are being demolished, and much of the wood goes into landfills. Forestry waste needs to be processed rather than left to rot or washed into waterways."
When asked about his most challenging job, Neville replies, "Most of them are. I've just completed a three-month campaign in the lower South Island doing various jobs, including cutover blocks and macrocarpa shelterbelt lines. Dealing with weather and terrain there provides an extra challenge.
"Luckily, the AWHI can climb over just about anything, within reason, up to a 45-degree slope. Now I'm back in Levin, it's time to carry out maintenance and do some bookwork before taking on more pine and macrocarpa stumps and a pine cutover. It's business as usual for Pacific Mulching."
Specialist machine
The AWHI RT400 crawler tractor is a specialist carrier for land preparation in the forestry, construction, and agricultural industries with a wide spectrum of applications. Hydrostatic drive with infinitely variable transmission from zero to seven kilometres per hour allows for precise working.
The RT 400 is fitted with heavy-duty three-point linkage for attachments such as mulchers and stump grinders. The PTO drive allows for easy changing of attachments. Power transmission is provided mechanically by heavy-duty PTO shaft and protected by a turbo fluid clutch. 
Applications: Forestry, plantations, infrastructure, land clearance, and energy line cultivation.
Functions: Used with a wide range of attachments for slash reduction, tree stump cutting, power line clearing, commercial land clearing, grinding standing trees and stumps, recreating trails, clearing seismic lines, commercial grinding in plantations, and soil preparation for new growth.
AWHI RT400 specifications
Engine type

Deutz BF6M1015CP

Engine power

450hp
(North American specs)

Max drive speed
7km/h

Heavy-duty undercarriage

Cat D5

Grouser shoe width

600mm

Ground pressure

(incl. mulcher) approx. 0.53kg/sqcm

Inclination

Up to 45 degrees

Total width

2750mm

Total height

3200mm
Total length
4960mm

Total weight

16000kg (without mulcher) approx. 20500kg (with mulcher)
 Source: ahwi.com.au
For more information, call Pacific Mulching Ltd on 0800 788679 or 021 0796373
Keep up to date in the industry by signing up to Deals on Wheels' free newsletter or liking us on Facebook.