Product profile: Case construction equipment
---
A contracting company is using Case construction equipment on two sites in the South Island and the Ed went along to find out more
What do professional bull riders do when their riding careers come to an end? Well, I'm unsure about others, but in the case of Jack Cleaver, he decided to tool up and get into the contracting game, setting up as Cleaver Excavations Limited.
Now, some five years after getting started, Jack and his small team has downed tools at their job site on the outskirts of Kurow for a short while, so we can find out more about his business and the Case equipment they are using.
The first Case excavator
"When I was riding in Australia, I used to do a bit of work for a contractor who had a Case 21-tonne B-model excavator and since then I've thought they were a bit of alright," says Jack.
So, back in New Zealand, the newly established contractor made the decision to buy his first Case excavator, a 16-tonne CX160C when attending the Southland Field Days in Gore and 5000 machine hours later, we were having a conversation while standing alongside that same piece of kit.
"It took a few months to get off the ground with my first machine, so I commuted between here and the mines in Australia, until enough work built up to where we are today," he says.
Like a number of contractors working along the length of the job site Jack and his team are on, the large project has helped establish the business firmly in the region. The work they are on currently has Jack's Case CX160C and the larger 21-tonne Case CX210C on duty.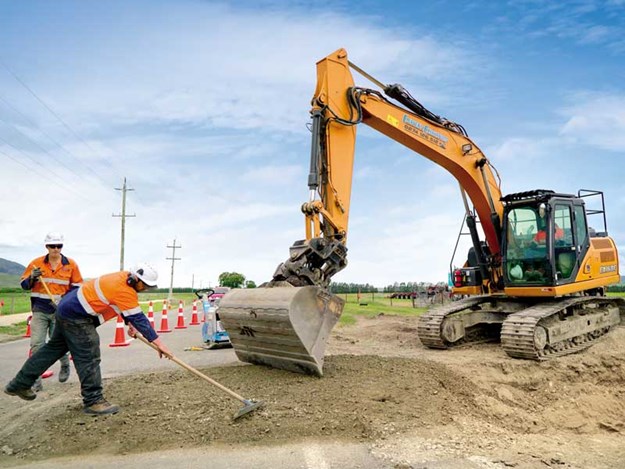 "Yes, we probably stand out a bit with our Case equipment as it's a bit different to some of the other brands working along the route. We've found the gear well-suited to the work we are carrying out," says Jack.
That work he is talking about is Cleaver Excavations subcontract on the Kurow to Duntroon irrigation project; a multi-million dollar venture that's in the process of undergrounding close to 50km of open water races and in doing so, eliminate water leakage and provide the precious resource to a wider land area in a sustainable manner.
Varying roles
The section Jack and his team were working on the day of our visit involved the installation of a branch line, which I presume the adjacent landowners will tap into once the project has been commissioned.
"We have two of the Case excavators here kitted out with Leica GPS positioning systems, although, the work we're doing involves pipe placement, so for the time being, the two machines are being used as cranes. They can seamlessly transition between the two roles," Jack says. 
He went on to explain that the set-up of the hydraulics of the Case machines allow for sensitive operations, such as the placement of long lengths of plastic pipe, to be carried out easily and with confidence.
Good on fuel
"Everything has just been running cool as chips with the Case machines, motor-wise and hydraulics," says Jack. "Good on fuel; really good on fuel."
Jack says all of his excavators run Attach2 tilt-hitches with one machine set-up with a post-rammer. 
"But we do a lot of things," he says as our conversation heads off on a small tangent. "We do fencing, rural work such as cutting tracks, drainage, and pretty much anything that needs doing out in these areas," he says. "I'm lucky because my guys are really good and they can turn their hands to just about anything."
Time to doze
And one such area of expertise that Jack mentioned previously is the cutting of tracks on rural properties. This I got to see first-hand when we caught up with Brent 'Coxy' Cox, who had what most operators would consider a dream job, widening farm tracks on a sheep station situated around an hour north of Dunedin.
Fortunately, our arrival was timed to coincide with perfect weather, only missing the storm and hail that had pelted the region the day before. It was here Coxy had been working for a couple of days with his Case 23-tonne 2050M XLT dozer.
Blade vs bucket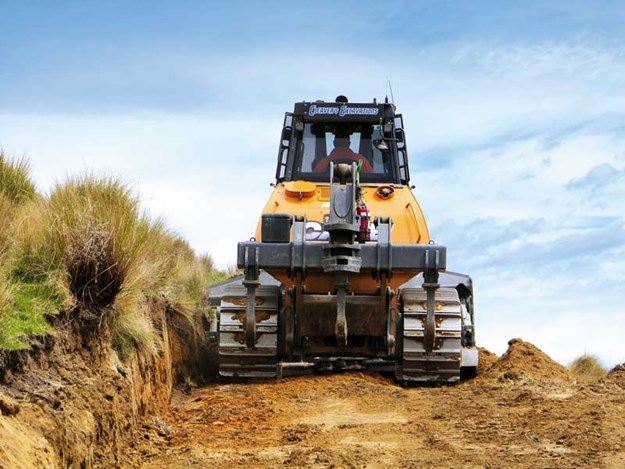 In this day and age, we seldom get to see dozers operating outside of subdivision and large land development projects, and it would be fair to say that in 2019, a contractor without a dozer in their fleet would be carrying out this work with a 20-tonne excavator, or something similar.
Seeing the Case 2050M XLT at work certainly puts forward a strong argument for blade versus bucket and without a doubt in my mind, I consider the dozer to be the undisputed winner for such rural work, especially so when in the hands of an experienced professional such as Coxy, who has been operating on and off for 48 years on all types of machinery and trucks across a massive range of civil and construction projects, he tells me.
"It's a very nice piece of machinery, very user-friendly, quiet in the cab," says Coxy. "It has power and control-wise, you have a real good feel of the machine," he says, which must be good especially as a dozer operator can't see what they're doing until after it has been done.
GPS positioning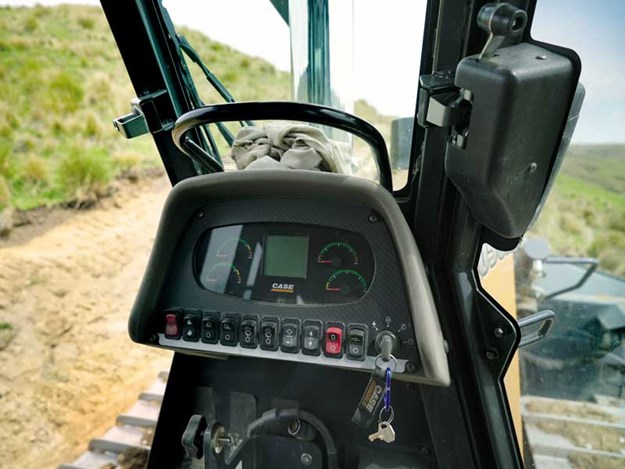 Like Cleaver Excavation's diggers, the Case dozer is also set up with Leica GPS positioning, which was not required as Coxy made his way around the massive sheep station widening the tracks in preparation for larger farm machinery to soon use.
I must admit being suitably impressed with the additional money Jack has spent setting his machinery up with GPS positioning systems and understand this can be organised by the Case distributors AdvanceQuip prior to delivery or at any stage afterwards.
Quietest dozer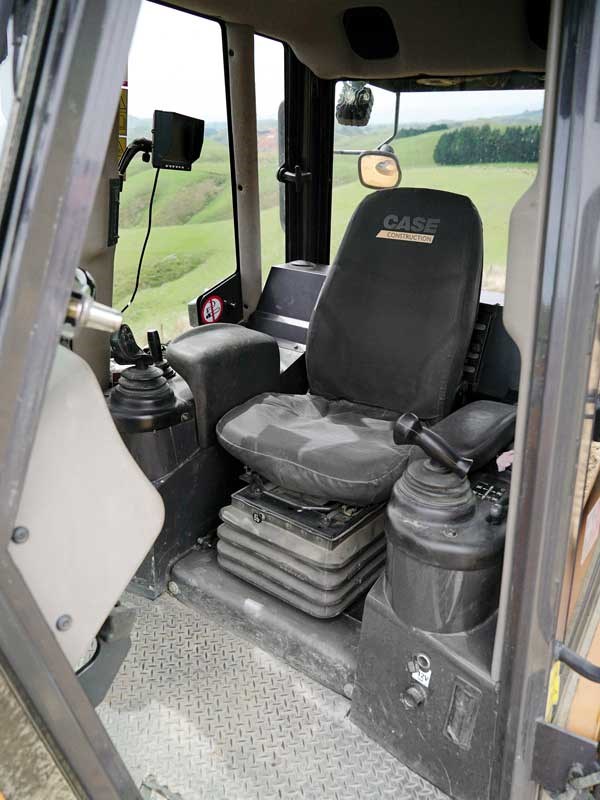 "These Case dozers are really built well for the operator. It's very nice, very comfortable, and does the job it's supposed to do," Coxy says. "Other dozers are a bit noisier and probably not quite as comfortable as the Case. Everything is right beside you. You've got beautiful hand controls and all the controls are on buttons; you just sit there with your arms on the armrest and let it do its own thing."
Coxy adds he's got a few more weeks on the sheep station before all the track widening has been completed, which, he says, will be around Christmas, although, at the rate he's producing, it could be sooner I reckon.
And for Jack and the rest of the crew working away a couple of hours north in Kurow, well, I think they've got things well covered, or should that be Case has covered them well. And that's no bull.
For more information, visit advancequip.co.nz.
Find more excavators for sale in NZ
Keep up to date in the industry by signing up to Deals on Wheels' free newsletter or liking us on Facebook.