Product profile: Tiltman NZ
---
A Waikato-based contracting couple are distributing a range of tilt couplers and attachments for mini excavators from Denmark
Who would have thought a teenage friendship with an exchange student from Denmark many years ago would turn into a business opportunity all this time later? Well, according to Tiltman NZ's Andrew Nelson, the story is completely true and began when the two young men first met in rural Wairarapa.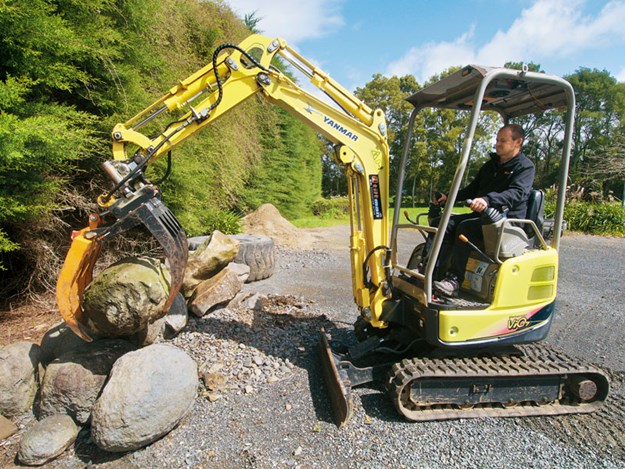 "Yes, Torben (Tiltman supplier) and I met in the backblocks of Pahiatua when we lived on adjacent farms. We've remained in touch over the years and our families visit each other when we can," says Andrew.
It was during a trip to New Zealand that the Danish engineering manufacturer Torben and now Waikato-based contractor Andrew and wife/business partner Denise sealed a deal to import and distribute a range of Danish-made couplers and attachments.
"Torben had been following my Facebook page for a while and he could see the varying type of work I carry out," says Andrew. "We combined his engineering skills and familiarity with New Zealand, along with my practical-use knowledge to give us a great range of products suitable for machines from 0.8 to three tonnes."
Designed for excavators
Now in 2019, the Tiltman brand has a varying collection of attachments, such as the Tiltman Grab, Tiltman 2-in-1 Landscaping Rake, Tiltman Vegetation Rake, Tiltman Broom, Tiltman Rootsaw, and, of course, Tiltman Buckets—all of which are underpinned by the Tiltman Hitch, a quick-coupler/hydraulic-tilt mechanism.
"We have a selection of Tiltman Hitches to suit small machines up to three tonnes and they are an amazing design, which is super-strong, compact, but light; our smallest ones weigh only 28kg, so they don't throw machines off-balance.
"You really have to hand it to Europeans for their logical thought processes and technological ability," says Andrew. Changing all the various attachments looks to be a straightforward process with a double locking system preventing accidental unlocking.
"A cam-lock means the attachment can't be released unless a small bar, which comes with the Tiltman Hitch, is used.
"Using the small bar, the operator moves a thumb-sized lever on the front of the tilt-coupler, which releases the lock on the attachment. Once done, they can climb back on the machine and the rest can be sorted at the controls, including reattaching the next piece of kit," Andrew says.
"The operator only ever needs to hop off the machine once, that is, unless they are hooking up something like the Tiltman Grab, which has hydraulic hoses. I don't think anyone's perfected a method to automatically couple and uncouple hoses yet," he says with a smile.
Keeping attachments connected to the Tiltman Hitch is a straightforward box-styled
pin housing, which looks quite ingenious in its simplicity.
"This is a really clever design, as it means the operator just needs to swing around select their attachment and it all clicks safely into place without them having to leave the seat of their machine," says Andrew.
"We even have kitsets so owners can retro-fit their existing attachments to fit the Tiltman Hitch. Variety-wise the Danish-Kiwi duo has developed a good selection of easy-to-use attachments that would suit small machine owners, especially those who on landscape and section development jobs. 
One newly-arrived piece of kit is the Tiltman Vegetation Rake, which has been designed with curved tines to allow for raking and loading duties. However, one of the most formidable-looking attachments must be the Tiltman Rootsaw.
Andrew says the Tiltman Rootsaw is ideal for cutting a tidy straight line along grass edges prior to driveway excavations and for ripping through tree roots.
"The Rootsaw deals to tree roots by either ripping or you can use it in a backwards and forward motion like a handsaw," he says.
Value for money
Pricing for the Tiltman range of products should also put a smile on the accountant's face, although, Andrew points out that the engineering technology that makes their Tiltman Hitch and attachments lighter than some others does not mean the durability is less than some of the more expensive brands.
"We have cleverly-engineered products designed and built to last, using the best European technology made with feedback from real on-site Kiwi contracting conditions, to provide a range of products that will give a strong return on investment. I've been using this gear for the last two years and customers are amazed at how efficient and versatile my contracting business has become."
The Tiltman range of products is available either direct from Andrew and Denise or through equipment dealers Youngman Richardson & Co.
"We are also interested in talking to other businesses who would be interested in stocking the Tiltman range of products," says Denise.
Watch the video
For more details, call 021 111 3882 or visit tiltmannz.co.nz.
Find more machinery attachments for sale in NZ
Keep up to date in the industry by signing up to Deals on Wheels' free newsletter or liking us on Facebook.