Porter Press Extra: Hawkes Harvesting
---
Madill's purpose-built logging equipment has set the standard in performance and productivity for Wanganui-based Shawn Hawkes and Katrina Howells
The three components of having good staff, reliable equipment, and service-conscious suppliers are well-recognised as being a recipe for operating a successful business, with the maxim taking on a whole new level of importance when you own two businesses that are separated by a distance of around 600km.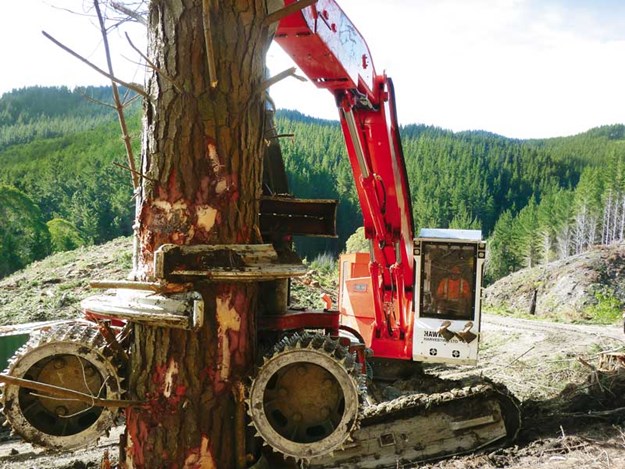 Add into the mix the fact that by nature, logging operations are generally carried out far away from city centres, the reliability-plus-service quotient becomes even more important.
Wanganui-based couple Shawn and Katrina Howells own and operate Hawkes Harvesting in Wanganui and Tree Co in Whangarei, employing up to 25 staff and owning a large inventory of logging equipment.
Shawn started out in business for himself in 2012 at the age of 18 with a second-hand Hyundai R210LC-9H/C machine, supplied by Porter Equipment.
The machine proved to be extremely reliable, and the on-the-ball service he received from the long-established Porter Group, coupled with an increasing workload, saw to it that it wasn't very long before the purchase of several other Hyundai machines from Porter Group's stable would follow.
Fast forward to 2019 and the Hawkes Harvesting/Tree Co combination had amassed an impressive fleet, which includes a fleet of 4x4 utes, bulldozers, haulers, excavators, and other associated forestry equipment.
When it became apparent that another harvesting machine was needed for his ground-based crew for the Wanganui operation, there was no doubt in Shawn's mind as to which supplier he was going to call.
Paul Gorrie, Porter Equipment's upper North Island territory manager, had previously put in a lot of time making sure Shawn purchased the best machines for his application when Hawkes Harvesting added a Hyundai R250LC-9 H/C and a Hyundai R290LC-9 H/C to its fleet a couple of years ago, so Shawn knew that he was going to get the right advice when he picked up the phone to call Paul to talk about his next acquisition.
After performing the all-important number crunching part of the exercise and giving consideration to operational practicalities such as optimal excavator/harvesting head compatibility, the two men decided that a Madill HT 2250C self-leveller matched to a Woodsman Pro 750 attachment would best to meet Shawn's needs.
Purpose-built
Having been in service for four and a half months now and with 900 hours under its belt, the Madill/Woodsman combination has performed well for Hawkes Harvesting, putting big smiles on Shawn and Katrina's faces.
However, it's not just the company directors who are pleased with their purchase; crew foreman Paul Cleeve, who to date has spent the most time at the controls of the Madill, is every bit as pleased with its performance as his bosses are. Paul reckons there's a lot to like about the Madill.
"There's quite a bit going on at any one time in the cab when you're halfway up a steep slope, and you have to do quite a bit of multi-tasking to get not only the machine but also the better part of four tonnes of the harvester/processor in precisely the right spot to process a tree" he says.
He adds that the Madill's controls are smooth to operate, making his job a lot easier and safe as well. One particular safety feature of the Madill is that the speed its controls operate at can be customised to suit the requirements of each individual operator.
The manufacturer has given further consideration to the operator by fitting the machine with a large 32mm-thick bulletproof-glass front screen.
With a combined weight of nearly 40 tonnes (36 tonnes for the Madill and 3.7 tonnes for the Woodsman 750), Paul says the combination is extremely manoeuvrable, with the Madill's track length being pretty much spot-on, giving well-balanced weight distribution between the machine and the harvester/processor head.
When the boss was asked if he still gets to climb in behind the controls these days and if he'd operated the Madill, Shawn said that he occasionally stands in for operators who are off sick or on holiday, but he said that it was Paul who'd spent the most time in the cab of this particular machine.
Both Paul and Shawn said they were very impressed not only with the Madill's performance and its user-friendly operation but they also think it's an easy machine to service due to the configuration of the electrically-operated tilting engine cowling.
While they joked about greasing and servicing being a necessary evil, they agreed that the people at Madill had paid a great deal of attention to making this aspect of machine ownership just that little bit easier.
The cowling tilts to a full 90-degree angle, turning it into an enclosed platform in which a full service of the engine and associated components can be carried out safely. There are a host of other features, including a continuous 360-degree rotation of the processing head and an on-board fault diagnosis for both the head and base machine, concealed and protected yet readily accessible hose lines.
In a nutshell, Shawn and Katrina reckon they've made the right choice in having Porter Equipment supply them with their new Madill HT 2250C and the Woodsman Pro 750.
The last word, though, goes to foreman/operator Paul Cleve who says that when you spend up to 12 hours a day, five days a week in a machine, it needs to be comfortable and operator-friendly, and the Madill does an excellent job of making that happen, he says.
Harking back to those initial conversations with Paul Gorrie when Shawn and he discussed the merits of the Madill/Woodsman Pro 750 combo, Shawn says it's a decision he's pleased he made, as the Woodsman has proven to be well-matched to the machine that drives it.
He says that at 3.8 tonnes, the relatively light harvester/processor is designed to be paired with a 24- to 35-tonne base machine, so being paired to his 34-tonne Madill is ideal, he reckons.
Find more forestry machinery for sale in NZ
Keep up to date in the industry by signing up to Deals on Wheels' free newsletter or liking us on Facebook.