Product feature: Lincom supplied impact crusher
---
Recycling is the smart, cost-efficient, and environmentally friendly way to reuse demolition concrete and a new impact crusher recently put to work is proving its mettle
With the closure of many virgin-rock quarries within the urban boundaries of New Zealand's largest city, contractors are being forced to travel greater distances to obtain aggregate supplies and cleanfill tipping.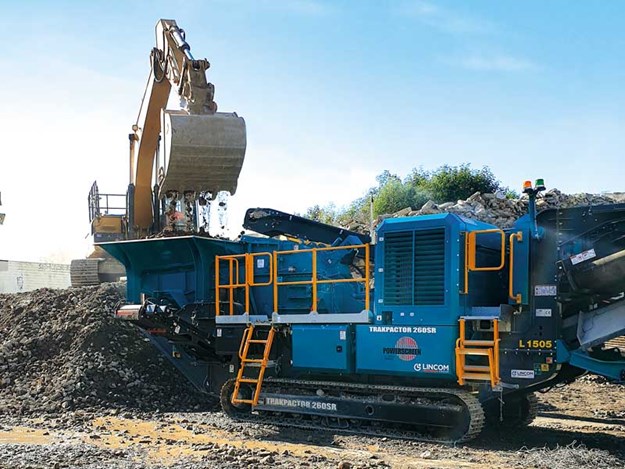 This is where the business opportunity to recycle dumped concrete material close to the point of reuse was put into action by Mt Wellington-based Auckland Quarry Limited.
One of the questions buyers of urban-located crushers usually ask is: what type of machine would safely and efficiently produce quality product and have a small footprint both physically and environmentally?
This is where Lincom Group stepped into the picture with the Powerscreen® Trakpactor 260SR impact crusher, combining their industry expertise and experience with a product offering ideally suited to the requirements of their customer.
Sustainable solution
Incorporated in 2015, Auckland Quarry Ltd meets the needs of the construction industry by bringing its services to New Zealand's largest city doorstep, with the quarry's recycling abilities turning unwanted concrete into sought-after quality end products.
So instead of paying long-distance cartage and tip fees for trucking away the old concrete disposed by contractors at their site, Auckland Quarry is providing a sustainable and economically positive solution all close to where the construction action is.
"Given the growing distance of legal tipping sites and the increasing cost of transportation, we aim to operate an efficient solution at the best rate by offering concrete tipping solutions with a focus on recycling and sustainability," says Jason Boggs, Auckland Quarry Limited company director.
Powerscreen Trakpactor 260SR
The Powerscreen Trakpactor 260SR horizontal shaft impactor is a compact track mobile crusher designed for the recycling and demolition markets. Capable of processing a wide range of material at a high output, its New Zealand distributor says the plant is versatile, easy to operate, and fuel efficient due to its direct drive system.
Featuring a fixed hammer horizontal impactor, the plant offers users both excellent reduction and high consistency of product shape alongside key features such as hydraulic overload protection, Lincom says.
"The crusher has a post-screen and recirculating conveyor, which allows three products to be produced from one machine. The machine is easy to transport from site to site, and we will be using this machine at various locations," says Jason.
Specific requirements
Impact crushers are designed to efficiently and effectively reduce materials, including limestone, sand, gravel, asphalt, cement rock, concrete, and many types of minerals.
In the case of Auckland Quarry, Lincom worked closely with their customer to understand specific requirements and to provide the best recycling solution:
Replaceable tine bar cartridge style grizzly feeder
Load management system to control feeder speed
Crusher chamber: patented hydraulic overload protection and adjustment system
Four-bar rotor and twin apron design
Economical to operate with HPTO clutch and fuel-efficient direct drive system
Crusher speed and conveyor height controlled with user-friendly PLC system
Modular conveyor with raise/lower facility to aid clearance of rebar
Dust suppression system
Quick-detach post-screen to convert to standard Trakpactor 260
Recirculating conveyor
Ultimate recycling
Caolann Fitzpatrick, Lincom Group's North Island sales manager says the 260SR is the "ultimate concrete recycling machine".
"With its twin apron, the CCS can be adjusted independently of one another at the push of a button. This gives the customer the ability to quickly change the settings to suit different applications and deliver the highest reduction ratios possible.
"Another great feature on the machine is the access around the crushing chamber.
The platform around the chamber lets you change the blow bars and service the machine with ease."
Three product output
"We are feeding the 260SR a crushed all-in 150mm material, producing a GAP40 product. For some time, Jason has been asked by his customers to supply a spec'd product, something he couldn't do before we supplied this machine. He now can make a GAP20 GAP40 and GAP65 all by changing the on-board screen media," says Caolann.
Lincom reports that the GAP20 crushed concrete the 260SR is producing for Auckland Quarry is an excellent compactable metal that is long-lasting and a proven base course for driveways and under paved areas.
The GAP40 works extremely well when used for basefills and could be popular as a top course road material—subdivisions, void filling on roads, subbase material under driveways. It's a long-lasting metal that compacts to a solid base. The larger GAP65 is commonly used below the base course and best used for subdivisions, pre-loading, and as a sub-base material.
Embedded steel
Reinforcing steel embedded in the concrete is also not a problem for Auckland Quarry's 260SR impact crusher.
"With the use of a pulverising attachment on an excavator, we break it down into smaller chunks before loading through our mobile crusher. Whatever steel we miss, the magnetic belt will pick it out of the crushed concrete and the material is clean and ready to use in one of our products.
"The 260SR impact crusher has proved ideal as a recycling machine," he adds.
Lincom as a supplier
When asked how he benefitted from working with Lincom Group, Jason responds:
"It's great to work with guys we know and trust. They have always been there to help, advise, encourage, make sure you get what you need and help selection of the right gear. The sales personnel go above and beyond to provide the technical data and back-up to help make an informed decision.
"The after-sales service is also an important aspect of why we chose to work with Lincom, from the parts guys to people like Coalann, who you can ring at the drop of a hat and ask him to help out getting what you need when you need it."
For more information, e-mail sales@lincom.co.nz, call 0800 546 0266, or visit lincom.co.nz.
Watch Lincom Group's new Compact Mobile Impact Recirculating Crusher in action
Find more new & used screening and crushing equipment for sale in NZ
Keep up to date in the industry by signing up to Deals on Wheels' free newsletter or liking us on Facebook.