Product concept: Case methane-powered loader
---
Reducing emissions on farms and construction sites is a feature the mainstream machinery manufacturers are focusing on but one brand is certainly excelling in this area
Centre of attention at the huge bauma show in Germany manufacturers were keen to show off their zero-emissions electric machines but also a wheel loader powered by methane gas. 
Held over six days, the show hosted in Munich laid out machines, equipment, and ideas from around 3700 exhibitors from 60 countries all over the world.
As you may expect with an event this size, all the major manufacturers must be present to showcase their wares to well over half a million visitors. Case Construction Equipment presented a new wheel loader concept that's powered by methane.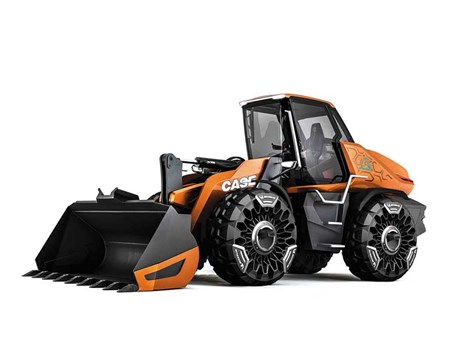 Named Project Tetra, this is the first natural gas construction machine from Case and is powered by a six-cylinder NG engine from FPT Industrial's NEF family. It follows on from advancements made in methane-powered tractors by sister brand New Holland.
This power unit, delivering power up to 230hp and torque up to 1184Nm, has diesel-like performance, but with a smoother and quieter drive. It also offers the same reliability and durability and fuel savings up to 30%.
The engine runs on Compressed Natural Gas (CNG), ensuring 15% less CO2 and 99% less Particulate Matter than its diesel-based counterpart.
The NEF engine uses stoichiometric technology, which ensures the correct chemical balance between air and methane in every working condition, delivering clean combustion and low emissions.
Such technology is enabled by FPT Industrial's proprietary control strategy, specific piston design, and multi-point injection. The new methane-powered wheel loader concept represents a significant technological advance for Case, being the brand's first alternative fuel vehicle.
Biomethane is produced using a cyclical system that delivers CO2 neutral production. It particularly suits wheel loader applications, especially those employed in waste handling situations or on farms, as they handle the raw materials that are used to produce the biomethane which fuels them.
The fuel on this wheel loader is stored within technologically advanced tanks within a sleek and integrated storage unit fitted at the rear and sides of the wheel loader.
On the outside, a complete LED lighting package with lights integrated into the loader arms, front fenders, front- and rear-mounted roof work lights, aggressive rear lights integrated into the rear fenders and engine cover, and stop and hazard lights nestling in the rear counterweight, all combine to offer unsurpassed levels of visibility.
Operators can either select auto mode, in which all working lights are automatically activated in low ambient light conditions, ideal when working at night or when moving between dimly lit sheds and exterior environments, or manual operation, in which they select the required lights.
Tyres are also important and for the Tetra Project, the CNH Industrial and Michelin design teams worked in partnership to develop a vision for a future airless tire. This cutting-edge design foresees a fusion of the tyre wheel combination and features inbuilt suspension.
Furthermore, thanks to its pure rubber and patented composite material construction, it has been designed to withstand the extreme conditions present in construction environments and could be considered indestructible.
Although still a concept vehicle, Case says it's working hard to bring the Tetra Project to reality.
Find more wheel loaders for sale in NZ
Keep up to date in the industry by signing up to Deals on Wheels' free newsletter or liking us on Facebook.