Product feature: Metso Lokotrack LT200HP
---
Manufacturers say the renewed Lokotrack LT200HP delivers impressive fuel consumption savings compared to hydraulic-driven cone crushers
The Metso Lokotrack LT200HP mobile cone crushing plant is designed for secondary and tertiary crushing operations such as producing aggregates for railway ballast, road construction, asphalt, and concrete aggregates.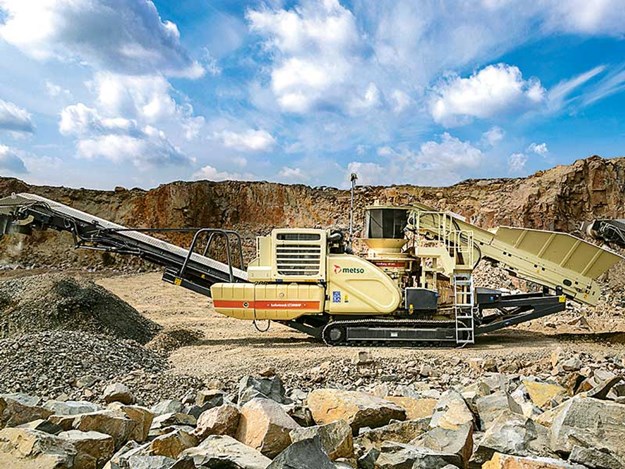 Thanks to a new direct v-belt drive from the gearbox, the manufacturer says that the renewed solution delivers impressive fuel consumption savings compared to hydraulic-driven cone crushers.
"Fuel consumption and efficiency are always at the top of our customers' priority lists and reducing emissions levels has become an increasingly important issue in recent years," said Kimmo Anttila, vice president, Lokotrack Solutions, Metso, after the LT200HP was launched in late-2018.
"In this respect, the LT200HP delivers on all counts with fuel consumption savings of 35–40% since the model was originally released in 2004."
The renewed LT200HP also features several safety and maintenance improvements. These include elevated service platforms to ensure safe, easy access to service and maintenance points and improvements that make daily maintenance quicker and easier.
The LT200HP is also available with the Metso ICr wireless information and control system, which allows customers to monitor and control the crushing plant from an excavator cabin.
The entire Lokotrack train of Metso primary and secondary Lokotrack plants or Metso mobile screens can be controlled with Metso ICr for a complete crushing and screening solution.
"The compact transportation dimensions of the Lokotrack LT200HP combined with its powerful Nordberg HP200 cone crusher make it an appealing solution for mobile crushing and screening in New Zealand," explains Garth Taylor, MIMICO's crushing and screening business manager.
Lokotrack LT200HP mobile cone crushing plant is efficient, effective and safe
Not only will the renewed LT200HP save a minimum of 15% in fuel consumption compared to hydraulically driven cone crushers but it's also the first Lokotrack to comply with Stage V emission regulations.
It's available with an extended main conveyor to allow more feeding height for downstream crushing and screening processes or increased stock piling capacity.
"It can also be delivered with dust encapsulation, an enclosed discharge hood, and high-pressure water spray system enabling the customer to meet tighter and tighter environmental considerations," says Garth.
"The LT200HP features one of the best-selling cone crushers on the market, the Nordberg HP200. It also comes with the user-friendly Metso IC™ (intelligent control) automation to bring precision and consistency to crushing operations, ensuring continuously high aggregate quality."
The automatic start and stop, activated with a single button, increases site safety by ensuring that the crushing process is started in the right sequence. Furthermore, the automatic process control ensures a steady and consistent feed to the crusher.
Lokotrack LT200HP mobile cone crushing plant benefits:
Reduced fuel consumption due to direct v-belt drive from gearbox
Optional extended main conveyor provides more feeding height for downstream
Complies with Stage V emission regulations (Tier 3 standard in New Zealand)
Combine with Metso primary Lokotrack plants or Metso mobile screens for a complete crushing and screening solution
Compact transportation dimensions
Process overview
The LT200HP is typically used in conjunction with a primary crushing plant as a secondary crusher in multi-stage crushing applications, such as railway ballast, asphalt, and concrete fraction production.
Material is fed into the plant on a feed conveyor using a primary Lokotrack jaw crusher, wheel loader, or excavator. The feeding unit keeps the crusher cavity at the optimal level to maximise the throughput to the main conveyor before the material is fed to the next stage or to an additional screen module.
Lokotrack LT200HP mobile cone crushing plants specifications
| | |
| --- | --- |
| Crusher  | Nordberg HP200 |
| Feed opening  | 185mm (7.28") |
| Engine | CAT C9.3 310kW (415hp) |
| Weight  | 32,000kg (70,500lbs) |
See more screening and crushing equipment for sale in NZ
Keep up to date in the industry by signing up to Deals on Wheels' free newsletter or liking us on Facebook.