Product feature: Auger Torque
---
Auger Torque continues to meet consumer demand for products that provide efficiency and optimum output in the most challenging of environments
As Auger Torque expands into new markets and geographies, the in-house design and engineering team continues to meet consumer demand for products that provide efficiency and optimum output in the most challenging of environments. Recent trade shows, bauma in Germany and Diesel, Dirt and Turf in Sydney were the platforms of choice to launch the new range.
Matt Hencher, head of Group R & D says, "Our new product design process is all undertaken in-house. We carry out extensive market research before considering any new product development and then work through an internal design and engineering process to build products that do the job they're supposed to at a price point the market requires.
"Having said that, we won't scrimp on quality. We will only ever bring to market the highest quality and highest endurance products."
Mulcher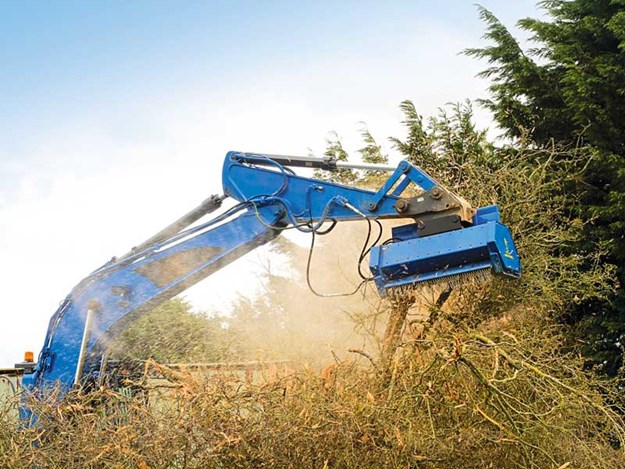 To meet the demands from the arboriculture and landscaping market, a multipurpose mulcher has been developed for applications that include ground clearance, tree and hedge trimming, and removal of or just tackling overgrown ditches. Matt states that the new variable mulcher attachment offers "the ideal solution with perfect results".
The mulcher is built to meet the needs of a variety of end users and is suitable for excavators, ranging in size from five to 15 tonnes as well as skid steer loaders.
This mulcher provides working widths of one metre or 1.5 metres and has the ability to quickly change the whole tooth drum instead of individual teeth (with Tungsten, Hammer and Flail tooth options available), saving a lot of time in the process.
Other features include a hinged cover to contain debris and allow easy access to the tooth drum, low-profile design for ultimate visibility, and a robust motor and gearbox concealing the gears and bearings to prevent dust and dirt ingress. With solid heavy-duty steel construction, it's capable of tackling the most rigorous mulching jobs.
Other features include:
Excavator and skid-steer mounting options can be attached at the same time
Heavy-duty drive belts are used to increase the service life by 15%
Pressure and flow safety valve, protecting the motor from pressure spikes and excessive flow
Earth Drills 65,000 and 100,000 Max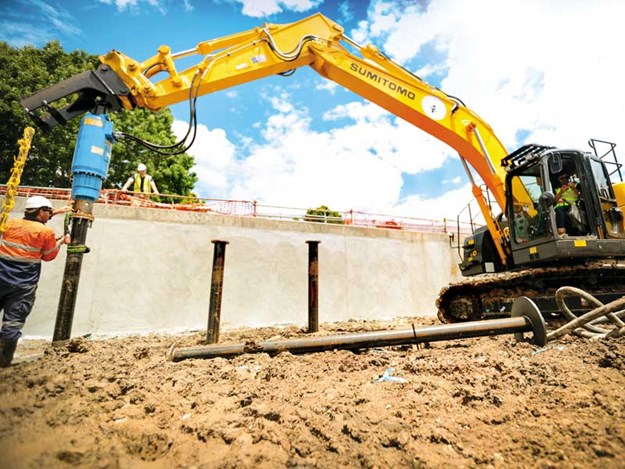 Two new earth drills have been brought to market to extend the current Auger Torque range: the 65,000 max earth drill is suitable for excavators between 21 and 45 tonnes and the 100,000 max is suitable for up to 50 tonnes.
As with all of Auger Torque's earth drill range, they are highly engineered and built to last, with the bigger of the two geared towards high torque applications, including pre-augering, foundation piles, screw pile installations, deep hole engineering, and well boring.
As with the other earth drills in the range, these are built with Parker hydraulic motors and the unique planetary gearbox, giving high efficiency and extreme durability. With forged hood ears, hood pins are locked for extra security so that it's impossible for the hood to detach from the hitch, making it suitable for the toughest conditions.
As always, the earth drills are built with the unique Non-dislodgement shaft (NDS)—a single-piece drive shaft assembled top-down and locked into the earth drill housing. This design guarantees that the shaft will never fall out, ensuring a safer work environment not only for the operator but also for the surrounding workers.
Mast-based drilling rig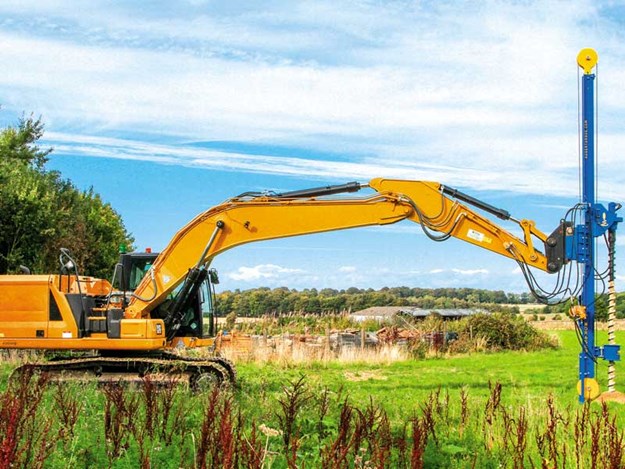 The mast-based drilling rig is designed for accurate, quick, and efficient drilling of large quantities with equal diameter holes, suited to applications such as auger drilling and down hole hammer applications as well as pre-drilling for pile driving, dewatering, permanent retaining walls, and auger cast piles.
This high-performance hydraulically-driven auger attachment is compatible with excavators from 12 to 15 tonnes, with a torque range of 2717–8152Nm. This drilling rig can move from one application to the next with ease and being excavator mounted, offers a quicker and more cost-effective method compared to more specialised heavy equipment
Other features include:
Precision engineered gearbox and non-dislodgement shaft system
Compatible with several different earth drill drive units and can be equipped with different hitches for mounting on most common excavators
Enhanced Control, allowing for controlled accurate drilling of holes several meters deep
Interchangeable hitch and auger assemblies, eliminating the need to remove the cable from the rig
High-grade lift system—high tensile galvanized steel winch cable with spring tensioner assembly and easy access pulley grease points
Hose guide rail for neat hose connection
See more machinery attachments for sale in NZ.
Keep up to date in the industry by signing up to Deals on Wheels' free newsletter or liking us on Facebook.