Cover story: John Fillmore Contracting
---
Cameron Officer catches up with successful family business John Fillmore Contracting, which recently celebrated its 50th year of operation
If there's one person outside the Fillmore family who can rather effectively chart the growth of John Fillmore Contracting in recent years, it has to be operations manager Tony Munro.
He's been in the business for 26 years and can remember when the company numbered four or five people. Today, just one project within the company's wider portfolio will soon have between 70 and 80 personnel involved. And there are plenty of projects on the go.
It's a measure not only of how JFC has evolved as a civil construction entity over time but also a barometer for the types of large-scale projects this long-established family business is trusted to complete for a variety of stakeholders.
City slicker
Tony is part of the team currently working on one of the highest-profile urban projects JFC has ever undertaken—the Quay Street Enhancement alongside Auckland's bustling waterfront. "As a company, we have a lot of experience in streetscape rejuvenation work," says Tony.
"We have been lucky enough to be involved in some very prominent public space developments, such as Silo Park, Aotea Square, Federal Street, Freyberg Square, and Britomart Precinct in Auckland, as well as the Bridge of Remembrance and Victoria Square in Christchurch.
"These are big jobs with many, many moving parts. There is more to this type of work than simply constructing; there are so many aspects to these projects—not least providing a safe work zone for contractors and the public alike—but we have a strong team, a lot of know-how, and a huge amount of capability."
Moving parts? The multifaceted Quay Street Enhancement project certainly has a few.
Over the coming months, Quay Street is set to transform. The work, which JFC is engaged in, sees a complete overhaul of around two kilometres of existing street front.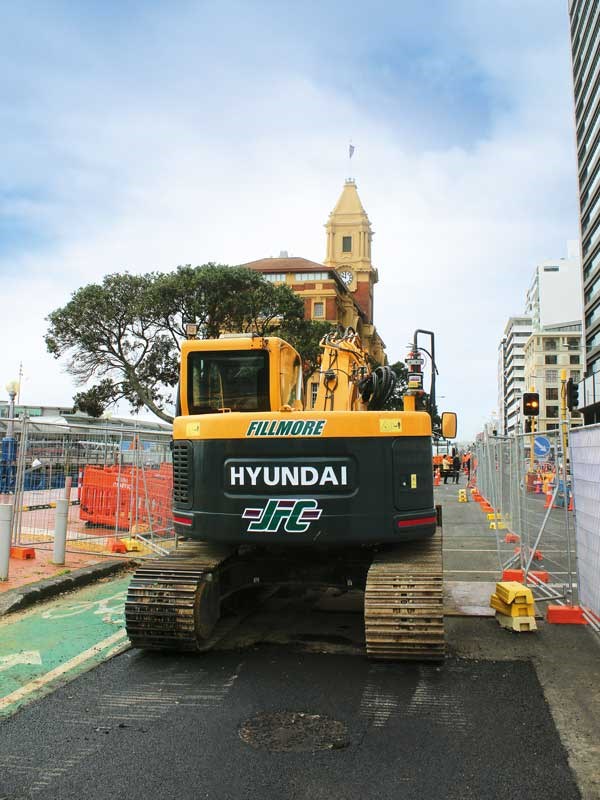 Even at 10am on a rainy Tuesday morning in June, this is still one of the most heavily trafficked tourist spots in the city, connecting the ferry and cruise liner passenger terminals of Queens Wharf with the popular Viaduct and Princes Wharf precincts on one side of the street; the Britomart Transport centre with international hotels and the forthcoming Commercial Bay development on the other. Stand in any given spot along Quay Street, and there's is a lot going on.
Solid business relationships
Now, take the work JFC is engaged in here and map it across a handful of other busy sites around Auckland and Christchurch. It paints a distinct picture about the scope and scale of operations the company—which features large-scale land development, infrastructure, transport, and maintenance divisions—undertakes on a weekly basis. 
And yes, along with a dedicated team of professionals, you also need plenty of machines to operate at this level. This is where Porter Equipment comes in. For JFC, the association with Porter Equipment is a vital part of how it does business. The company recently took delivery of its 100th machine from Porter Equipment.
"Porter Equipment is a great family-owned company, and I have always felt they share many of the same values that we as a family company also do," says Sam Fillmore, managing director of JFC.
"When you get down to it, they're in the business of selling and servicing machinery.
But, at the end of the day, there are Porter people involved at every step of the process. And without fail, those people can be relied upon to give companies like ours great support."
Brand loyal
Tony estimates that the company's extensive excavator fleet would be around 90% Hyundai. Sam adds that he has been a fan of Korean-made hardware for many years now, relying on the brand for a variety of differently-sized machines to do the hard yards.
With so much urban work in the company's portfolio, it's perhaps no surprise that Hyundai's more compact models work wonders on the sorts of projects JFC regularly undertake.
"We might use a 14-tonner for primary drainage work, but there's a lot that a little Hyundai R60CR-9, for example, can give you on the job site, especially when you have material to shift in a confined environment such as we find ourselves working in a lot of the time," says Sam.
"Hyundai machines are cost-effective and the guys like using them. They offer reliability and creature comforts; they work well for our staff out on-site and they work well for our bottom line, so I'm happy with our investment in them as a brand."
With an operation the size of JFC's, there are also benefits to running a machine fleet with plenty of commonality, enhanced even further by the Porter Equipment back-up offering.
"Again, the machines are good, but it's the people who provide back-up for us that really underpin the relationship. The biggest thing for us is that we always want to avoid unexpected downtime.
If we do experience it, the issue needs to be resolved as quickly as possible so that we can get moving again. "The fact that Porter Equipment has such a massive parts inventory gives us peace of mind.
Couple that with a service team that know their stuff and can be on-site to sort an issue out quickly, and it really is an all-round excellent business to partner with to this level."
"We've established a long-term relationship with Porter Equipment, and we take that sort of relationship very seriously," Sam concludes. Back in busy Quay Street, a flotilla of six-tonne Hyundai R60CR-9 crawler excavators all beaver away on various tasks; mini components of a bigger picture.
"The work programme here is complex and consistent in order to get everything completed on time," says Tony. "Even though there is a lot to do, these machines will help us get there."
Keep up to date in the industry by signing up to Deals on Wheels' free newsletter or liking us on Facebook.