Product feature: Dynapac CC1300 Plus roller
---
NZ distributor MIMICO is launching the new Dynapac CC1300 Plus articulated compact tandem roller, designed for compaction on city streets where size and noise matter most
One of Dynapac's series of CC1300 articulated compact tandem rollers, the Dynapac CC1300C Plus includes one vibration drum and four static rubber tyres—a combi version.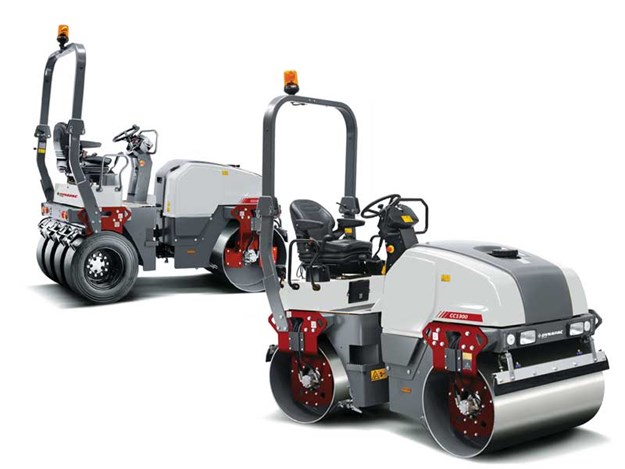 The roller has an operating weight of four tonnes. It's also available with double steel vibratory drums. These models feature design improvements and an engine that's quieter than ever, the manufacturers say.
The double drum model features vibration and drive on both drums. A large drum diameter makes them especially effective on soft asphalt. The ratio of drum diameter to static linear load reduces the risk of cracks. MIMICO says the CC1300 is perfect for urban areas, streets, and roads, and the roller is also suitable for compacting sub-bases and bases and has the capacity to follow a small paver.
Better operator control
MIMICO says the new machines offer a multitude of features that will appeal to roading contractors. An optional sideways sliding seat and operator-friendly dual front and reverse controls improve visibility for better operator control and better compaction.
The ample clearance at the edge of the drums makes this true even close to high kerbs. The machines feature a new control panel and low noise and vibration levels to reduce operator fatigue.
A low centre of gravity keeps the machines stable, and sturdy handgrips and steps enable safe boarding. An interlock system prevents the engine from accidentally starting. An automatic brake lock is applied if the engine stops in the event of failure in the hydraulic or electric brake circuits.
Three separate filters in the sprinkler water system ensure no clogged sprinkler nozzles. The entire system can be drained easily without special tools. Filters for hydraulic fluid, engine oil, and fuel are easily accessible.
Experience and expertise
Dynapac is a Swedish multinational engineering company located in Karlskrona. The company was founded in 1934 and today has subsidiaries in seven countries. The company is one of the world's most specialised and experienced manufacturers of compaction and paving equipment with a range of rollers, pavers, mobile feeders and planers.
Dynapac says modularity is one of the cornerstones when it comes to building rollers. The machines are built from a lot of existing parts, which means parts will be available in the future and that these models will be offered for several years to come.
High-quality results
Dynapac says they develop and manufacture products with the goal of sustainability—low operating costs and long-lasting quality equipment that create high-quality results for the companies who use Dynapac.
Their range of small articulated tandem asphalt rollers are no exception. The rollers are powered by a water-cooled Kubota diesel engine. The Dynapac CC1300 provides 33kW of power, and the low noise level benefits the operator and the surroundings, especially during night work.
Long service intervals mean fewer oil changes and less money spent on routine maintenance. The corrosion-free water tanks are made of impact-resistant and recyclable polyethene plastic. As an option, the machines can be equipped with biodegradable hydraulic oil.
Standard and optional features
The Dynapac CC Plus package for both CC1300 and CC1300C (combi version) models contains a variety of features to help make the operator's life easier. These include a back-up alarm, brake release, CE sign, dual armrest, foldable rollover protection system (ROPS) with seatbelt, rotating beacon, sprinkler timer, slideable comfort seat, vibration shutoff on the front and rear drum, and working lights.
The Dynapac CC Plus model also has several options available, including driving lights (both right- and left-handed), dual forward/reverse control, flow divider, slidable lux seat, and spring-loaded scrapers.
MIMICO's sales and service operation spans the country, with a head office in Matamata and branches located in Auckland, Paraparaumu, and Christchurch. They have service agents in 15 locations as far north as Whangarei and as far south as Invercargill.
Find more rollers for sale in NZ.
Keep up to date in the industry by signing up to Deals on Wheels' free newsletter or liking us on Facebook.