Product feature: Komatsu PC210LC-11
---
A look at the newly released 23-tonne class PC210LC-11 excavator
Komatsu has released the 23-tonne class PC210LC-11 excavator, delivering increased performance, operating efficiency, and productivity while significantly reducing fuel consumption compared with predecessor models, the manufacturer says.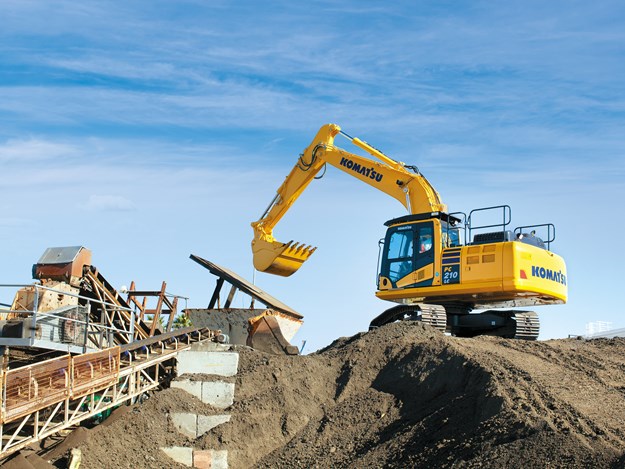 It's powered by a low-emission Komatsu SAA6D107E-3 Tier 4 Final-compliant engine, which, through Komatsu's advanced engine and hydraulic control technology, improves operational efficiency and lowers fuel consumption by up to seven percent, according to Garth Dixon, Komatsu NZ's sales manager.
"As with all our products, it has been designed in line with Komatsu Harmony principles, resulting in a fully integrated machine to produce an efficient, reliable system," he says. "An important factor in this is that Komatsu designs and manufactures all major components, including engines, pumps, valves, motors, and cylinders, allowing us to optimise machine performance so we maximise production while minimising fuel consumption."
As with others in Komatsu's Dash 11 range, the PC210LC-11 is fitted with a number of features that contribute to reduced fuel consumption and allow the engine to operate at the most efficient speed.
These include:
Low speed matching, which provides higher flow output at a lower engine RPM through the use of larger displacement hydraulic pumps. This also provides better pick-up and response to hydraulic flow demand and provides fuel savings in all duty cycles.
Variable speed matching—an engine-pump matching control that matches engine speed to hydraulic flow requirements. It keeps engine speed high when large pump delivery is required and reduces engine speed in light-duty operations to save fuel.
Six working modes, including a Fine Control mode, Breaker mode, and Economy and Power modes for attachments.
A reduction in auto deceleration speed to low idle speed.
The PC210-11's advanced new engine technology delivers reductions in NOx and PM emissions by up to 90% compared with the Tier 3 engines in the previous Dash 8 range, Garth says.
"As well as significantly lower emissions, our new PC210LC-11 is also incredibly fuel efficient, offering up to seven percent fuel savings compared with our previous model."
Safety and operator comfort have also been upgraded on the PC210LC-11.
"As with all our Dash 11 excavators, it has an upgraded, fully compliant ROPS cab and includes a new high back air suspension operator seat with lumbar support," says Garth.
Quick-hitch and hammer piping is standard on the PC210LC-11, as is an additional service valve for easy set-up of a proportionally controlled second auxiliary line.
Attachment tool management is also available through the monitor panel, enabling an operator to name and set the flows for up to 10 attachments for easy selection when changing out attachments on the jobsite.
Serviceability has also been improved with ground-level access to centralised service points, high-efficiency dual-element fuel filters, and improved work areas around the engine compartment, Garth says.
"Like all Komatsu machines powered by its new engine technology, the PC210LC-11 also includes the latest developments in our KOMTRAX telematics-based remote monitoring system, ensuring unrivalled visibility into all critical machine and operational parameters."
As with all equipment sold through Komatsu NZ, the PC210LC-11 is backed by the company's nationwide aftermarket support network, which includes branches in key major centres, along with service partners throughout New Zealand.
Komatsu NZ is further growing its aftermarket support network capabilities with the recent opening of a dedicated parts distribution centre in Auckland stocking parts that are specific to the New Zealand machine population. And it will shortly be rolling out its myKomatsu customer portal, which allows customers to order parts online 24/7 for the machines they own.
Video: Komatsu PC210LC-11
Keep up to date in the industry by signing up to Deals on Wheels' free newsletter or liking us on Facebook.