Product feature: Magnum Equipment at Fieldays
---
Check out Magnum Equipment's bigger and better site at this year's New Zealand Agricultural Fieldays
Customers looking to get up close and personal with quality Hidromek and Morooka equipment can do so at this year's New Zealand Agricultural Fieldays®, with Auckland-based Magnum Equipment looking to demonstrate the machinery at its bigger and better site.
Established in 2001, the New Zealand-owned and operated company specialises in quality machinery and equipment, including small plant gear and large plant heavy machinery, all serviced on-site.
Its early beginnings saw the company specialise in excavators but later expanded its range in order to satisfy increasing demand. Magnum now offers roller/compactors, wheeled loaders, graders, bulldozers, rock crushers, trucks, and small equipment to name a few.
The company is New Zealand's authorised dealer for Morooka and Hidromek machinery and parts, which the team is looking to showcase at Fieldays 2019. 
"Fieldays gives us the opportunity to display our machines in the flesh," explains Magnum Equipment founder and director, Liam Field. "Customers are able to come and see the machines in person and talk to us about the products and how they can fit their requirements."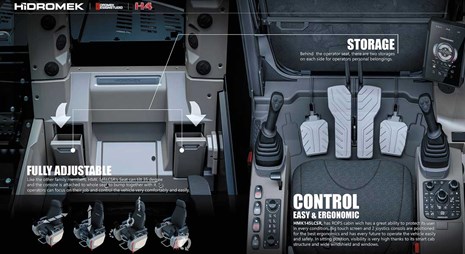 Magnum has developed a portfolio of high-quality overseas suppliers offering an extensive range of brands and models to satisfy the most discerning customer requirements.
"We've grown into a trusted supplier of quality equipment to some of the biggest names in construction and earthmoving, and we're really excited to demonstrate some of this equipment at Fieldays," says Liam.
"It's about putting the machinery in the spotlight, explaining to our customers how we can support them, and showing how we can help hardworking Kiwis get the most out of their investment."
Quality machines
Front and centre at Fieldays will be the HMK145LCSR zero swing excavator, which is more compact without losing important features such as space, quality, and comfort, and which won a 2019 design award; the HMK220NLC twin boom excavator, a speciality excavator; the HMK220LC standard excavator, which took home a 2012 design award; the HMK300LC 30-tonne standard excavator; the HMK140LC 14-tonne standard excavator, which won a 2012 design award; the Morooka 2200 VR reversible dump truck with 360-degree rotation; and the Morooka 1500 VR reversible dump truck, with 360-degree rotation.
"Hidromeks are European quality machines. We've learned people want to own European quality and we're glad we're able to provide this to the industry," Liam says. 
"We have Hidromek and Morooka representatives who have flown in just for Fieldays to answer any and all questions," he adds.
"We want our customers to know that they can speak to specialists in the field and trust they are getting answers from the experts."
Liam says the Magnum Equipment site at Fieldays this year is double in size, a move he says was necessary to showcase how much the company has grown.
"We are a professional outfit and our team is really friendly and easy to deal with," he says. "We want our customers to meet the people behind the product and see for themselves the quality of our machines. We are taking down seven machines that visitors can sit in and get a real hands-on experience."
Busy times
For Magnum Equipment, 2019 has been a busy year and the Hidromek and Morooka brands are seeing some steady growth.
"More and more people are starting to know and hear about the brands, which is exciting for us. We really got behind these machines and we knew Kiwis would love them, so it's great to see that feedback." 
Liam says there are now 40 Hidromeks in New Zealand and the team hasn't yet seen a breakdown or hour lost due to failure. 
"It's a stat I'm really proud of," he says, "though, I'm not at all surprised as I know how quality these machines are. As a team, we are really pleased to hear from happy customers who are blown away at the performance and quality of Hidromeks," Liam adds. "They know they have made the right investment as soon as they use it."
Liam says the lead-up to Fieldays has been very busy for the team. "It's been a fun process creating a stand that will grab everyone's attention in such a busy environment," he says.
"We are very proud of what we sell, and we want it to show, which means we have been having a lot of meetings regarding what we can do and what we can put out there." With Fieldays only a month out, the team is getting pretty excited, according to Liam.
"We started planning our 2019 Fieldays as soon as the last one finished because we were so amped to come back," he says. "We are bigger and better than we were last year, and it shows with our double site. Seeing it all come together is a great feeling. 
"As well as seven state-of-the-art machines on display, we have merchandise, food, coffee, water, big heaters, couches, bar leaners and of course Heineken on site," he adds. Liam encourages anyone who is interested the machines to head along to the Magnum Equipment site.
"If you've been thinking about joining Club Hidromek, come have a drink and a talk with me and meet Mr Morooka himself," he says. "Club Hidromek is a small, exclusive group who are proud owners of these European, quality machines."
To make its offering even more enticing, Liam says the next 10 buyers of a Hidromek machine will receive a free trip to Turkey, visiting Istanbul, Gallipoli, and Ankara, with airfares and accommodation included.
"It's a really cool prize. It gives the customer a very rare opportunity to go to the place where their investment was created." 
Check out the machines on display and meet the team at the Magnum Equipment stand at D17 and D19 at Fieldays 2019.
Keep up to date in the industry by signing up to Deals on Wheels' free newsletter or liking us on Facebook.