Special feature: MIMICO
---
MIMICO sells, hires, and services heavy machinery throughout NZ for the quarrying, mining, contracting, construction, recycling, and forestry industries
MIMICO was established by Rex Davies in 1989 as an indent parts supplier based in Matamata, then became New Zealand distributors of Moxy articulated dump trucks, Hanomag bulldozers and compactors, and Masterskreen mobile screening plants.
That was just the beginning.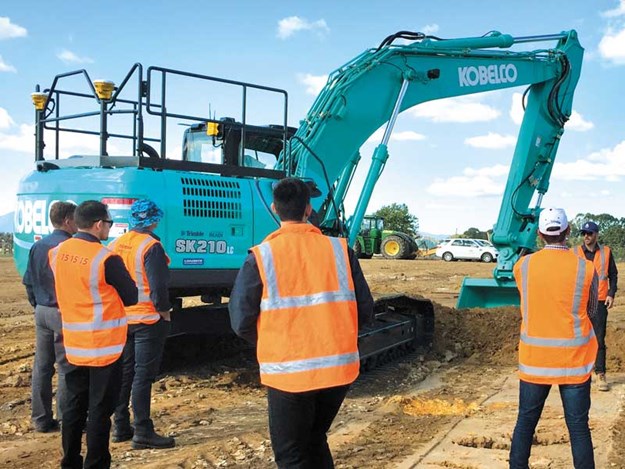 The company now operates a modern heavy machinery workshop, parts store, offices, and training facilities in the Waikato town of Matamata, along with sales and service branches in Auckland, Paraparaumu, and Christchurch. MIMICO is also supported by 15 service dealers across the country.
"Our growth is down to the suite of world-class equipment brands we offer, our superb team, and a range of customers across New Zealand who believe in what we have to offer," explains Rex Davies, MIMICO's managing director.
"We have a good reputation and track record in the industry, but we haven't rested on our laurels," he says.
"In 2018, for example, we added several new brands to our stable, including Dynapac construction equipment, Superior conveyors and wash systems, and MDS International trommels and apron feeders. I believe we now have the best quality equipment range available in New Zealand."
MIMICO also offers world-class brands such as Kobelco excavators, Metso mobile and fixed crushing and screening equipment, Moxy dump trucks, and Epiroc machine-mounted hydraulic attachments.
MIMICO's Engineering division specialises in process and plant design, improvements and upgrades of existing equipment, and installation of new equipment and plant maintenance. Sister company, Crane Sales NZ Ltd, supplies a variety of crane solutions.
"All this, coupled with our service support and parts capability, mean we can now fully live up to our customer promise, which is 'Equipping Your Success'," says MIMICO's general manager, Chris Gray.
MIMICO is customer focused
MIMICO's customer promise is at the core of everything the company does, says Chris.
"Providing quality plant, equipment, and services to maximise the productivity and profitability of our customers' operations is clearly vital to what we do," he says.
"This is a key driver for our business because these things are so important to our customers.
"But that's only a part of the job. Everything needs to be supported by a nationwide service network and extensive parts inventory. We hope to be partners for life with our customers, so our aftermarket support needs to be top notch.
"We think it is. Why? Underpinning everything we offer is our team of motivated, highly trained employees whose job is to ensure long-term sustainable growth for both MIMICO and our customers. We really believe we have a great team."
Innovative ways MIMICO improves business
MIMICO say they are always on the look-out for innovations that allow their customers to do their business better. The company's Kobelco range of excavators continues to evolve.
There is now a Trimble Ready® option for select Tier 4 Final Kobelco excavator models available to New Zealand customers. Select excavators that ship from the Kobelco factory are now ready for the installation of the Trimble® Earthworks Grade Control Platform for excavators, which can significantly reduce the cost and complexity of the installation for the contractor.
"Kobelco has Trimble Ready options for our 14-tonne, 20-tonne, 25-tonne, 30-tonne, and 35-tonne class excavator models, which will be followed by other models throughout 2019," says Scott Turner, MIMICO's sales and marketing manager.
"Making it faster and less expensive to install Trimble machine control benefits both contractors and ourselves and contributes to improving the overall productivity of construction sites.
"Allowing contractors to order from the Kobelco factory a Tier 4 Final excavator that only requires hand tools to install a full Trimble Earthworks system is an incredible advantage."
MIMICO is also seeing that fuel consumption on Kobelco's Generation 10 machines lead the market.
"This is even with machines in Heavy mode, not Standard or Eco mode as regularly stated by our competitors," says Scott.
MIMICO's crushing and screening team have recently trialled the MDS International M412 trommel, which is ideal for heavy-duty screening and the recycling of demolition waste, at several North Island sites. Customers appear delighted with how well it achieves its key task of separating rock from overburden.
The M412 can perform heavy-duty scalping applications or clean dirty material up to 600mm in the largest dimension.
"The machine has proven to be extremely popular," says Garth Taylor, MIMICO's crushing and screening business manager.
"It has allowed customers to process rock containing over burden that would normally be rejected to the customer's tip head. This material can now be passed through the M412 and the rock cleaned and recovered for further processing."
The Metso Lokotrack LT200HP mobile cone crushing plant has recently undergone
a positive upgrade. Thanks to a new direct v-belt drive from the gearbox, the renewed LT200HP delivers impressive fuel consumption savings compared to hydraulic-driven cone crushers.
"Fuel consumption and efficiency are always at the top of our customers' priority lists and reducing emissions levels has become an increasingly important issue in recent years," says Garth.
The upgraded LT200HP, which was launched in late-2018, delivers on all counts. "The LT200HP delivers fuel consumption savings of 35–40% compared with this model when it was originally released in 2004," adds Garth.
MIMICO's crushing and screening team has also recently been around the country providing operation and maintenance training, which will help operators use their Metso equipment even more effectively and efficiently.
"We believe our selection of world-class equipment brands, allied with top-notch service and support provided by a team of motivated professionals will ensure we continue to deliver on our customer promise," says Rex Davies, who is justifiably pleased with the organisation he has helped build.
"We've come a long way already and I think we're now well-equipped to go so much further." It's all in a day's work.
Keep up to date in the industry by signing up to Deals on Wheels' free newsletter or liking us on Facebook.