Product profile: McCloskey International range
---
McCloskey International has come a long way since it produced its first screen back in 1986. Today, it offers a complete range of screeners, crushers, conveyors, and washing systems.
While they may be a new member to the CablePrice family, McCloskey International has been a pioneer and leader in the screening and crushing industry since the firm's humble beginning in Canada back in 1986.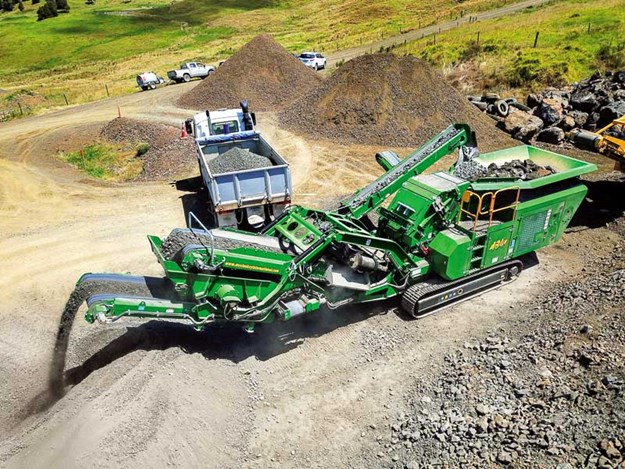 McCloskey has come a long way since it produced its first Trommel screen back in 1986. Today, it offers a complete range of screeners, crushers, conveyors, and washing systems, producing in excess of 1300 units globally each year.
With innovations such as a remote control 180-degree radial stockpiling conveyor with variable discharge height for maximum stockpiling flexibility and a solid rubber wheel drive system, it's no surprise McCloskey is one of the leading Trommel manufacturers in North America, says Jason Cann, general manager of Special products, CablePrice.
"McCloskey products are produced and field-tested to perform across a number of industries, including quarrying, mining, construction and demolition recycling, waste management and recycling, composting, biomass and landscaping. 
Any industry that requires an end product to be crushed, screened or stockpiled can benefit from McCloskey equipment." When it comes to the mobile versus stationary debate, Jason says there are lots of advantages to using McCloskey's mobile (track mounted) units.
"Mobile units can usually be up and running within an hour of arriving on-site. Being mobile also means you can take the unit closer to the coal face, resulting in reduced travel time to get material to the screen, reduced wear and tear on other machines such as wheel loaders, and an overall increase in production capabilities."
Other benefits include easy movability from one site to another, a smaller footprint than stationary equipment, and the ability to contract screening and crushing to other sites when the unit is not in use.
For operators with a smaller site, or who are looking for a compact, jaw, cone, or impact crusher, McCloskey has a range of products to suit their requirements. A great example is the J35 compact crusher.
At less than 2.5 metres, it's portable enough to be easily moved around a site or moved from site to site. Other key features of the J35 crushers include a 162kW engine, 890mm x 500mm jaw crusher with a crusher speed of 300rpm, and the ability to track and crush simultaneously.
With the largest screening area in their class, McCloskey International S-series and R-series screeners are designed to give customers high production output and durability in demanding conditions.
These range from the highly portable S80 screener offering the steepest screen angle of any three-way split screen plant on the market, a Screenbox top deck of 3.05m x 1.3m, and up to the 36,500kg triple-deck S190, featuring adjustable Screenbox angles, making it suitable for a wide range of applications including quarrying, mining, sand and gravel, coal screening, topsoil and woodchip.
For demolition, recycling, and small heavy-duty materials, the High Energy R-range screeners are perfect, from the 15,400kg R70 to the  37,200kg R230 with a Screenbox top deck of 6.1m x 1.8m, which, according to the manufacturers, is one of the most robust, durable, and powerful heavy-duty screeners on the market today.
Operators can also cut costs, save time, and move large amounts of material with the McCloskey range of stackers, which are available in tracked or wheeled varieties. Stackers are all about efficiency, from the speed of set-up to their high degree of mobility.
With a base production capacity starting at 500TPH, and option upgrades to 800TPH, McCloskey have designed their range of stackers based on customer feedback to ensure they deliver across a wide range of industries and applications.
To find out more about McCloskey International's range of products, contact your local CablePrice equipment sales specialist on 0800 555 456, email sales@cableprice.co.nz, or visit cableprice.co.nz.
Keep up to date in the industry by signing up to Deals on Wheels' free newsletter or liking us on Facebook.