Product Feature: Sumitomo excavators
---
Kieran's recent purchase of a Sumitomo SH145X-6—the second in less than two years—is proof of his allegiance to the brand and AB Equipment
For more than 20 years, AB Equipment has had a sound working relationship with the Oliver family.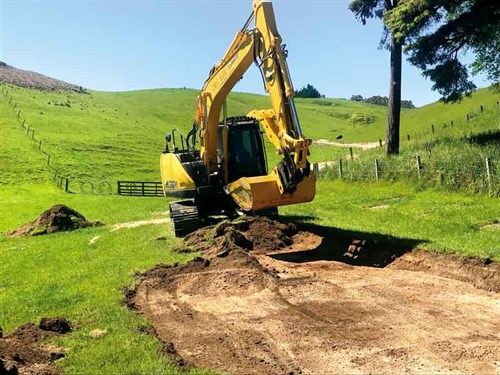 It started in Wellington with Tony Oliver Construction and has continued on with Tony's son, Kieran, whose Masterton-based business Kieran Oliver Contracting has built up a strong profile in the Wairarapa region.
Earning the AB Equipment plaque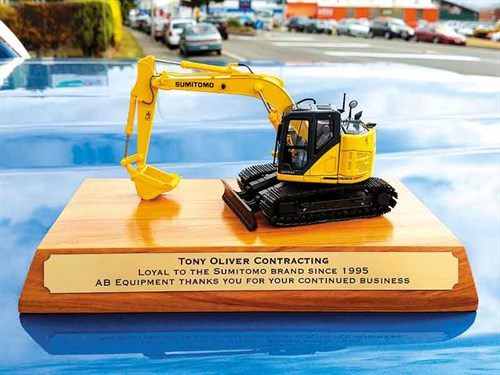 Tony started his business with a Sumitomo excavator and Kieran is carrying on the tradition. His recent purchase of a Sumitomo SH145X-6—the second in less than two years—is clear proof of his allegiance to the brand and AB Equipment. Such loyalty was recognised by AB Equipment with the presentation of a plaque to represent a 20-year business partnership with the Oliver's.
"We were really quite chuffed to receive the award, but quite honestly, we've never been tempted to work with anyone else," Kieran says.
The fleet
In addition to the two Sumitomo SH145X-6s, Kieran also has another Sumitomo, a Sakai roller, and a Bobcat skidsteer and track loaders in his fleet.
"Most of our work is rural specifically, farm excavations, dams, and land drainage," Kieran says. However, there is currently a bit of a building boom going on in the Wairarapa, so there's also plenty of work around developing residential sites and doing house foundations as well."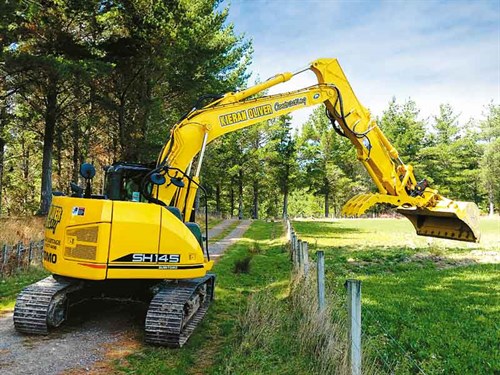 Kieran is excited about the arrival of his new Sumitomo SH145X-6. According to him, it's a cost-effective excavator: smooth to operate and the zero-tail swing offers more versatility on sites where space is a bit tight.
"When it comes to the cab, it sure is super comfortable," Kieran says. "It has all the bells and whistles and that suits me down to the ground because I'm in the machine most of the time. It's reliable and just out and out a beautiful machine to drive."
About Kieran Oliver Contracting
Kieran Oliver Contracting has been in business for around eight years. Kieran has had a passion for excavators from an early age, and like many other contractors in New Zealand starting out, he was strongly influenced by his father Tony and the work he was doing. Under the watchful eye of his father, Kieran learned how to operate an excavator when he was around eight or nine years old.
"Driving a digger just became second nature to me," Kieran says, "so much so that I would be working for Dad on weekends and during the holidays while still at school in Wellington."
After finishing school, Kieran had a stint on a beef and sheep station. Four years later, he was back in Wellington helping his father out but it wasn't long before he got itchy feet and moved to the Wairarapa. Not long after that, Kieran Oliver Contracting was founded.
He started with a second-hand digger and a small truck and quickly progressed to purchasing a Sumitomo SH135-3 on the advice of his father. Kieran Oliver Contracting now has a staff of four and dad Tony, who is now semi-retired, helps out from time to time.
"Being based in Masterton means that customer support is vital to us. We are not a big customer of AB Equipment but they treat us as though we are. We have access to dedicated service technicians, and if there are any issues, they deal with them straightaway. I couldn't ask for anything better."
Read more about machines and equipments on Deals on Wheels
For more information, call 0800 30 30 90 for the location of your nearest nationwide AB Equipment branch.
Keep up to date in the industry by signing up to Deals on Wheels' free newsletter or liking us on Facebook.