Profile: Volvo ECR 88 Plus
---
Deals on Wheels talks to a Francis Ward Ltd operator about the benefits and capabilities of the Volvo ECR 88 Plus hydraulic excavator
JR Higgins operates a Volvo ECR 88 Plus hydraulic excavator for Francis Ward Ltd in Christchurch. He has worked for the company for five years, although has a total of 11 years of operating diggers under his belt.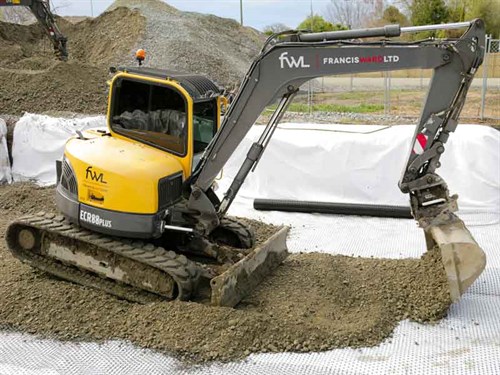 When talking about the Volvo ECR 88 Plus, JR couldn't be more enthusiastic about the machine's capabilities, stating "It's a really user-friendly machine to operate". The current job he's working on in Hood Lane, Christchurch, is a Rib Raft floor foundation excavation.
JR says the Volvo ECR 88 Plus has a smooth hydraulic operation which makes it ideal in getting the best results, especially given he needs to perform a lot of final trim work on a daily basis.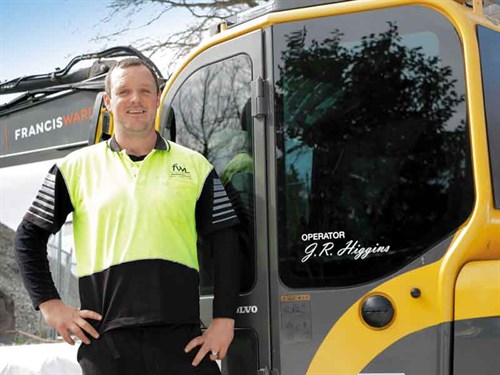 JR told DOW that prior to his tenure with Francis Ward Ltd, he operated a wheeled excavator for six years. Although he enjoyed his time on the wheeled machine, he's now an ardent fan of his Volvo tracked excavator, citing that it's exceptionally stable to operate courtesy of its added factory-fit counterweight, which gives the machine an almost zero tail swing capability.
Having a comfortable cab to work in for an eight- to ten-hour stint on a daily basis is always at the top of any operator's list of must-haves. JR says he couldn't be more pleased with the comfort and visibility offered from the ECR 88's workstation. The machine's air-con and stereo system add to the reasons JR is a fan of the excavator's in-cab features.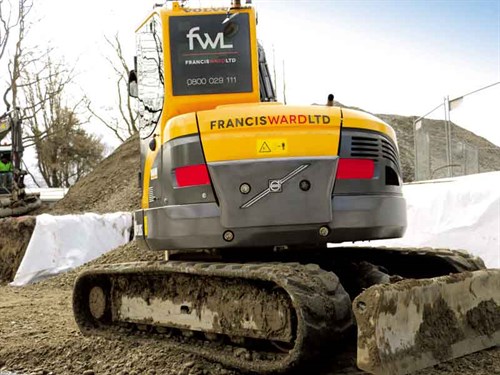 In speaking of the ECR's in-cab niceties, JR reckons he seldom has any reason to leave the comfort of the cabin. The machine's power tilt, quick hitch affords him the abilityto change buckets without leaving his seat, which by its labour-saving nature, minimises the tracking of dirt and grit into the cab.
JR says that aside from the fact that the Volvo is good to operate, he finds that carrying out his daily checks on the machine is made easy by way of good access to its mechanical components.
Also, the machine's service regime, which is carried out at 500 hour intervals, requires the machine to be out of action for a minimal period of time.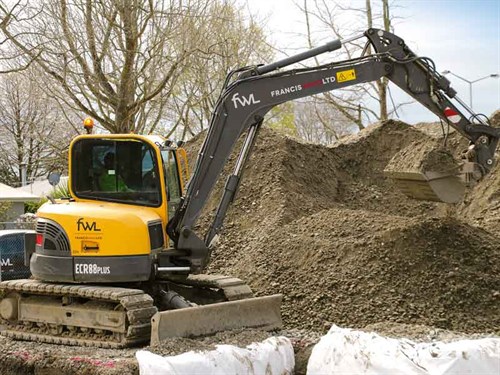 Having heaped praise on the machine's performance and reliability over its two-year, 1900hr lifetime in the Francis Ward Ltd fleet, JR is happy to endorse not only the excavator's performance but also the back-up the company has received from Transdiesel, a service he says is second-to-none.
Specification Volvo ECR 88-Plus Specifications
Gross power: 43 kW (58hp) @ 2,000rpm
Operating weight: 8,450 - 8,650 kg
Bucket capacity: 0.08 - 0.33 m³
Travel speed: low / high 2.6 / 4.9 km/h
Slewing speed: 8 rpm
Breakout force: 59 kN
Tear out force (arm breakout force): 41 kN
Overall width: 2,300 mm
Overall length: 6,410 mm
Main hydraulic pump max. flow: 166 l/min
Boom swing angle, left / right: 70 / 60 degree
Keep up to date in the industry by signing up to Deals on Wheels' free newsletter or liking us on Facebook.