Porter Press Extra: Hyundai HL757-9 loaders
---
The Porter Equipment-supplied Hyundai HL757-9 loaders have recently been put to tough work at NZAS, New Zealand's iconic aluminium smelter at Tiwai Point near Bluff
When Steve Moratti, superintendent of shipping and logistics at the smelter called for tenders, initially for the acquisition of one machine to replace an aging 17-ton loader, he promptly received a visit from Wayne Cunningham of Porter Equipment.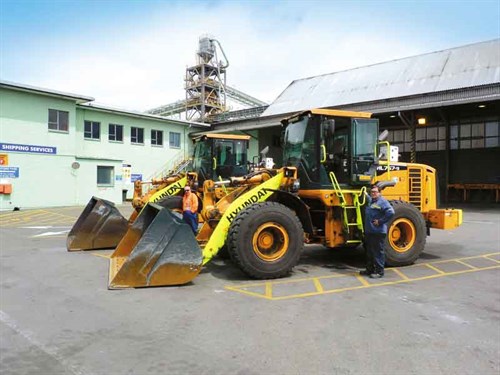 Wayne, who is Porter Equipment's territory manager for Otago and Southland, made the trip from Dunedin to Tiwai Point to take a look at the smelter's operation and to make recommendations as to what he considered to be the most suitable machine for use in this unique and challenging environment.
The Hyundai HL757-9 loaders
Wayne's experienced eye told him that although the current loader in use was a 17-ton machine, a 15-ton Hyundai HL757-9 would be more suited to this particular application. This machine would have an advantage over the larger machine in that it would be more manoeuvrable for getting into some of the tighter spots in which the machines operate.
Being powered by a turbocharged six-cylinder Cummins QSB6.7 engine, pumping out a tad over 170 horsepower through its four-speed powershift transmission, Wayne knew that the Hyundai machine would be well and truly fit for the task.
The work carried out by a wheel loader at the smelter is unique. It spends at least a part of most days pushing large pieces of cryolite through a sifting grate, known as a 'Grizzly'.
A casual glance at the bucket's worn cutting edge, gives a graphic indication of just how tough a machine has to be to cope with the workload. The cutting edges on the new loaders are both reversible and replaceable.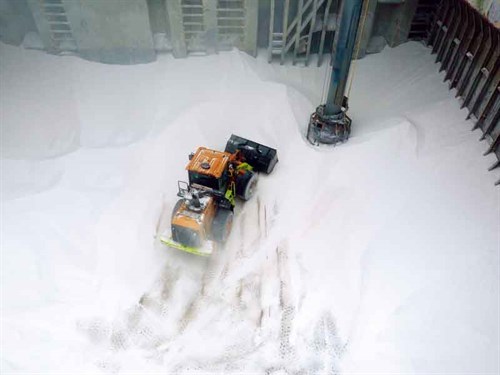 The Breathesafe system
An item of key importance in the smelter's brief to Porter Equipment was for the supply of an airtight, air-filtered cabin to be fitted to the loader.
To that end, Murray Podmore, product support technical coordinator at Porter Mechanical, researched the best means of meeting that requirement. Murray settled on a Breathesafe system which uses a unique INPRESS intelligent cabin pressurisation system linked with a data logger.
Murray explained that before the Breathesafe system could be installed, the Porter Mechanical technicians needed to ensure that the cab was absolutely airtight.
To meet this requirement, every potential point of air ingress needed to be sealed, as the Breathesafe system operates by maintaining constant in-cab 25 pascal positive pressure, in order to impede the induction of outside contaminants.
The pressurised air supply is filtered to a high standard by means of a heavy duty, maintenance-free brushless motor, which can be altered to suit different working applications.
Filtered fresh air supplied to the cabin pressuriser, which is capable of maintaining 25Pa of cabin pressure through the service-life of the HEPA filter, with a minimum of 30 cubic meters per hour of fresh air to ensure there is no CO2 build up.
An in-cab display constantly monitors the pressure while making adjustments as required and provides the operator with a visual display along with an audible low-pressure alarm.It didn't take long for the Porter team's assessment of the right machine for the right job to be vindicated, as it was only a couple of months after the first Hyundai HL757-9 was put into service that Steve Moratti was on the phone placing an order for a second Hyundai HL757-9. He and his team were so pleased with the first machine's performance and its healthy working environment, due to its Breathesafe cab.
The loaders at work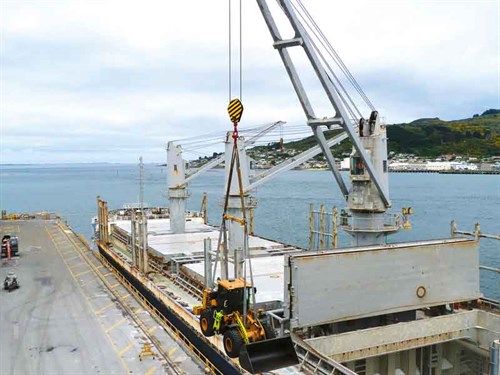 I had the privilege of following services operator, Scott Smith, around, accompanied by acting superintendent shipping and logistics, John Young, and community relations officer Andrea Carson, to watch the HL757-9 at work.
Although Scott says the work the loaders undertake isn't particularly heavy, the machine still works extremely hard and has had its bucket's capacity extended in order to carry an extra half-cubic metre or so.
While walking around the two Hyundai machines, Scott talked enthusiastically about the airtight cabs and of how they stay completely free of dust. One exceptionally good reason for needing this feature was about to become apparent, as we prepared ourselves for a trip out to the wharf to see the loader working in a most unlikely location; a ship's hold.
Getting from point A to point B in a timely manner is also a consideration that needed to be taken into account, as an almost two-kilometre-long causeway separates the smelter from the wharf where the ships that carry the raw material dock.
We arrived at the wharf just as the slings were being attached to Scott's HL757-9 and were able to watch it being craned over the side before disappearing into the belly of the ship.
Scott and Shipping Services crew leader Chris Hollingsworth had this part of the operation down to a fine art, as it seemed like it was only a matter of minutes between them putting the slings on and the loader disappearing into the ship.
A rare photo opportunity was about to unfold, as Chris had gained permission for our team to board the ship, Nord Yilan, and capture some shots of the Hyundai HL757-9 in action, deep in the ship's hold.
Chris explained that the alumina, which is the raw material from which aluminium is made, is sucked out of the ship by means of a giant 1,000 ton-per-hour, 'vacuum cleaner', appropriately named a Ship Unloader.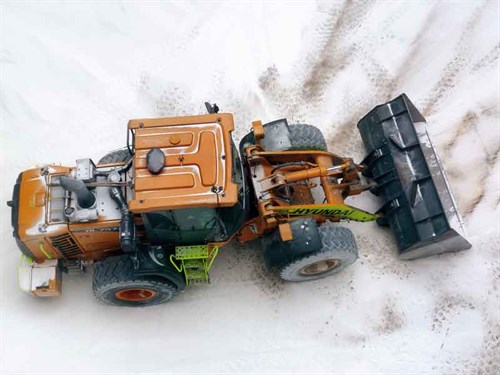 However, there is always a residual amount of product left in the hold that can't be accessed by the nozzle, hence the need to place a machine below, in order to push around 1,500 ton of alumina into a position closer to the unloader's intake. As the photos show, this is a very dusty operation in which the Breathesafe pressurised cabs of the Hyundai machines are a necessity.
Despite his youthful looks, Scott has been operating wheel loaders for some considerable time. He said that he cut his teeth on a Hough 65, giving some indication of how long he's been in the game.
Because the alumina and carbon particulates are so fine, they have a greater propensity to be induced by engine induction systems, which naturally causes premature wear, more-so than if the particulate was merely dust from say a roadwork job.
It was for that reason that Porter Equipment even went a step further by fitting an additional filtration system which goes so far as protecting both machine's alternators in order to alleviate any eventual electrical problems.
Steve Moratti, as the smelter's superintendent in charge of shipping and logistics and Scott Smith as one of the men who operates the machines say they're extremely happy with the performance, comfortability and safeness of their two Hyundai HL757-9 wheel loaders.
The final word though goes to Steve Moratti, who says that "he is very pleased with the Porter Group team when it came to ensuring they were supplying absolutely the best machines for the specific requirements of the NZAS smelter".
"They worked hard to make sure that the machines had all the additional extras required to fulfil the variety of tasks and environments that we use them in. Nothing was a problem for them at all," he concluded.
Keep up to date in the industry by signing up to Deals on Wheels' free newsletter or liking us on Facebook.