Cover Story: Terex TA300 ADT
---
Heavy Trax Hire has recently invested in some big machinery in the form of five new Terex TA300 ADTs
Daniel Stewart of Heavy Trax Hire is no stranger to the Terex brand. He does say, however, that the step changes found in the latest generation TA300 and TA400 articulated dump trucks (ADTs) move these XL-sized pieces of machinery along in a big way from where they were before.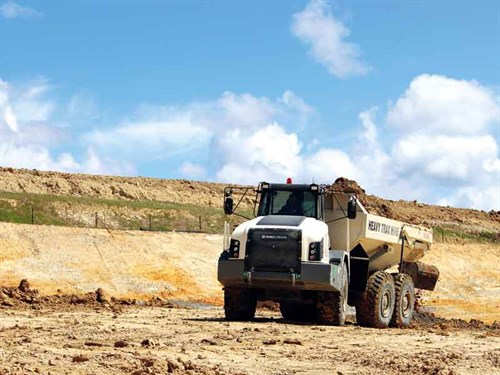 "We used to have a fair few Terex machines. More recently, we decided to have a look at what the newer generation trucks had to offer and the specification, coupled with a good deal on purchasing them, made it a logical move for us."
Heavy Trax Hire has invested in no less than five of the 30-ton Terex TA300 models in recent months; an initial purchase of two machines has been bolstered recently by a further three.
"It's a big investment, but we looked at what else we had on the hire fleet and could see that we had a lot of older machinery sitting around that was never going to get less-expensive or time-consuming to maintain," continues Daniel.
"We decided to round up some of this older equipment and trade it in on the Terex ADTs. That's where the firepower of Porter Equipment comes in. They could get a good price together for us, so it made financial sense to go ahead.
"Obviously, there is a further pay-off down the line where customers are getting better machines that are still robust enough to do a variety of different jobs, but with a bit of luck won't cause us too many dramas in terms of unplanned downtime or anything like that."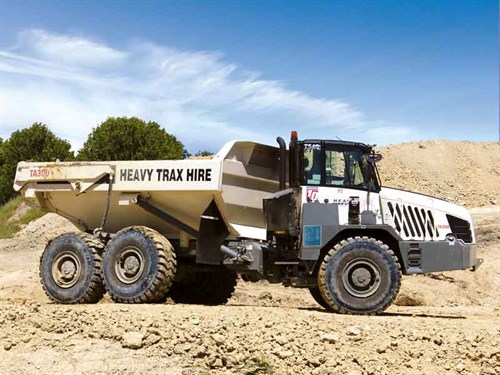 More than just straight forward quarry work, Daniel says the machines will go out into different environments. In fact, the decision to run with 30-ton Terex TA300s, as opposed to bigger 40-ton TA400s, was based around the degree to which subdivision work is taking precedent for many of Heavy Trax Hire's customers these days.
"I would estimate that about 95 percent of work on at present is being done by the 30-ton trucks. They're just a bit smaller for more confined operations, such as subdivisions. They're kinder on haul roads and those kind of peripheral aspects, so we wouldn't have gone with a bigger machine for our particular needs."
Despite arriving with zero hours on the clock, the first two machines have already worked around 300 hours each. Three machines are based at customer operations in the Auckland region, while two will float between Heavy Trax Hire yards in Dunedin, Cromwell and Invercargill.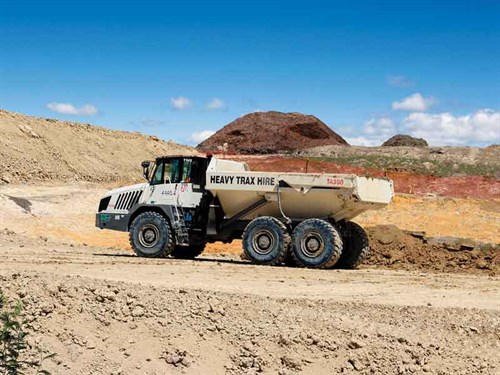 "Because of the nature of the machine hire business, we can't dictate who drives them. You just hope that whoever does drive them appreciates the investment. Mind you, our customers really seem to appreciate the Terex brand and a lot of the features.
"These days there is a lot of really great technology on these machines that make our customers' lives a lot easier, such as accurate weigh scale read-outs and comfortable cabs that ensure the driver is much more alert, even on long shifts.
"We haven't installed the functionality yet, but we can also activate the trucks' GPS systems, so our customers can keep tabs on them wherever they are on-site. This is a pretty obvious plus from a health and safety perspective, as much as it will hopefully provide for more efficient haul planning too."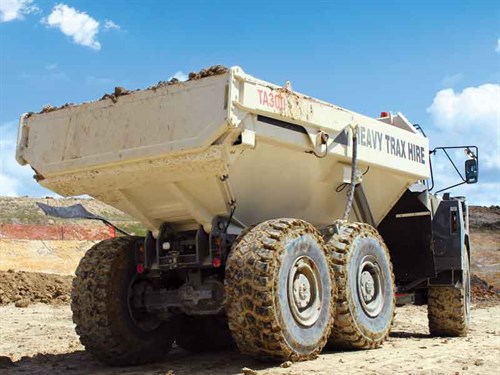 While there is plenty of technology in the latest generation Terex TA300 and TA400 ADTs, it's still the robust, no-nonsense approach to machine engineering that the manufacturer remains trusted for worldwide.
Terex TA300 dump truck features
Everything is designed and built with heavy-duty usage in mind. Front and rear frames are all-welded high grade steel fabrications with rectangular box-section beams forming the side and cross members. Likewise, the body features an all-welded construction, fabricated from 'high hardness' yield strength steel.
Terex's off-road abilities are also legendary. The Terex TA300's three heavy-duty axles are in permanent all-wheel drive (6x6) with a differential coupling between the front and rear axles. All three axles also have hydraulically-actuated multi-plate transverse diff-lock differentials for 100 percent cross-axle lock up.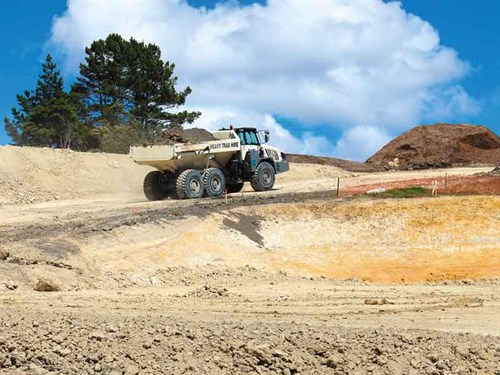 The driver has the ability to manipulate the diff-lock depending on just how hard going everything is under the wheels.
"The Terex dump trucks are pretty indestructible, but it's good to know Porter Equipment will be able to help us out with any parts or technical issues," says Daniel.
"It's early days, but they have the firepower in the marketplace and plenty of experience, so we're happy to be dealing with them for our Terex needs."
Keep up to date in the industry by signing up to Deals on Wheels' free newsletter or liking us on Facebook.