Special feature: The Logset 8H GT harvester
---
A forestry contractor in Finland with decades of experience has made a significant investment in a new Logset 8H GT harvester
Kari Virtanen has been working as a forestry contractor for the past 40 years and in a normal five-day week would harvest around 700 cubic metres of wood.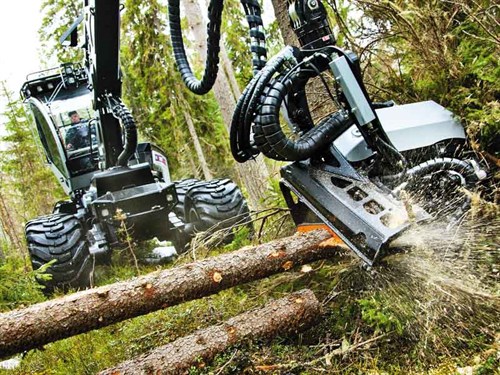 He recently made a huge investment of €400,000 (NZ$652,640) on a new Logset 8H GT harvester that he purchased new in January this year.
The Logset 8H GT is a six-wheeled clear-cut harvester with sufficient power and stability for the most demanding conditions.
Features at a glance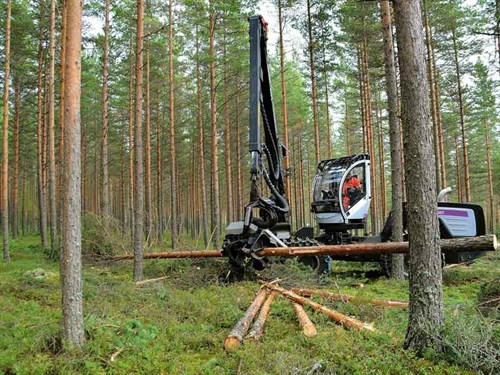 The harvester offers an adequate pump capacity for both crane and head with either a 210cc pump or double pumps of 190cc and 140cc. The Agco Sisu Power 7.4-litre, 300hp engine provides enough power for any situation.
Using a Mesera M240H crane gives the Logset 8H GT superior lifting power, a low gravity point, unique geometry, and maximised visibility due to the narrow crane pillar.
Logset's vice president of sales, Pascal Rety, says the company set out to design a high productive and economical machine when introducing the 8HGT harvester.
"The Logset 8H GT is a medium-sized harvester with high power and great productivity. However, it still remains top of its class in fuel consumption," he says.
"The 300hp engine is manufactured by Agco Sisu Power. It's an equipment purpose-built engine, which provides high torque at low rpm. It is really good on fuel-saving.
"The Logset 8H GT harvester is a versatile harvester, which can carry out thinning operations or clear-fells. The harvester is powerful, stable, comfortable, and economic," he says.
And when coupled with the Logset TH55 harvesting head, the machine duo is a match for any competitor.
The TH55 design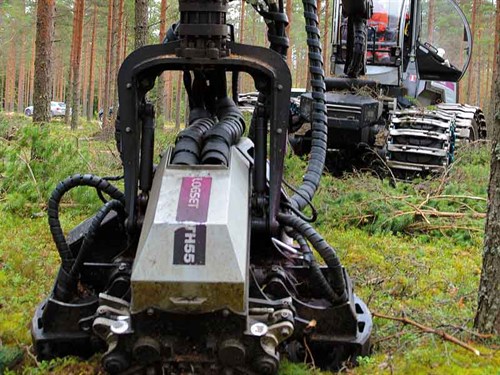 The TH55 head has been designed for second and third thinning but it is also suitable for smaller clear cuts. The TH55, which weighs one tonne, can be equipped with a multiple stem-handling option to enable trouble-free collection of multiple trunks.
Logs are measured by sensors by the top knives measuring diameter and by a hydraulic wheel measuring the length. These are then cut according to the settings and requirements of the wood buyer.
Nokian tyres are fitted all round on the Logset 8HGT. On the front bogie, the tyres are sized 710/45 by 26.5 and on the rear axle, 700/55 by 34.
Putting Logset 8H GT machine to use
In its first eight months of use, Kari has logged more than 2000 hours using the Logset 8H GT machine in two shifts with another co-worker.
Kari reports his machine is extremely reliable and that he will have paid it off within five years.
"This Logset machine runs on around 10 to 11 litres of diesel per hour and has more hydraulics than the older machines," he says.
"It performs smoother movements on the arm and head and has a comfortable cab in which to operate the machine. Visibility is important in this job, and in the Logset 8HGT, I can see all around the machine, as the cab twists as well to suit the location.
"I normally change my harvester every five years and that's also the duration of the loan I take out to purchase the machine in the first place."
Forest management and maintenance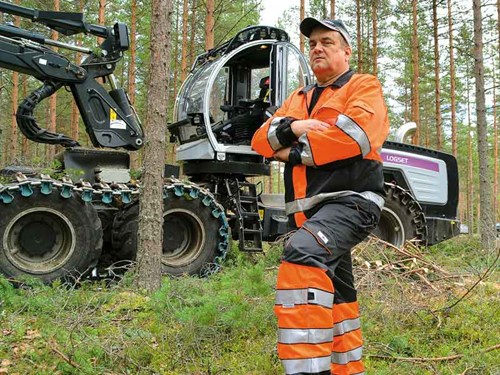 Kari plays an important role in the management of the forests and operates his Logset machine in a variety of situations. His primary focus is on forest maintenance and subsequent thinning of wood where and when it is required. 
When on thinning duties, Kari's Logset machine harvests about 10 cubic metres or 7.5 to nine tonnes of pulpwood in an hour. In final clear-cut harvesting, the production is about double that amount.
With all his decades of experience, Kari has a professional eye that can instantly detect the trees that need to be thinned in order for the rest of the forest to flourish.
The industry targets for such a harvester as the 8H GT is to produce 25,000 to 30,000 cubic metres of pulpwood from thinning, or 60,000 to 90,000 cubic metres from final clear-cut per year.
In order to save a lot of time, this Logset harvester records the production statistics, which is then used by the forest owners for sales documentation and for their own paperwork. Naturally, this information is available for forest management purposes as well.
At work
Kari carries out most of his annual work on a forestland that belongs to prominent Finnish businessman Ilkka Brotherus, where he cuts the wood before it's piled up at the side of the road by the forwarders for collection.
The buyer's truck then loads and weighs the pulpwood, and the owner gets paid per weight. Kari says there is an 80-year production cycle for pinewoods in southern Finland.
Ilkka currently owns 3700 hectares of forest, which he has been building up for a number of years since 1981.
"Some of the trees are more than 50 years old, and we experience an average growth rate of seven cubic metres per year," Ilkka says
"In one hectare we would have around 170 cubic metres of trees, which is ideal. We manage the forests ourselves, bringing in a contractor to thin them out when required.
"We receive around 60 Euros per cubic metre for the good wood and 30 Euros per cubic metre for pulp wood.
"We are making around a five percent return on our investment in the forestry industry, something in the region of 200 Euros per hectare per year.
"Our forests are managed in a ten-year plan in terms of thinning, harvesting, and replanting," Ilkka says.
To this, Kari adds, "Typically, young woods are hand trimmed twice to remove unwanted shrub before first harvester thinning. On this logging site, the owner is thinning a 40-year old pine forest.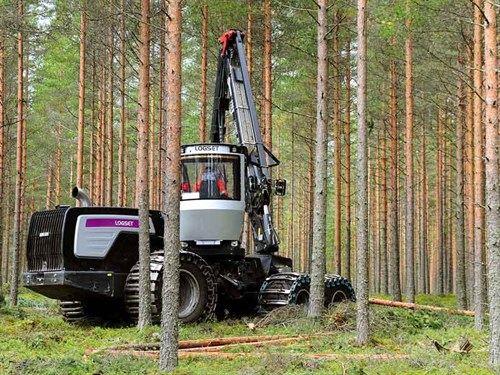 "The target is to leave some 700 pines per hectare, which will be thinned again in about 15 years down to 500 pines per hectare.
"Typically, both thinning harvests produce 50 to 100 cubic metres of wood. The final clear cut will be done when the trees are about 70 to 80 years old.
"This is the most valuable timber. The yield at final cut varies typically from 350 to 500 cubic metres, but I have seen some woods as high as 800 cubic metre yields."
Sometimes, Kari gets to work on woods, which were never trimmed or thinned within the production cycle.
"Such woods produce about the same as well-maintained woods in final cut," Kari says.
"Also, it takes longer to reach maturity, if you don't thin the woods. Therefore, the landowner loses the production of the two thinning cuts and waits longer for payback. There's a clear incentive to manage your woods professionally."
About Logset Oy
Logset Oy was established in Finland in 1992. According to their website they distribute a Logset machine range of six forwarders, eight harvesters and seven different harvester heads to a network of over 20 countries; having equipment working in more than 25 countries. As at time of writing Logset Oy do not have a distributor based in New Zealand, with the closest being Lico Pty Ltd, located in South Australia. licihgt@bigpond.com.au
Logset 8H GT specifications
Weight: 19,000kg
Engine: Agco Power 74 AWF
Power: 220kW (300hp) @1900rpm
Emission: Tier 4 F
Oil flow: Standard: 210L/min
Optional: 190+140L/min
Cabin: Rotating, multi/sideways-levelling
Crane: Mesera 240H
Lifting capacity: 240kNm
Reach: 10.3/11m
Tyres Front: 26.5
Rear: 34
Keep up to date in the industry by signing up to Deals on Wheels' free newsletter or liking us on Facebook.