Product feature: Doosan DL420 Wheel Loader
---
Designed to scoop, carry and load material, Doosan wheel loaders can perform a wide range of material handling tasks
Designed to scoop, carry and load material, Doosan wheel loaders can perform a wide range of material handling tasks. These include loading and transporting granular material such as sand and gravel for construction and municipal operations, as well as a multitude of industrial, mining and quarrying applications.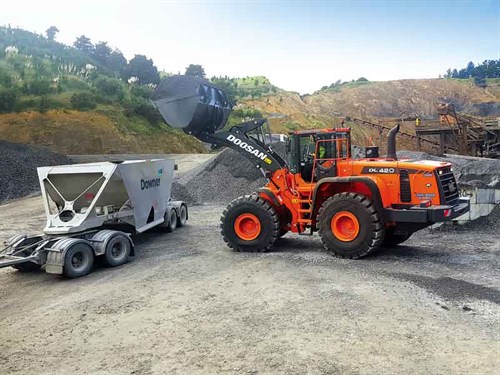 Recently delivered to Mangawhai quarry operator, Lake Road Quarries by New Zealand distributor AB Equipment was a Doosan DL420 wheel loader. This particular model was chosen because the trucks that are now coming into their yard to load up are getting bigger and the company needed a machine that would match the trucks for height and provide more productivity.
Quarry manager, Martyn Knight has worked in quarries for as long as he can remember and knows a thing or two about the industry. Lake Road Quarries brought him in to assist with future proofing the business by putting systems and processes in place that will assist with its long term competiveness.
"In this instance, we needed a bigger loader and the Doosan DL420 fitted the bill perfectly. What we get with this loader is quick turnaround, stability and reliability in one complete package," says Martyn.
Martyn is also aware of the power and strength the Doosan loaders provide when loading trucks at his quarry. With its powerful breakout force and quick response time, the Doosan wheel loaders are designed for the tough jobs. For a big performer, the Doosan DL420 is agile and smooth and can provide a superior lift capacity and enough traction to penetrate hard materials no matter the task.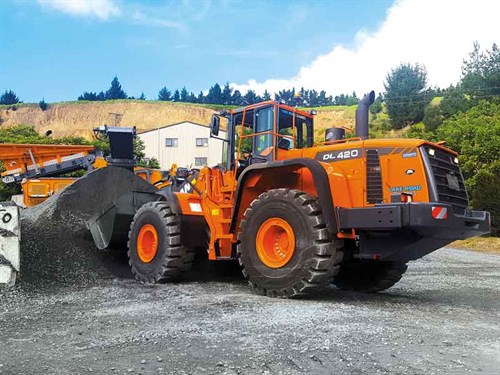 "Doosans aren't the most expensive machines; neither are they cheap. They sit nicely in the middle of the market when it comes to value-for-money. This is good for the likes of an owner/operator, because not only do they get a powerful performance-driven machine, but also peace of mind with a four-year warranty to go with it."
Few machines are built to match the ease-of-maintenance that Doosan wheel loaders can offer. Regular maintenance can be short and simple, with long service intervals helping reduce the amount of downtime.
The Doosan DL420 loader is also hard to beat for operator comfort, with more space, better visibility, automatic air conditioning, an adjustable steering column and ergonomically-placed controls. The air suspension seat has multiple settings to match all body sizes and preferences.
According to Martyn it's like driving a Rolls-Royce, with the only difference being that you have a bucket hanging out in front.
"It has everything you could possibly need in a cab. It's just so comfortable. I can sit in it all day and do my work without a care."
Martyn says AB Equipment is the number one construction equipment company in New Zealand. "They look after us wonderfully so you can be sure we will definitely be dealing with them in the future."
Read more product features on Deals on Wheels.
Keep up to date in the industry by signing up to Deals on Wheels' free newsletter or liking us on Facebook.