Product feature: Bobcat M2-Series loaders
---
Bobcat has introduced the new M2-Series skid-steer loaders to New Zealand
According to its manufacturer, the M2-Series compact loaders offer a variety of performance, operator comfort, and visibility enhancements to help increase operator productivity and provide enhanced uptime protection.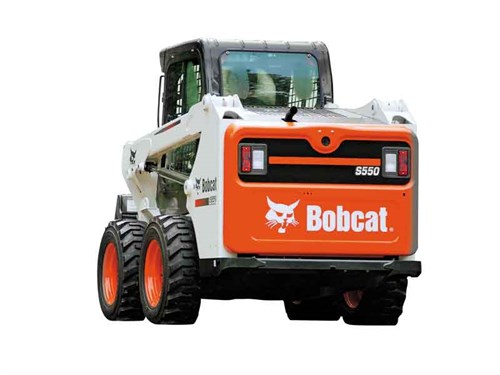 The overall M2-Series line-up includes Bobcat® 400-, 500-, 600-, 700-, and 800-frame-size skid-steer loaders as well as compact track and all-wheel steer loaders.
Bobcat M2-Series loaders features
Enhanced automatic ride control option
Landscapers will appreciate the ability to turn the automatic ride control option on or off from inside the skid-steer cab for added convenience. Previously, the ride control option was turned on or off using a valve accessed by opening the loader's tailgate.
Operators can now press a switch to toggle between auto and off. When the auto mode is selected, the system will work at any travel speed. The ride control function is automatically activated by detecting increased hydraulic lift arm pressure when the loader is carrying material.
Automatic ride control reduces spillage, allowing operators to travel at faster speeds for increased productivity. Thanks to its dampening effect, the option also increases comfort by offering a smoother ride and is optimised for each Bobcat loader-frame size.
Reversing fan option clears debris
A new reversing fan option available for M2-Series loaders enables operators to temporarily reverse the cooling fan direction to blow dust and small debris from the radiator and rear screens. This M2-Series loader option helps to minimise downtime and can reduce the cooling area cleaning frequency. Operators can choose from the following operating modes:
Automatic: Reverses fan direction at a regular frequency to keep the loader's engine coolant and hydraulic oil at proper operating temperatures
Manual: Purges material at the operator's discretion
Off/disengaged
Cab design enhances comfort
M2-Series loaders feature new front and rear cab isolators, door seals, and side screen dampers. These design elements reduce noise, vibration, and dust inside the loader cab. Also, a new lift cylinder cushioning feature slows down the loader arms before they reach the lift arm stops for smoother movements and increased operator comfort.
Another operator comfort enhancement that's a standard feature for 600- and 700-frame-size M2-Series loaders is a low-effort hydrostatic pump. The new pump reduces drive lever effort by as much as 25%.
Bobcat compact loaders equipped with standard controls or the Advanced Control System (ACS) use this new pump, which will help decrease operator fatigue, especially when operators are in the loader for an extended periods.
Improved visibility
Bobcat says a redesign of the top window of the loader's cab improves operator visibility with a 34% increase in viewable area, which is beneficial when loading material into a high-sided truck or silage into a mixer. In addition, the new design allows for easier top window cleaning and still meets all of the safety standards for ROPS and FOPS.
Tier-4 S850 gets horsepower boost to 100
M2-Series S850 skid-steer loaders now come standard with 100hp Bobcat engines, a nine percent increase from the prior iteration. The horsepower boost provides increased attachment performance in demanding applications, including operating high-flow auxiliary hydraulic attachments such as forestry cutters and planers.
Bobcat says that it also delivers more power to operate high-flow auxiliary hydraulic attachments at higher ground speeds during attachment operation, helping increase operator productivity.
New decals
M2-Series loaders feature new, larger model decals that can more easily be seen from a distance to help identify model numbers, which can be useful on large worksites or areas where multiple loaders are operating.
For more information, contact AB Equipment on 0800 303 090 or visit abequipment.co.nz.
Find out more about new product launches on Deals on Wheels.
Keep up to date in the industry by signing up to Deals on Wheels' free newsletter or liking us on Facebook.