Product feature: Bobcat E20 excavator
---
The new Bobcat 1.8-tonne E20 excavator from AB Equipment seems to be ticking all the boxes when it comes to performance and reliability
Prior to the E20 excavator being introduced, Bobcat listened to the feedback from Down Under and completed a redesign to the machine weight. As well as amending some of the other specifications, they also ensured that it met the maximum requirement for legal towing behind a utility vehicle. The company says that in accordance with the Anzac spirit, other modifications were made to ensure the Bobcat E20 excavator has a competitive edge when it comes to lifting, digging, and operator comfort in this part of the world.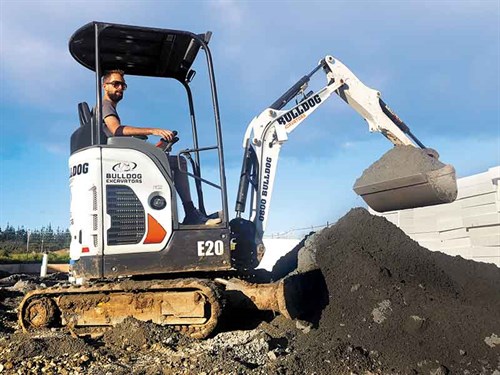 Auckland-based Bulldog Trade Services Ltd is one of those who believe the new Bobcat E20 excavator has the wow factor. The company was established only a year ago but already owns two Bobcat E20 excavators and a larger E50 model. Having the confidence to buy three machines is a testimony to the quality of the product and further demonstrates why Bobcat equipment is all about class, the company says.
"Our strategy has been to buy new right from the word go, and to date, this has worked for us," Bulldog Trade Services director, Andrew Skinner, says. "Being able to jump in the cab and get straight to work knowing that you have a reliable machine that will work hard for you all day long speaks volumes."
Andrew is someone who appreciates a roomy cab. At two metres (6' 5") tall, he is impressed with how easy it is to get in and out of the machine.
"But that's not all," Andrew says. "For us, the Bobcat performs brilliantly, is a very powerful machine for its size, and responds exactly how we want it to. It does everything we ask of it and more. We just can't fault them."
Bobcat E20 excavator features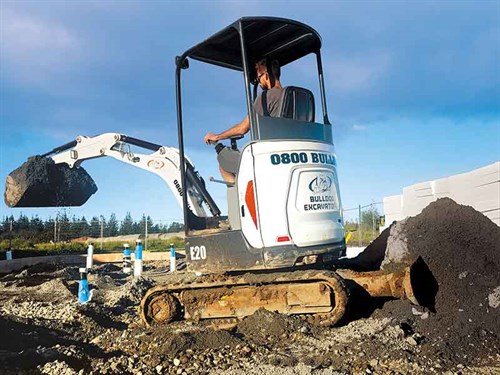 The new generation of Bobcat E20 excavator features a complete new hydraulic system, increasing reliability, efficiency, and precision control, yet retains the well-known Bobcat digging and lifting power. The new engine models are designed to provide an optimum match for the refined hydraulic system, resulting in lower fuel burn.
With operator and machine safety being paramount, Bobcat says there's a feeling of real security in the knowledge that the E20 excavator has a strong bodywork and counterweight that gives operators the best protection possible.
The operator station meets demands for increased room, comfort, and visibility.
The retractable undercarriage reduces the E20's width to less than one metre for working in confined areas. Also, the automatic swing brake in conjunction with four tie-down points integrated into the upper structure makes the E20 easy and safe to operate.
All daily service checks are accessible through the rear bonnet. The E20 can also be configured to the operator's particular requirements, as it's supplied with a pattern charger as standard. Machine versatility is also easy with a comprehensive range of approved attachments such as hydraulic clamps, buckets, breakers, and augers.
According to Andrew, having a good support backup is important to them, and to date, we have had this from AB Equipment in spades.
"Their sales pitch certainly doesn't come sugar-coated, and we appreciate the honesty. We will be looking to expand our fleet in the future. The combination of Bobcat and AB Equipment is just a no-brainer for us," he says.
For more information or a demonstration of the new Bobcat E20 excavator, contact AB Equipment on 0800 30 30 90 for the location of your nearest Bobcat dealer or AB Equipment branch throughout New Zealand.
Keep up to date in the industry by signing up to Deals on Wheels' free newsletter or liking us on Facebook.