Product feature: PneuVibe boom-mounted plate compactors
---
DOW takes a look at Digga's PneuVibe boom-mounted plate compactors that are simple to operate and can easily connect to your machine's existing hydraulics
DIGGA New Zealand's high-performance PneuVibe boom-mounted plate compactors are suitable for a wide range of applications, from vertical and inclined compaction, sheet, and post and pile driving. PneuVibe has been manufacturing high-performance pneumatic and hydraulic equipment for the construction industry for the past 30 years in Australia.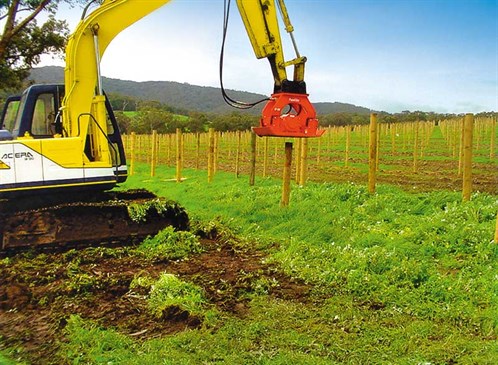 Engineered for optimum performance and durability, Digga New Zealand's PneuVibe boom-mounted plate compactors feature rubber vibration mounts that are angled to the base so that the pressure exerted by the boom on the top plate causes the mounts to convert from a shear to a compression mode. The system ensures increased elastomer life and minimises vibration transmitted to the boom, thus reducing wear on the pins and bushes of the excavator.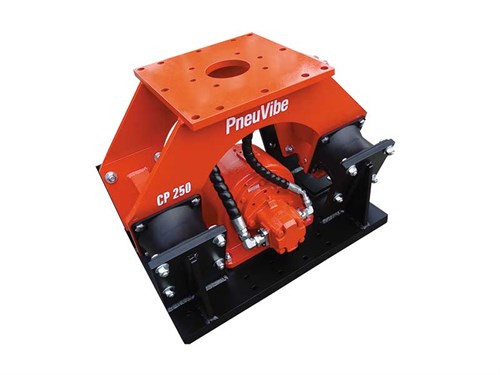 The hydraulic motor and hoses are positioned within the protective cradle to prevent them being snagged or damaged on trench walls, and the hydraulic hoses are covered with an anti-abrasion wrap for maximum flexibility and durability. A built-in priority valve system monitors the oil flow, providing the correct volume to obtain maximum performance by the compaction plate and avoiding damage to the hydraulic motor due to excessive flow.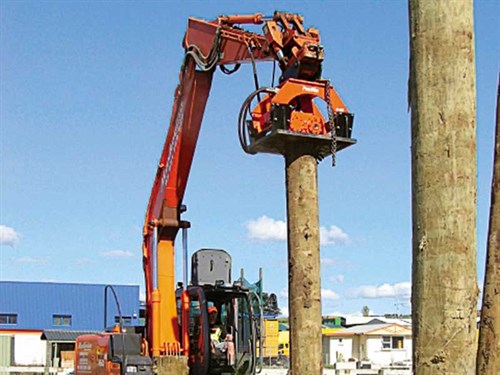 It's simple to operate and to connect to your machine's existing hydraulics, and it's easier if you have a existing hydraulic hammer piping. Vibration is produced by a rotating eccentric shaft. This combined with the downwards pressure of the carrier generates impulse force to be placed wherever your boom will reach.
This enables you to compact most soil types to required density levels whether working in narrow trenches, on large backfill operations, or for vertical and inclined compaction. Sheet, post and pile driving can also be effectively handled, further increasing the versatility of this must-have attachment.
About Digga NZ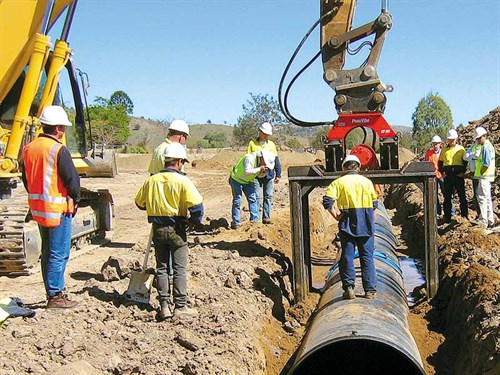 With more than 150 Digga Auger drive units incorporating Digga's Australian-made planetary gearboxes in stock and Augers to suit, Digga's extensive product range is designed and manufactured for the widest range of local conditions, providing quality, versatility, competitive pricing, and a New Zealand factory backed warranty. Established in 1981, Digga produces world class planetary gearboxes for some of the world's leading earthmoving companies.
Today, Digga NZ employees staff at branches in Auckland, Nelson, Christchurch, and Gore, supporting customers throughout New Zealand and is further backed up with more than 200 staff in Australia.
With cutting edge auger drives and augers and more than 79 different attachments, including rammer rock breakers, bucket brooms, 4-in-1 buckets, slasha, mixa, spreada, kwik rips, trenchers, ramdrills, brooms, pallet forks, PneuVibe plate compactors, cold planers, little Digga, alloy ramps, kanga loaders, and an extensive range of wear and spare parts, Digga has the solution to all your needs to suit all excavator, skid steer, and tractor types.
For more information, call 0800 344 426 or visit digga.co.nz.
Keep up to date in the industry by signing up to Deals on Wheels' free newsletter or liking us on Facebook.