Business profile: The Machine Security Company (MSC)
---
The Machine Security Company's security solutions ensure trucks and heavy machinery on-site are safeguarded from theft and vandalism
In our modern-day business environment, company owners and corporations alike have to deal with an increase in theft and vandalism on trucks and machinery, both of which eat into already tight profit margins.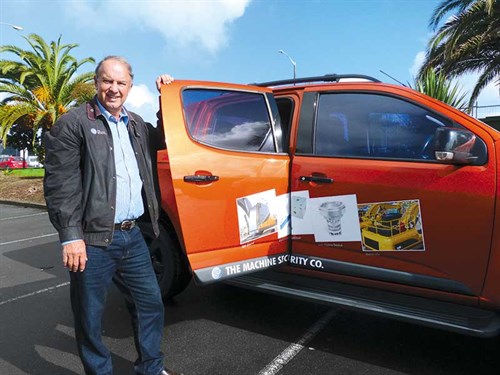 Add an ever-increasing responsibility towards health and safety in the workplace into the mix and you have a recipe for a load of sleepless nights.
However, help is at hand in the form of The Machine Security Company (MSC), owned by Brian Cruickshank.
DOW recently took a trip out to see Brian and to look at a few of the devices he has
in his inventory to protect a business owner's valuable assets and to ensure that the 'liquid gold' stays right where it belongs—in the fuel tank.
We also paid an on-site visit to Ridge Road Quarries to talk to operations manager Daniel Topp about the MSC-supplied safety handrails fitted to two of their newest machines.
Vandal guards
Brian explains that when a machine is broken into, it isn't merely the windows that suffer the damage. The electronics in the workstation are the most costly and time-consuming parts to replace.
He says his company's vandal guards are manufactured from 6mm thick polypropylene and are designed to fit neatly over the cab.
The vandal guards, Brian says, are easily installed initially and take just a few minutes to fit and remove when the machine is being used on-site.
When not in use, they can be stored in their purpose-built container while the machine is in use or being transported.
Anti-siphon device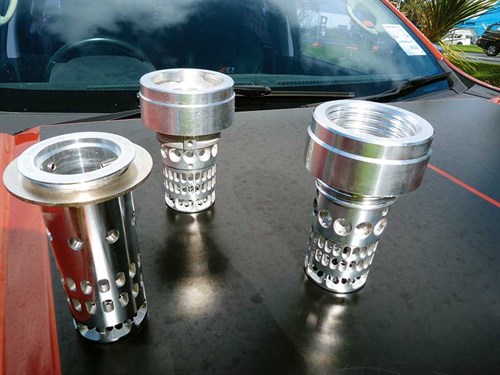 It's not uncommon to hear of thieves siphoning fuel from trucks as well as machinery, even though the vehicles being attacked are often stored in secure surroundings at the time of the theft.
MSC's remedy for that problem comes in the form of a nifty device that's inserted into the neck of the fuel tank, which requires no drilling or gluing and can be transferred to a new vehicle with little effort.
The device fits all models of trucks, buses, and earthmoving machines, and once fitted, it allows a filling rate of 120 litres per minute and prevents splashback and welling.
Hydraulic immobiliser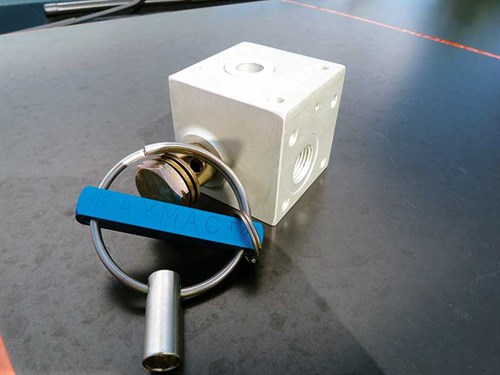 The Kaymac Hydraulic Immobiliser is designed to protect hydraulic excavators with a two-fold purpose in mind, both as a theft deterrent and to prevent unauthorised use of the machine.
The immobiliser comes in kitset form, along with an illustrated set of installation instructions. It disables the main hydraulic functions of the transmission and boom operation by diverting the flow of hydraulic fluid back to the tank.
The device has the capability of not only protecting the machine it's fitted to from theft but also has the ability to protect the vehicle it's being transported on as well.
By placing the bucket on the ground, it effectively anchors the complete unit where it sits, as once activated, the boom is immobilised until someone with the security key comes to deactivate the system.
This clever device is a New Zealand invention and is patented worldwide. It's easily installed by the owner/operator or by a local Hose Doctor technician, it doesn't require any cutting, drilling, special tools, or electrical circuitry, and it can be removed from an existing machine and refitted to the replacement machine.
The Kaymac Hydraulic Immobiliser comes with a special key fitted to a large ring that the operator carries with them.
DOW spoke to Steve Hale of Norwood Farm Machinery and Construction Equipment, who says he's so impressed with the level of security provided by the immobiliser and the peace of mind that accompanies it, that he happily recommends the unit to his customers.
Safety handrails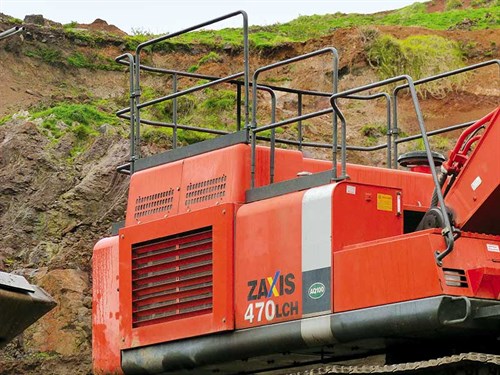 Safety handrails fitted to excavation equipment is becoming more of a regular sight in 2017 with changes in health and safety rules requiring all machines that have access areas above 1.8m to be protected.
Also, it's often a contract requirement for machinery working on civil and other construction sites to be protected in this manner.
On a recent visit to Ridge Road Quarries' operation in Bombay, south of Auckland, Daniel told DOW that climbing around on top of an excavator, especially on frosty mornings would now seem like "driving a car without a seatbelt".
Daniel says the company has handrails fitted to two of their machines—an Hitachi ZX 470 and a Hitachi LCH-5G—and regulations or not, he's happy to have the protection and the safety that comes with it.
James Peek, owner/operator of West Coast Civil, a West Auckland contractor, says he fitted the handrails himself to his Hitachi ZX 225 and now wouldn't be without them, as they make carrying out of his daily service checks feel like a much safer task.
James adds that installation of the handrail only took a couple of hours to complete and that the handrail kit came complete with a packet of the correct-sized bolts needed to fit the handrail securely to his machine.
He says he first assembled the handrail loosely and then it was only a matter of lining up the bolt holes and carrying out a final tightening to complete the job.
James says he's impressed with the sturdiness of the rail, to the point where he's been able to securely attach his GPS antenna to it.
MSC Safety Handrails are designed and manufactured to AS3868–1991 safety standards, fit all models of machine, and have a wire joint swaged into each mounting post to remove vibration and cracking.
The Machine Security Co is a New Zealand company with representation in Melbourne, Brisbane, and Perth.
For more information, call 0800 963 369 or visit themachinesecurityco.co.nz
Keep up to date in the industry by signing up to Deals on Wheels' free newsletter or liking us on Facebook.