Ammann expands compaction range
---
The Ammann range of compaction equipment continues to grow and now has an even stronger presence in the New Zealand market
It's been a while now since Youngman Richardson Co. Ltd took on the New Zealand distribution for Ammann compaction equipment. However, the company says the sales have been excellent and there's a lot more interest being shown in the extensive range now being offered.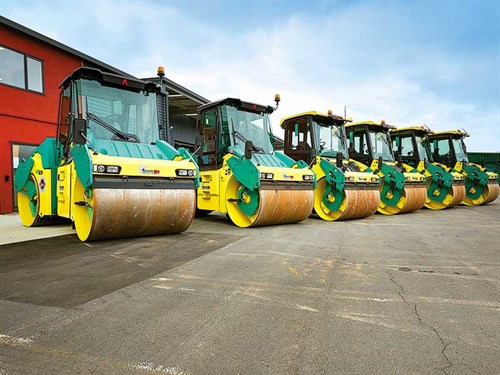 The models that have attracted the most attention have been the ARX light and heavy tandem rollers and the newer ASC70 single drum construction rollers. In addition, sales of the Ammann RW1575 remote controlled trench roller are also on the rise.
The first New Zealand sale of an AFW150 G mini wheeled asphalt paver is a testimony to this philosophy and will almost certainly make an impact in this market due to the cost-saving benefits it brings to smaller jobs.
Roller features
Ammann ARX and AV Tandem Rollers provide features and benefits that ultimately lead to added value for the operator. The comfortable cab design that provides enhanced visibility, air-conditioning, and reduced noise levels help the operator to stay focused and productive. As well, there are many safety features on this model, including the innovative ROPS 2D technology.
This technology compensates for dangerous drum drift and shuts the vibration off. The rollers are designed for use on medium to large construction sites as well as road construction and civil construction projects. The ARX range alone boasts 13 models covering a weight range from 1.5 to 10.5 tonnes. There are 11 standard Tandem Rollers and five are available in combination versions.
Ammann ASC 110 Single Drum Rollers can provide excellent compaction and has the capability of being used in either a smooth or a padfoot capacity. A major safety feature on this model also, which Ammann says is unique to them, is the ROPS 2D technology. Simply put, the vibration of the drum is automatically cut when the drum begins to drift or slip, preventing the unit from sliding down a bank or road edge.
The Ammann 1575 Remote Controlled Trench Roller has major advances in both articulation and oscillation, setting new standards when it comes to compaction, ease of control, noise emissions, and fuel consumption. With this machine, Ammann has set out to improve their customer experience by focusing on its ability to reduce downtime and maximise compaction.
Keep up to date in the industry by signing up to Deals on Wheels' free newsletter or liking us on Facebook.