Product feature: Rammer Rock Breakers
---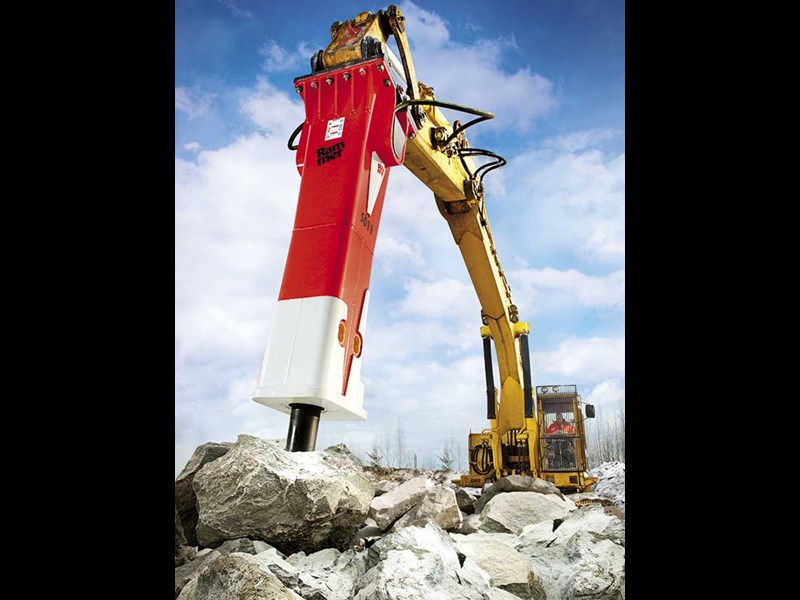 Sandvik's Rammer Rock Breakers are renowned for their ability to withstand harsh environments and the hardest rock applications
The ability to rapidly service equipment with genuine factory parts held in stock in New Zealand, the high quality of its operator training, and its aftersales service have won Digga NZ the prestigious Sandvik Mining and Rock Technology Rammer Rock Breakers Service Excellence Award.
Sandvik is known around the world for its engineering excellence in cutting and materials technology and is a world leader in technology for the quarry, mining, drilling, and demolition industries. Its Rammer Rock Breakers are a trusted Sandvik brand renowned for their ability to withstand harsh environments and the hardest rock applications.
Rammer has been built in Sandvik's purpose-built, state-of-the-art manufacturing facility in Lahti, Finland to exacting ISO and CE standards. It has been developed in conjunction with and through consultation with quarry, mining, and demolition business owners and operators worldwide since 1978—the year when the first hydraulic hammer was launched, resulting in tough, durable, and reliable units that offer low operating and ownership costs while delivering optimum production.
Hydraulic oil pressure supplied by the excavator, mini-excavator, or skidsteer loader is used to force a piston within the Rammer attachment upwards, which compresses nitrogen gas to a point where the nitrogen gas pressure overcomes the hydraulic pressure and drives the piston down, transmitting the force to the hammer.
The piston moves through its stroke, opening and closing the respective hydraulic valves, thus enabling the process to be instantaneously repeated time and again.
Although the basic principle of operation sounds relatively straightforward, European materials technology and quality and integrity of the assembly process is critical in achieving and maintaining the tolerances required to assure hammer reliability, productivity, and cost-efficiency, taking into account the magnitude of the pressures and forces concerned.
There is a Rammer hydraulic hammer for virtually any breaking application that requires a boom-mounted percussive tool—from the advanced compact range hammers for mini-excavators, whose tools are so strong they are guaranteed for life against breakage, to the extra heavy-duty Rammer large range for excavators from 27 to 100 tonnes in weight. These come with a built-in grease port and channels to make Auto Lube and/or Rammer's own Ramlube installation easy and ensure
efficient lubrication.
A built-in Air-port/channel enables easy underwater conversion or the usage of Rammer's RamAir, either in tunnelling applications and/or extremely dusty environments for a longer wear part lifespan. There is a reliable, low-maintenance, easy-to-fit, high-performance Rammer hammer certain to raise productivity, optimise results, and give a lower cost per tonne of material broken, which is suitable for virtually any application, size, and type of machine.
Digga's extensive product range is designed and manufactured for the widest range of local conditions, providing quality, versatility, competitive pricing, a New Zealand factory backed warranty, and an off-the-shelf availability in a very short time.
Today, Digga NZ employees more than 10 staff at branches in Auckland, Nelson, Christchurch, and Gore, supporting customers throughout New Zealand, and is backed up with more than 200 staff in Australia.
With cutting edge auger drives and augers and more than 79 different attachments—including, slasha, mixa, spreada, kwik rips, trenchers, ramdrills, brooms, pallet forks, 4 in 1 buckets, PneuVibe plate compactors, cold planers, rammer rock breakers, little Digga, alloy ramps, kanga loaders, and an extensive range of wear and spare parts—Digga has the solution to all your needs to suit all excavator, skidsteer, and tractor types.
Visit digga.co.nz or call 0800 344 426 for more information.
Keep up to date in the industry by signing up to Deals on Wheels' free newsletter or liking us on Facebook.