Porter Press Extra: Holtom Drainage Contractors
---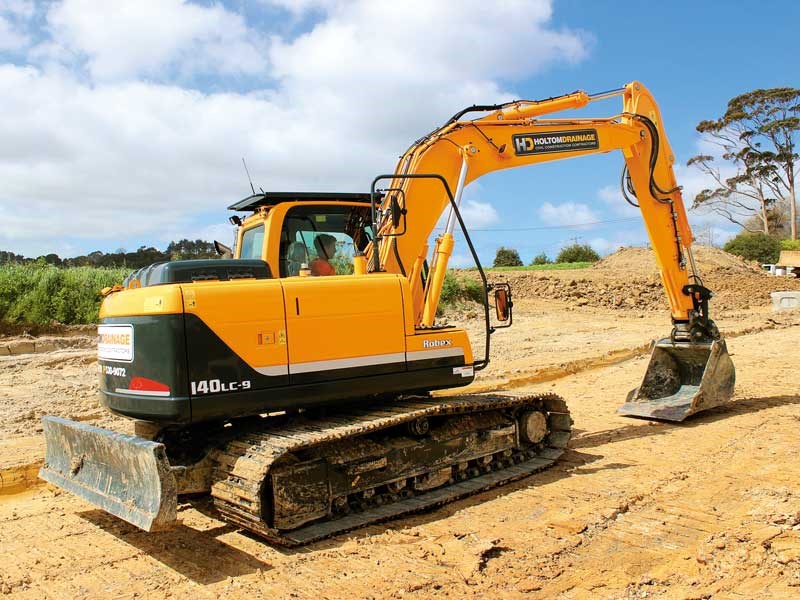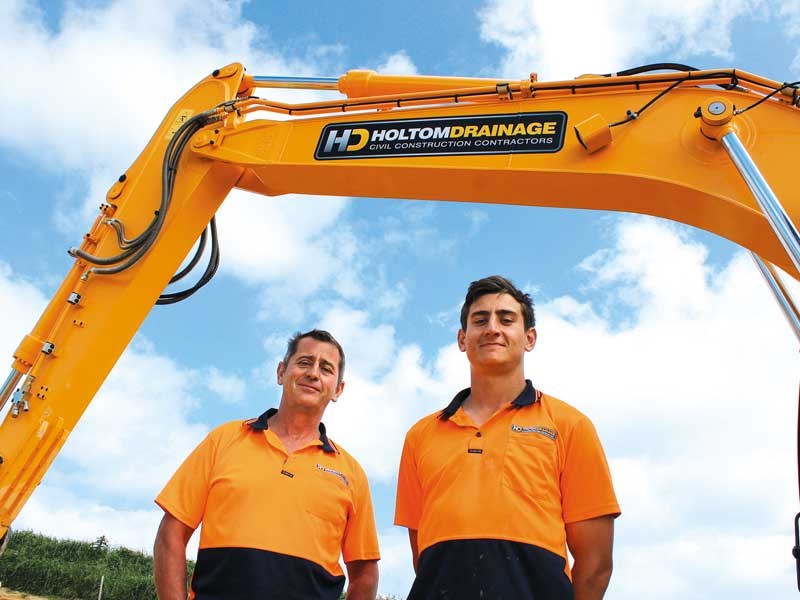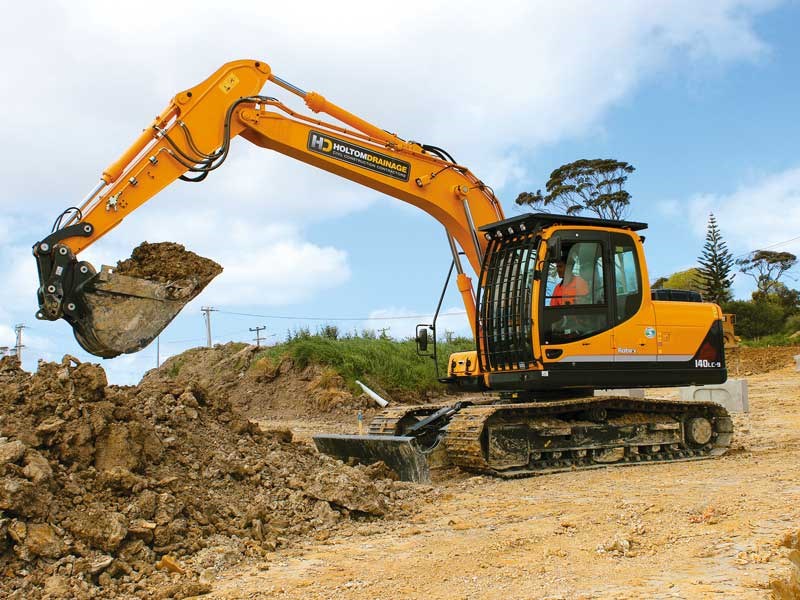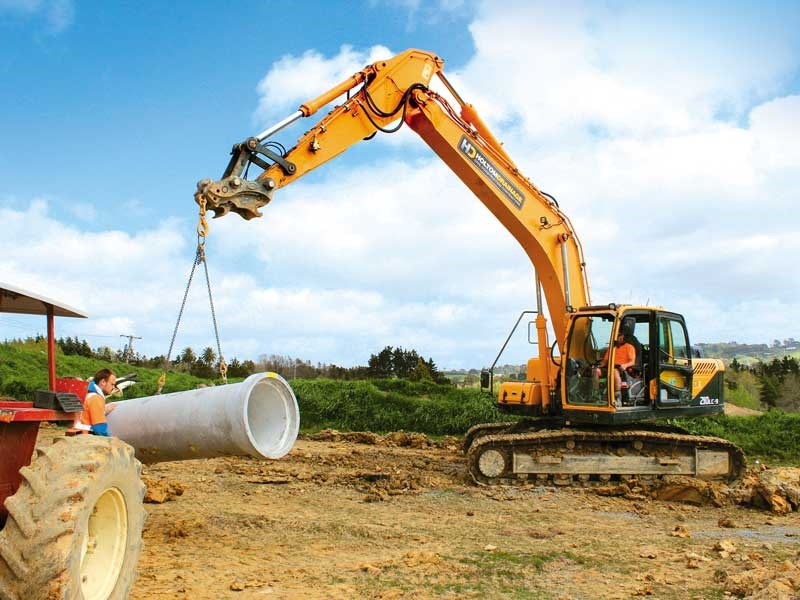 DOW checks out Holtom Drainage Contractors and the Hyundai excavators they use
A couple of years ago, Ross Holtom from Holtom Drainage Contractors Limited based a large part of his work programme around sub-contracting to bigger entities.
While this worked well for the company then, a shift towards total project management has given the Manukau-based firm more peace of mind.
"With the amount of workplace health and safety compliance required of firms like ours these days, we've found that when we're in control of all the moving parts, the project runs a lot smoother with less stress around worrying about factors we have no control over," Ross says.
The need to work within established health and safety compliance framework extends to the machinery specification civil earthworks firms look for. Hyundai's excavator lineup meets these requirements for Holtom Drainage Contractors.
"Four or so years ago, we bought a 20-tonne Hyundai R210LC-9 and it has represented real value-for-money for us," Ross says.
"We work on smaller sub-divisions—six, 10, or 20 lots are our bread-and-butter—so we needed a machine that had plenty of power but is still compact enough to work within sometimes quite confined residential environments. The 20-tonner has proven a consistent performer for us, so around a year ago and with project commitments increasing, we decided to purchase a second Hyundai."
In addition to making it easy for the company to buy their second Hyundai excavator—an R140LC-9—through a comprehensive finance agreement, Ross says Porter Equipment's 'as delivered' machine specification made perfect sense for them as well.
"We had to take supplementary fit-out into account because we were looking for this second machine to do some light forestry work in addition to its general earthmoving duties.
"In order to pipe out our older machine the Hyundai was set to replace for light forestry work, it was going to cost around $12,000. But with the Hyundai, standard ROPs and FOPs were included in the purchase price, so in the end purchasing it was a no-brainer."
More than just ROPS and FOPS protection, the level of standard safety specification on Hyundai's crawler excavators is comprehensive.
A safety lever in the cab prevents drive controls from being engaged until the operator is seated and ready to go. There's an easily reachable master switch at ground level, which cuts power in an emergency, along with anti-slip plating on access surfaces and panels, an emergency exit window at the rear of the cabin, an anti-restart system, and an optional reversing camera, helping give operators on busy worksites eyes in the back of their heads.
While there are plenty of features to help keep Ross and the Holtom team safe on the job, Hyundai's advanced Computer Aided Power Optimisation (CAPO) system protects the machine itself. The CAPO system tunes engine and hydraulic pump power to ensure consistent optimum levels, with multiple modes available for differing workloads.
The idea is that the system protects the excavator's engine, even when under heavy load by monitoring engine speed, coolant, and hydraulic oil temperature, all while still looking to reduce fuel consumption. The system can even self-diagnose a system error and display the relevant code on the in-cab monitor to alert the machine's operator.
In addition to standard safety specification, Ross says that fleet uniformity is important to him; another reason he made a second investment in the brand.
"Naturally, it makes things more straightforward to own machines all under a similar warranty scheme and serviced through the same distributor, so I definitely prefer to have a fleet of identical machines.
"At the end of the day, I also think it looks better for the business to have identical machinery with identical signage. It just looks more professional in my mind."
While Hyundai's technology offering is second-to-none, Ross says he has also been impressed with the level of aftersales support offered by Porter Equipment. "Obviously, the array of machinery choice that contracting firms have these days is pretty extensive. But I have to say, I don't think the competition can offer up the same mix of machine reliability and service coverage that Hyundai and Porter Equipment can," he says.
"Porter Equipment has got so much coverage with their technical support people right across the country. We tend to stick pretty close to home, but if a project ever took us out of our home territory, it's good to know we could rely on them further afield."
Ross says he is pretty handy when it comes to maintenance work on mobile plant, but his seven-strong team doesn't include a dedicated diesel mechanic at this stage. With the backing of a warranty agreement on parts, he relies on Porter Equipment for any serious issues.
"If you're going to invest in new machinery you definitely need it to be offering you consistent service. We get nothing but that from Porter Equipment, and we know their machines will work well for us out in the field too."
Keep up to date in the industry by signing up to Deals on Wheels' free newsletter or liking us on Facebook.