Efficient Moving & Storage trucking in Napier
---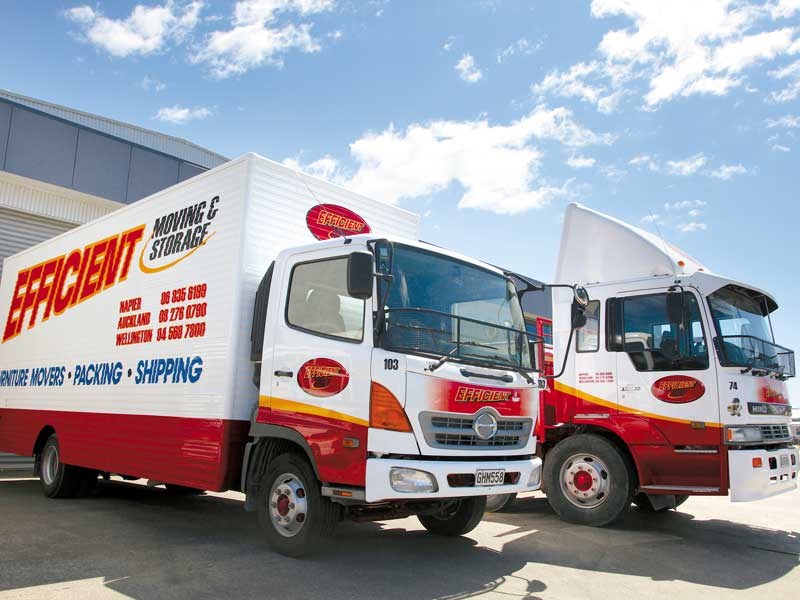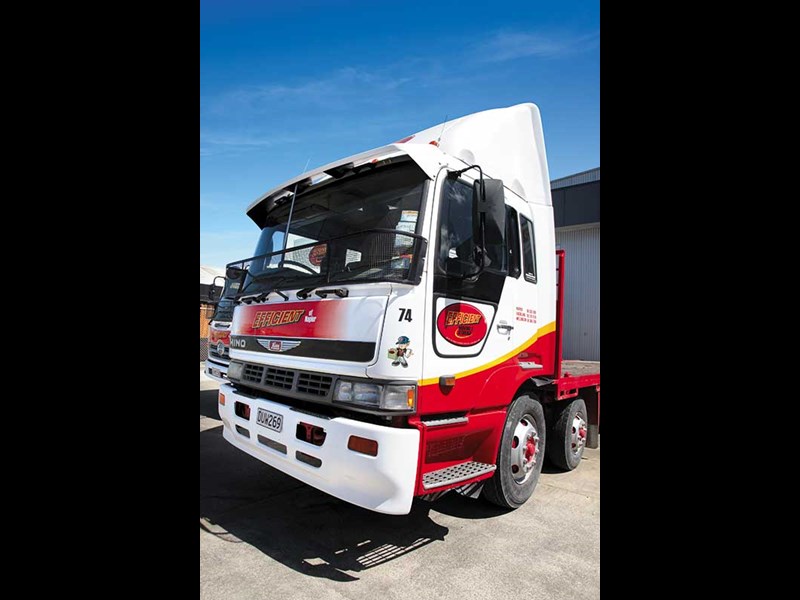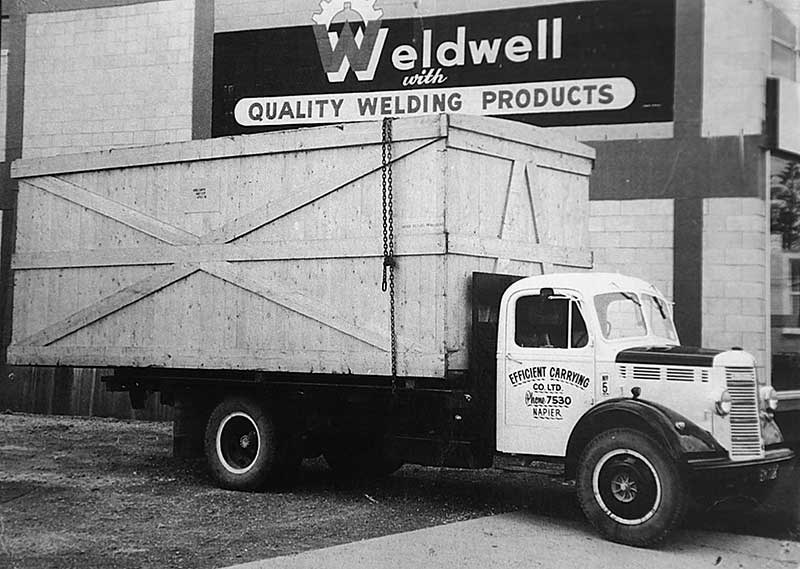 The OLB Bedford carries a wooden container from Holland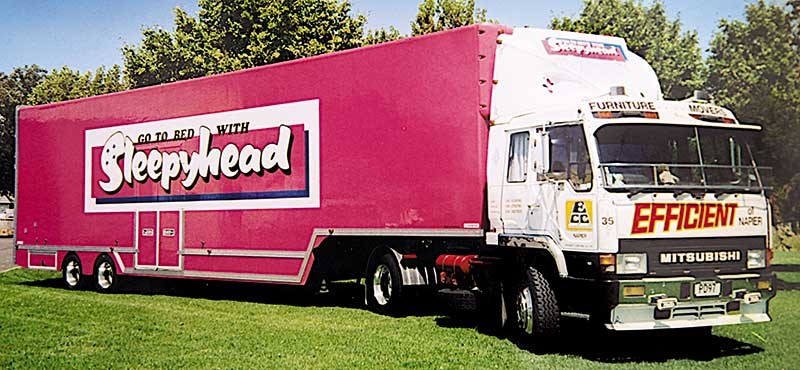 Sleepyhead has been a client for more than 50 years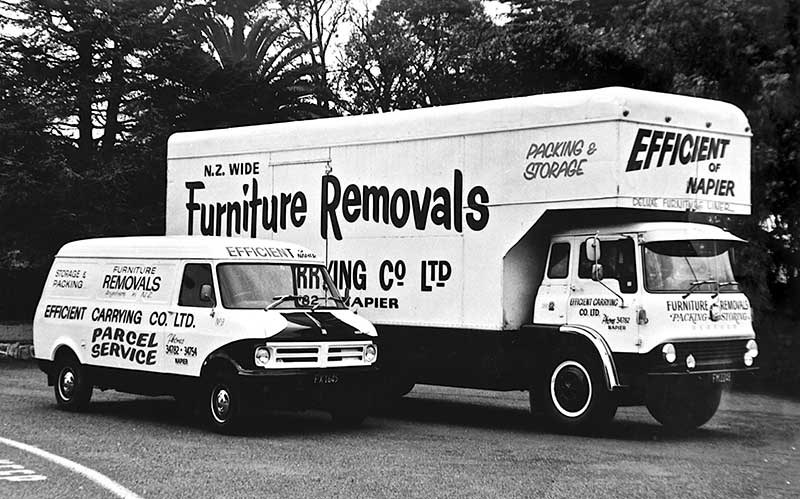 Efficient's first TK Diesel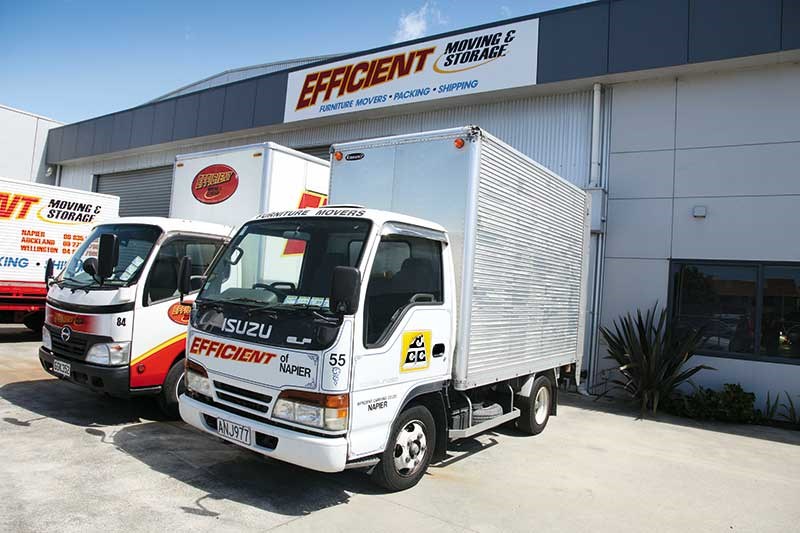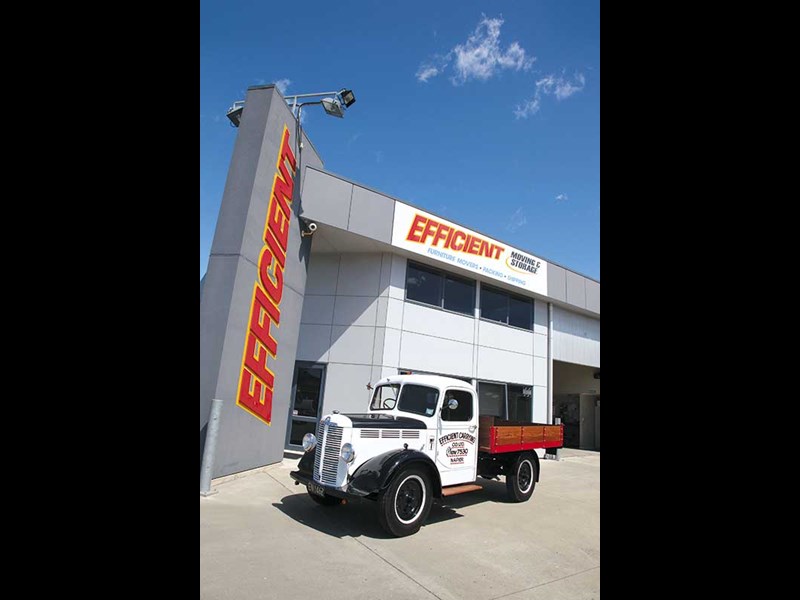 Efficient Moving & Storage identified its niche market early on and have stuck to it. DOW spoke to Warwick Todd to find out how its trucking fleet has adapted to its growth.
A Napier trucking business that started life as a parcel delivery service is still going strong, thanks to its ability to adapt and innovate.
In 1952, seeing a gap in the market for a delivery service, Colin Todd bought a Ford V8 van, had it sign painted, and set to work.
As a start-up business, the sturdy service van was the only vehicle he could afford, but it did the job of carrying out furniture removals and parcel deliveries around the city. His was largely a one-man operation, employing casual labour when required.
He then bought a new 1958 petrol six-cylinder Morris truck and modified it, by removing the furniture body off a 1949 Ford. The rear doors were interchangeable with passenger service doors off another vehicle, so it was used as an additional service at weekends to transport passengers.
Colin's son Warwick, who is now semi-retired but still active in the family business, recalls how his father used to take groups to the Chateau for the weekend. "There were no buses back then, they used to throw mattresses in the back and all climb in."
By the 1960s, Efficient had developed a reputation for doing a bit of everything and had a fleet of several trucks: a couple of Ford V8s, TK Bedfords, three-tonne Bedford ML and OLB. The first diesel truck used by the company was a 1969 TK Bedford. Warwick has fully restored a 1953 J1 Bedford and is currently working on a full restoration job on a 1965 A5 Bedford, which will be completed by early 2016.
In the late 1960s, Colin decided to specialise in carrying furniture and moved away from general carrying. "There was a lot of competition in that area of work and not as many carriers doing furniture so we stuck with that and it's gradually grown," says Warwick.
Today, Efficient Moving & Storage has a fleet of 45 trucks and employ over 50 staff. They also have a specialised furniture storage facility onsite.
Warwick can't recall a time in his life when trucks weren't around. "We grew up with them in the backyard. At weekends, Dad would be out painting wheels or anything else he could lay his hands on, he had a real passion for it. He was very resourceful and although he had no formal training, he could turn his hand to anything."
His mother Ila, who as well as looking after seven young Todds, ran the office from home and always had fresh scones on the table for smoko, according to Warwick.
It was a foregone conclusion then, that Warwick and his brother Stephen would work at Efficient Carrying Co Limited (as the company was previously called). In 1968, Stephen took on the role as office manager, plus some driving. Warwick has always driven and for many years was contracted to welding manufacturer, Weldwell.
Unfortunately, an accident while on marshalling duty at the Meaneee Speedway, 20 years ago, resulted in severe injuries that he's still feeling the impact of.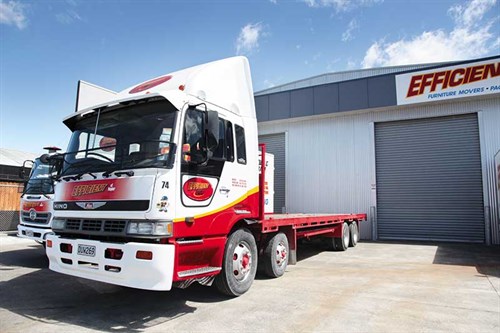 Warwick is obviously very proud of his daughter Sheree who has driven for the company for 30 years. "The Nissan MK260 is her truck. She initially had one of those little Isuzus and when that was sold she went to the Canto. She likes the smaller, 10-tonne trucks, but she also has a class 4 license so can drive eight- or six- wheelers too. She mostly does furniture removals but is capable of anything, really. She does a marvellous job."
Warwick's son Craig is Efficient Moving & Storage's operations manager and his younger son Nicholas has been Linehaul driver for the Company for the past 25 years. Nephew, Duane (Stephen's son), recently joined the operational and administrative team at the Napier headquarters.
As business evolved, so did the trucks. After the Bedfords, in the 1970s, Efficient transitioned to Isuzus. "We got a good deal and they were all you could get in the particular range we wanted back then," says Warwick.
"We've had new DAFs but now we have Hinos, plus some smaller Mitsubishis and Isuzus. The under-10-tonne trucks are used for local work; a load comes into the depot, is checked, then put back into these for delivery to retailers."
Efficient Moving & Storage has been impressed with the Hinos for their reliability and having the same brand makes for a uniform fleet. "Our trucks don't tend to do hard work given the lighter payloads carried, so tend to have a fleet lifespan of 10-12 years. One of our fully loaded semi-trailer units would have a gross laden weight 18t or less."
One of Efficient's furniture trucks from the 1970s had distinctive ripple sides with side-opening doors and was built by Hales in Wellington. "It was a single-axle trailer and had a capacity of 80 cubic metres. We needed this for Sleepyhead Beds, which has been our client for 50 years."
Furniture removal is specialist work and Efficient Moving & Storage has built a solid reputation for providing excellent service. "You have to know what you are doing with people's personal items. These are valuable and you have to respect that. You've got to know how to stack a truck and think as you go – there is no use putting a box of crystal at the bottom of the load."
Efficient currently operates a fleet of 15 semi-trailer units, predominately for new furniture delivery work. These have maximum capacity of up to 105 cubic metres. "We have depots in Wellington and Auckland and our trucks are up and down the North Island on a regular basis. We travel between here and Auckland every day as well as out and around Wellington, Taranaki and Gisborne. It's Craig role to coordinate the fleet's use in conjunction with the other branches."
Modern technology certainly helps says Warwick. "In the old days you'd phone whatever shop one of our drivers was expected to arrive at and leave a message to get him to phone the office. It all worked, but in comparison, nowadays, it's so quick and easy."
It's very satisfying to see the state of our business in the present day says Warwick. "It's going well, with a wide variety of work. However, like any transport operator, employing and retaining good drivers is one of the most difficult things to get. It's a special driver who can tackle the amount of manual handling required as a removalist."
"Colin would be justifiably proud of Efficient Moving & Storage in 2015, which has grown markedly from the business he started in 1952. Part of that is down to our staff members, who have assisted significantly with the advancement of the business from those early years."
For the latest news and reviews, subscribe to Deals On Wheels magazine here.
Keep up to date in the industry by signing up to Deals on Wheels' free newsletter or liking us on Facebook.