Truck feature: Scania V8 R730
---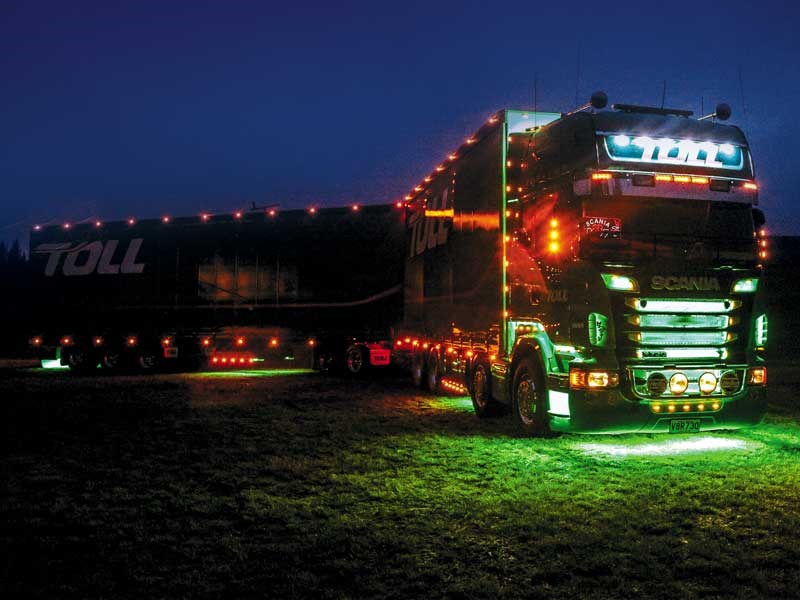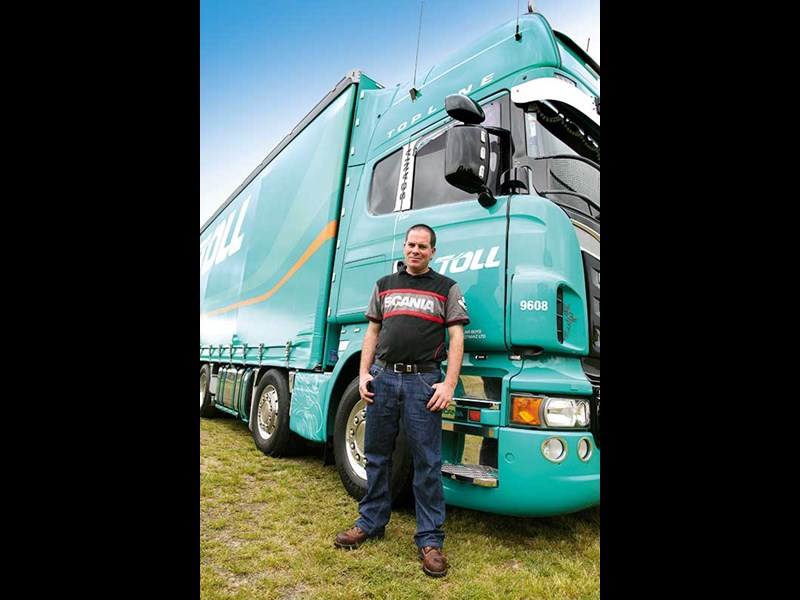 Blair Boyd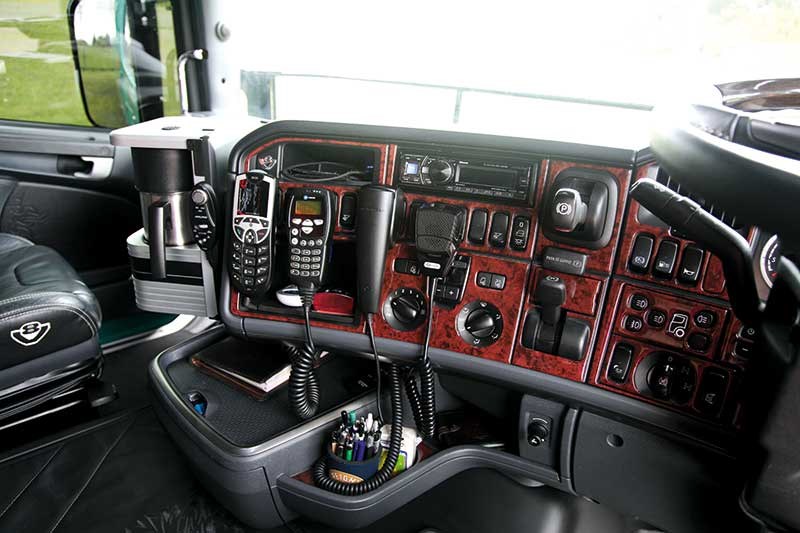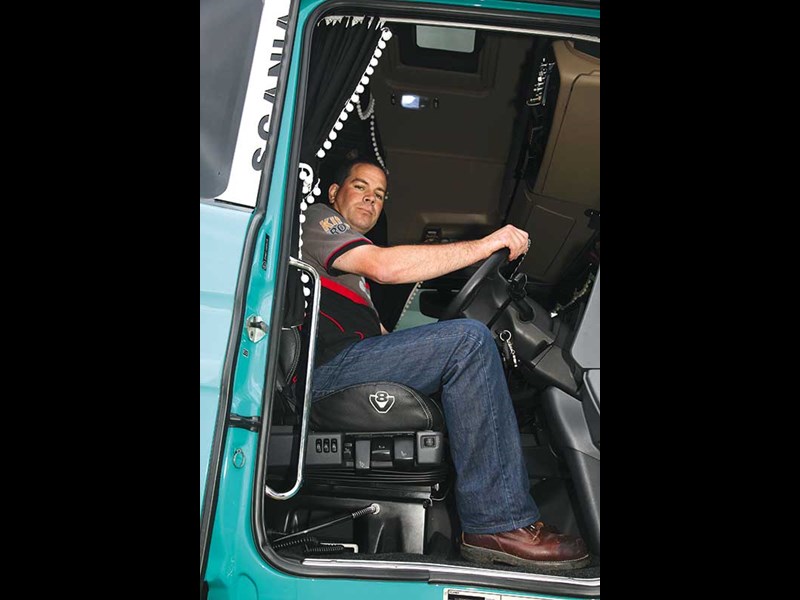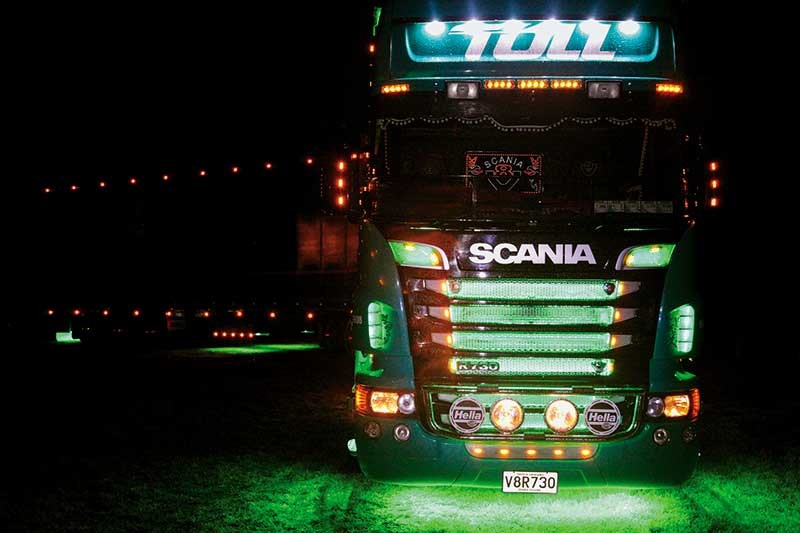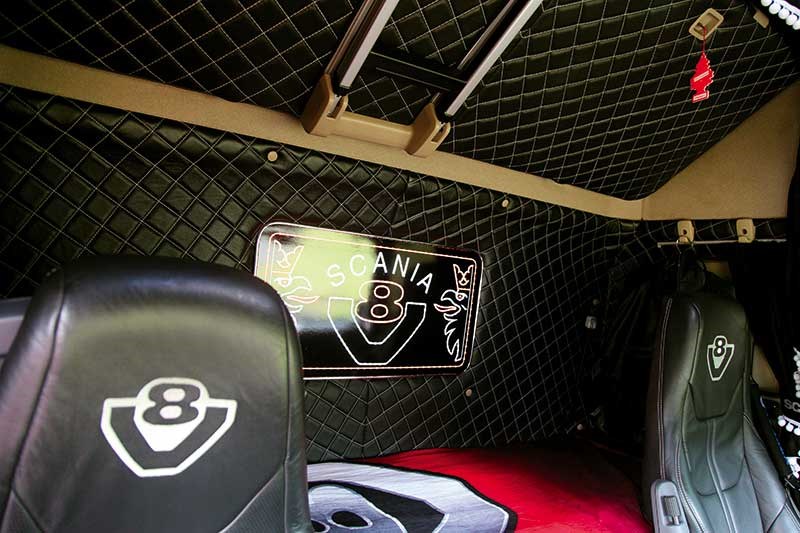 Being on the road for most of the week, Toll Freight Forwarding owner-driver Blair Boyd finds his Scania V8 R730 has all the whistles and bells to make his job that much easier.
As the guy in the Scania promo says, 'The V8 engine gives you all the muscles you ever want.'
Blair Boyd, owner/driver for Toll Freight Forwarding, agrees. "It has plenty of power for the work we do and has a decent retarder on it for the downhill runs. It's nice and comfortable, the Topline cab with its extra height space allows for standing room and storage; it has decent-sized bunks, a coffee machine, 'fridge/freezer, microwave, and TV/DVD player. "It's pretty well set up for living out of all week and that was part of the attraction."
A closer look at the cab reveals a customised black leather interior and some stylie bling: an illuminated Scania logo and curtains with pom-pom trim.
Scania's opticruise transmission makes it a pleasure to drive he says. "Its all there right at your fingertips with the retarder on the same control. It makes it just so easy."
All-round airbag suspension not only maximises driver comfort but also allows the truck's computer to read the weight of each axle to ensure he's never overweight."
The Jackson-built five-axle trailer is a beaut too he says. "Being alloy, it has a nice light tare weight, yet it's strong too."
Boyd says the whole unit is one of only a couple of this particular model in the country – a Topline cab and eight-wheel rigid. "Most are either the smaller cab or tractor units."
He was delighted when his truck won best Scania in the Mitre 10 Mega Ride in a Truck Day in Hawke's Bay recently. He reckons the extra marker and driving lights, a lot of polished alloy and stainless steel, makes it stand out from the crowd.
There's not much about his job he doesn't like and there's nothing better than the thrill of heading out on the open road.
A typical week will see him leaving his home base in Waipawa, in Central Hawke's Bay, loading up at a Toll Freight Forwarding depot, before heading out to one of many destinations around either the North or South Island. He enjoys the lifestyle: "Roaming around both islands, the variety of work, places and meeting people".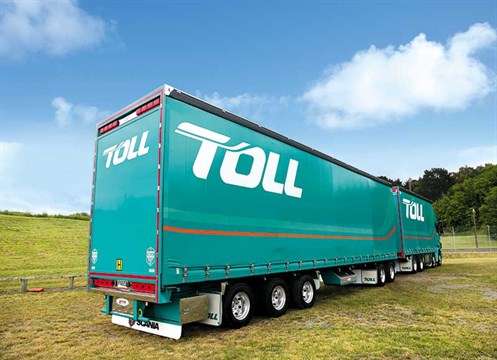 Well organised and highly motivated to make his business a success, Boyd is always, "ready for any job they chuck at me. As an owner-driver, I am part of Toll's FTL (full truck load) fleet. I work through a dispatcher in Auckland. He gives me notice on my next plan and I go to it." He carries general freight, much of it bulk goods for companies such as Watties.
Boyd has worked for Toll as both driver, then as an owner/driver for a total of nine years. He's owned the Scania for a year and previously he owned a Volvo FH520 Globetrotter truck and trailer unit.
His father Richard Boyd owns a panel beating business in Waipawa, so Boyd grew up around machinery. He got into truck driving as a teenager and has been doing it ever since. His first job was working on line haul trucks; he then tried his hand at stock truck work, plus a range of other machinery in between.
Having sold his Volvo he had to weigh up what to buy next. "Originally I looked at a brand new Scania then the Scania R730 came up as a late model second-hand one (it's four years old), so I decided to buy that. It got me on the road a bit sooner at a more reasonable price than if I had bought a brand-new one."
"I use CablePrice's Scan Plan's repair and maintenance contract – the guys at CablePrice in Hastings give me really good service so I try and get everything done there, whenever possible. The Scan Plan is good in that you pay a monthly fee, based on your kilometres, for maintenance. It means you can budget accordingly so you know you are not going to get any unexpected major bills. They replace components as part of the preventative maintenance, at certain intervals in order to minimise off the road down-time."
Asked if he has any favourite stretches of road he says, "I really enjoy driving down the the Kaikoura Coast – it has fantastic scenery and is a nice cruisey drive. In contrast, the Arthur's Pass to Greymouth "is a pretty nasty road – you really have to drive that one and be a bit careful, especially in the middle of winter. But overall, it's all good really, I love my job."
For the latest news and reviews, subscribe to Deals On Wheels magazine here.
Keep up to date in the industry by signing up to Deals on Wheels' free newsletter or liking us on Facebook.