Test: Attach2 All in One Bucket
---
Versatility has to be an attribute that rates highly in today's market, and it's here that NZ business Attach2 rates high on many contractors' wish lists. Deals on Wheels travelled to Dunedin to check it out.
A company proven to appreciate this important 'versatility' aspect is Attach2. Well known for their Multi-Grab bucket, which was released back in 2011, it has become a tool that most owners of couldn't be without.
Advancing on from this, Attach2 sought feedback on improvements to the original design and came to the quick realisation that there was another gap in the attachment market that even the Multi-Grab couldn't quite fill; introducing the Attach2 All in One Bucket.
The first prototype was produced back in 2015 and tested on a small hire machine where it could be assessed on functionality while also gaining operator feedback from the varied work completed. From there, Attach2 released a small number of different sizes to key clients pushing the pre-release trial to its full potential.
Fast forward to the end of October 2018 and the All-in-One bucket was deemed ready to be officially released. Although this style of attachment is not new in the contracting world, seldom does a manufacturer hit the proverbial nail on the head.
The week before official release, Deals on Wheels was invited to head down to Dunedin to go through the key features and put the attachment through its paces.
First impressions
Arriving on a picturesque Otago day, we headed just south of the city to meet with lifestyle block owner, Stu Smith, father of well-known All Black, Ben Smith. Stu had been using a five-tonne Kubota excavator with the All-in-One bucket to do some section clearing on his property.
My first impression was how robust the attachment appears and also the familiar geometry of a general-purpose bucket (more commonly known as your rock bucket).
I am told the All-in-One bucket had been purposely designed this way to give the end user the flexibility of being able to do normal everyday digging and also have the ability to grab things when the need arises, without having to continually change attachments; something operators on smaller machines can appreciate with the many varied tasks they can be required to do in a day.
In terms of robustness, Bisalloy (BIS) 400 features significantly in the build, with wear plating on the sides, side cutters, and also wear-strips on the bottom of the bucket. The serrated edges also consist of BIS 400 to maintain shape and improve wear-ability.
Moving to the top of the bucket, the twin oversized rams provide even and strong grab pressure, ensuring awkward-shaped objects are grabbed safely. It's also good to see all hoses are routed from the rams under the ears to lessen any chance of being snagged on foreign objects. Grease points are also easily locatable and protected.
Test
For our test, we were given the task of continuing on a bit of section clearing, which consisted of stump and vegetation removal.
Grabbing into a pile of tree limbs that had recently been cut, the bucket latched on with its serrated teeth with ease and the wide opening (447mm on this model) meant grabbing a good amount at a time was practical.
Cutting some larger branches in half was achieved by curling the bucket and using the serrated teeth somewhat like a handsaw; quite ideal if you were working by yourself.
Cleaning up smaller debris was made easy by opening the bucket and using the back cutting edge like your standard wide bucket, without having to rip the teeth through the ground or alternatively changing attachments/buckets.
Moving across to the tree stumps, the bucket once again proved to be a time-saver. Digging around the stump like you would with a general-purpose bucket, the All-in-One proved useful for separating dirt from tree roots and then ultimately being able to grab the stump and safely pick it up for disposal.
Cleaning up and filling in the newly created void was again made simple with the option of using the back flat cutting edge and again not having to change attachments. All of this type of work seemed well suited to the Attach2 All-in-One bucket.
Although we were not given the opportunity due to the dry weather, I could see this bucket being quite useful for wet or sticky material, much like a 4-in-1 on a skid steer with the ability to open in the middle.
The name 'All-in-One' couldn't be more perfect for this attachment, and I can concur with the time-saving and versatility that the attachment offers. It was difficult to find any faults with it, and it's good to see a company investing a lot of research and development into projects, especially getting operator feedback before putting a piece of kit on the market. Another proverbial nail hit on the head in my book.
For more information, visit attach2.co.nz
See more buckets for sale in NZ. 
Watch the Attach2 All in One Bucket in action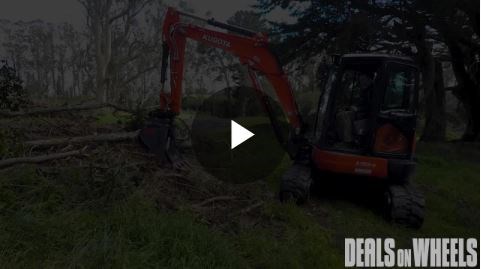 Keep up to date in the industry by signing up to Deals on Wheels' free newsletter or liking us on Facebook.