Cover story: Gideon Bomag RS500 Stabiliser
---
Gideon Contractor's recent addition to their fleet is the Bomag RS500—the first of its kind in New Zealand
With three BOMAG MPH122-2 stabilisers purchased in three consecutive years, Silverdale-based Gideon Contractors' fondness for this particular brand of ground construction gear is obvious; their yard is certainly a particular shade of yellow.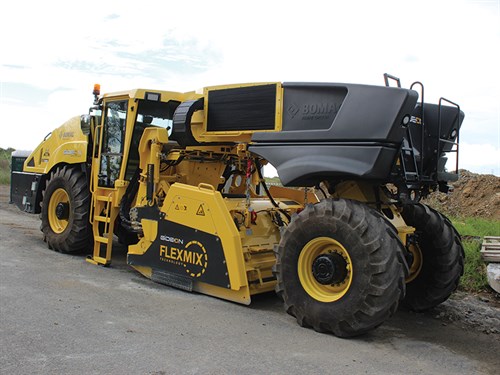 Another stabiliser has joined the Gideon fleet of similarly disciplined BOMAG machines recently, although, this one arrives boasting a big point of difference. Namely, it's a brand-new RS500—the latest stabiliser from BOMAG. It also happens to be the first example in the country.
"We're obviously very happy with our BOMAG fleet, so when the decision was taken to add to it, we naturally wanted to see what new innovations and updates were available to us," Gideon Contractors manager, Hayden Lovett, says.
"After discussion with Porter Equipment, we decided the new RS500 model would suit our requirements, so we're very happy to have the first one in New Zealand. This latest machine is a fleet addition, rather than updating an older machine."
Point of difference
Hayden says the BOMAG RS500 is certainly different from the MPH models the company has been running up until now, with a variety of changes designed to ensure comprehensive operator safety and even better machine efficiency. BOMAG has made sure owners can adequately protect their machine investment, too.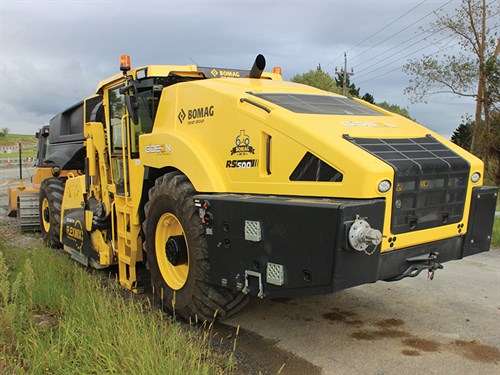 "I'm really impressed with the telematics that comes with the new BOMAG," Hayden continues.
"I can see how many hours a day it's working or how many hours it's idle.
It's geo-tagged, too, so I know its precise location, which is great for security when you have a machine sitting miles away from base.
"This technology helps our workshop guys, too. Because Porter Equipment has access to the same remote reporting system, they can gauge when scheduled servicing on the machine is due. This means they can work with our guys to figure out the best time to come in and complete the service, without any interruption to our work requirements.
"When you have various machines in various places and all needing to be working to peak capacity, that sort of stuff is magic."
Packed with innovations
While not completely magic, there are plenty of trick innovations in the new BOMAG RS500 that push it ahead of the pack.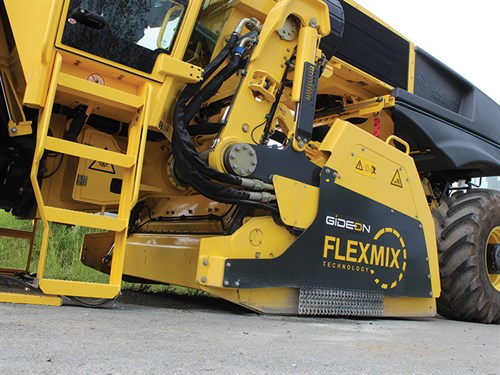 The functionality of the cab has completely changed. Still a dual control arrangement with seating on a slide-rail (which allows for both left- and right-hand operation depending on the task at hand), BOMAG has done away with conventional steering wheels and replaced these with the absolute precision of joystick controllers.
"There's actually a lot more automation all 'round," Hayden says. "A lot of the manual functionality has gone, which streamlines set-up time. The operator can establish any number of pre-sets and away it goes."
Other innovations from BOMAG include new FLEXMIX technology, which gives the operator a variety of rotor configuration options.
There are three infinitely adjustable gates on the RS500's rotor hood. In addition to the standard configuration options, BOMAG also offers an additional mixing and crushing gate. If required, planed material is reduced to the specified size by the mixing bar.
While Hayden's team is using the RS500 on a wide-open stretch of arterial road at present, the machine is also capable of producing efficient results in much more confined environments. Thanks to FLEXMIX, the machine's crushing and mixing abilities are equally as good on a forward or reverse pass. BOMAG has made it easy for the operator in this scenario, too. The seat can turn to suit the direction of travel but handily, all travel lever functions are maintained as they were, with right remaining right and left remaining left.
When working on sloping ground, the milling and mixing rotor can be moved over the wheel edge on the left and right side, so that the drive wheels remain on more solid terrain.
"Another really great feature with the new machine is the Side Shift mechanism," Hayden says.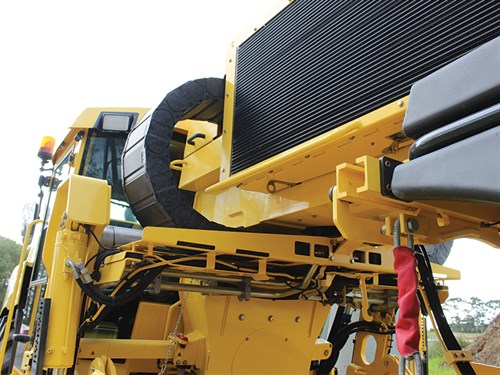 "The rotor slides out with 30cm of extension on either side, which means despite its size, the machine can get right up to the edge of the ground being worked without risking clipping obstacles."
Hayden and two operators have received driver training on the machine, which, while he says is certainly a step up in terms of technical ability, remains simple and intuitive to get to grips with. The Gideon Construction stabiliser will have a dedicated driver for most projects though.
"They've even thought about things such as transport dimensions in more detail now.
The cab is actually on hydraulics, so when the machine is switched off, the cab goes into 'sleep' position, which is handy for transporting.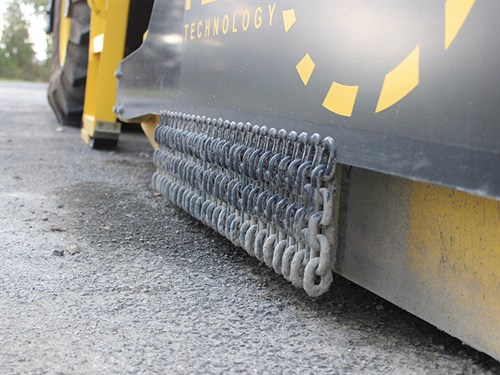 "Then, when the machine is started, the cab raises up to give the operator a really good view of everything. BOMAG has made good use of their pillar-less glass in the cab, too; it's the same sort of cab our BOMAG BW213D-4 roller features, which is invaluable from a safety point-of-view."
Hayden says ease-of-use and reliability are the central tenets of any good machine, and with the latest RS500 stabiliser, it would appear BOMAG has added plenty of high-tech efficiency to that equation.
Keep up to date in the industry by signing up to Deals on Wheels' free newsletter or liking us on Facebook.