Toyota tests hydrogen fuel cell generator
---
Toyota develops a stationary fuel cell generator that makes use of the fuel cell system equipped in the Mirai Fuel Cell Electric Vehicle
Offering a glimpse of the future, Toyota Motor Corporation (Toyota) say they are seeking to make a high-performance hydrogen generator at a reasonable price, after announcing they have developed a stationary fuel cell generator (FC generator) that makes use of the fuel cell system (FC system) equipped in the Mirai Fuel Cell Electric Vehicle (FCEV) and verification tests have commenced.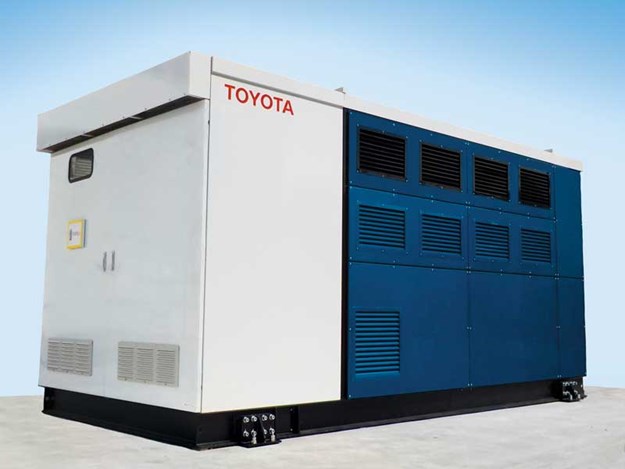 The FC generator uses two each of the FC system components equipped in the Mirai, including its FC stack, power control unit (PCU), and secondary battery.
For the verification tests, the electricity generated by the FC generator will be used inside the Honsha Plant in Toyota City. The generator will operate continuously for 24 hours per day and generate a rated output of 100kW—enough to power around 60 average-sized homes. 
Based on the results of the verification tests, Toyota intends to use FC generators as private power generators in an increasing number of plants. The generators will be fuelled by hydrogen emitted both during the production process for FC system components, as well as during evaluation and testing processes; in this way, Toyota intends to develop and implement technologies that make effective use of hydrogen.
As part of its efforts to expand use of the FC system it developed for the FCEV, Toyota intends to assess the practical realisation of the FC generator, which includes carrying out research and development and discussing the establishment of business models aimed at improving the generator's product appeal, by enhancing its energy efficiency and durability, making it more compact, and reducing costs.
Find construction machinery for sale in NZ
Keep up to date in the industry by signing up to Deals on Wheels' free newsletter or liking us on Facebook.