Porter Press Extra: Central Hawke's Bay Nicholls Excavators Ltd
---
Central Hawke's Bay contractor, Joel Nicholls' new Hyundai R35Z-9A mini excavator and rotating coupler attachment allows him to push dirt around with the precision of a surgeon
It says something about the growth experienced in almost every corner of New Zealand over the last half decade, that even a small settlement like Waipukurau, deep in the rolling country of Central Hawke's Bay, has new-build subdivisions rising from the ground at its margins.
These busy sites are swarming with tradies of all disciplines, while busy contractors like Joel Nicholls of Nicholls Excavators Ltd gets stuck into the earthworks surrounding the handsome, modern homes rising rapidly from bare land.
"Things are humming in Waipukurau," he enthuses after hopping out of his Hyundai R35Z-9A mini excavator to have a chat. Joel has been out on his own for a couple of years now, although in the trade for five.
Previously in business with brother Logan, he decided to continue on as a sole operator when Logan switched into a different industry. While it's up to Joel to put the hard yards and hours in on the tools, he's unhesitating in acknowledging that those tools — in this case his new Hyundai mini excavator, supplied by Porter Equipment — benefit from solid local aftersales service and support.
"The Porter team in Napier are on to it," he says. "They're a good bunch of people and will look after you every step of the way. Whether you pick up the phone to call Colin or Richard, they always come back to you with an answer to your question.
"Helps that the machines are great too. We've never had any dramas with Hyundais at all. Our previous machine — another Hyundai — did 3000 hours and never broke down once. They're smooth to drive and, for a small machine like the 3.5 here, it still has all the power I need for what I do with it."
Attached to the Hyundai R35Z-9A mini excavator is a rather trick bit of kit: an engcon rotating coupler that helps Joel get the most efficiency possible out of his machine. The decision to go with engcon came about after plenty of research on what was available for an excavator of this size.
"I pretty much chose engcon for the same reasons I chose Hyundai. It's reliable and tough, they offer the best back-up locally and have plenty of parts on the shelf. It's the same with Porter Equipment and Porter Hire: they have everything you need whenever you need it.
That says a lot these days with all the supply chain issues around the place. "As I say, both Hyundai diggers I've had haven't had any problems, so I haven't had any parts emergencies to speak of, but it's good to know that back-up is there if I did need it."
Global Survey installed the rotating coupler for Joel before Porter Equipment delivered the finished machine to him. He says the attachment effectively takes a man with a rake out from in front of his machine, resulting in a safer work environment.
Joel says his new Hyundai R35Z-9 mini excavator is perfect for the kind of site he's working on at present, with subdivisions and driveways representing his bread-and-butter work.
"Because it's just a 3.5-tonner, it doesn't impact on the site. I can get into all the nooks and crannies and move around without any access issues and that rotating coupler on the machine means I can approach the pile from any angle. It just makes the digger such a useful tool for all sorts of tasks."
After demonstrating some dexterity in the dirt, I suggest to Joel he should be over at Mystery Creek for Fieldays, competing in the excavator operator competition.
"Well, I don't want to blow my own trumpet, but I opened a bottle of beer with it the other
day — a twist top too!" he laughs. For now, though, real work beckons. And there's plenty of it on the slate. "I work in partnership with Patterson Building Construction and Concrete.
I complete a lot of earthworks for those guys, and I guess you could say Regan Patterson has played a big part in my continued success as a sole operator. They are fantastic to work with."
Ongaonga-born Joel also uses his Hyundai R35Z-9 mini excavator to construct farm tracks for rural clients throughout Hawke's Bay. "Most of my client base is Central Hawke's Bay — Waipukurau, Waipawa — but I'll basically go wherever the work is. If I need to get up to Hastings or wherever, so be it.
I have a little five-tonne tip truck, which I use to transport the digger. It fits on that really nicely." Despite its size, the Hyundai R35Z-9 mini excavator features a roomy, ergonomically designed operator cab that offers excellent outward vision and reduced noise.
The cab frame meets international ROPS and FOPS regulations and even at this end of the wider Hyundai machine range, the mini excavator boasts convenience specification such as air conditioning and heating, LED information clusters, storage cubbies, integrated USB-capable stereos, and auto diagnosis for its hydraulic systems.
Joel's excavator's upper and centre frame is designed to provide optimum structural rigidity and absorb impact stresses, while the 3.5-tonner features centralised grease fittings and air cleaners under easy-access maintenance panels.
Wear parts such as hydraulic filters, oil, shims, and bushings are long-life components, which provides sole operators like Joel the assurance of lower whole-of-life costs and consistent performance over a longer period of time.
"I always wanted to be involved in earthworks and construction even from when I was a wee fella. It's always been something I've been keen on," says Joel. "And now I'm out here doing it and making a living from it, which is awesome.
"There are definitely risks, but there are risks to owning your own business in any industry, right? For what I do, I know that if I'm investing in good gear, then that's me ahead of the pack.
So, between the Hyundai digger and the engcon attachment, I reckon I've got a good set of tools here to grow with. It should be a good summer season in the Bay."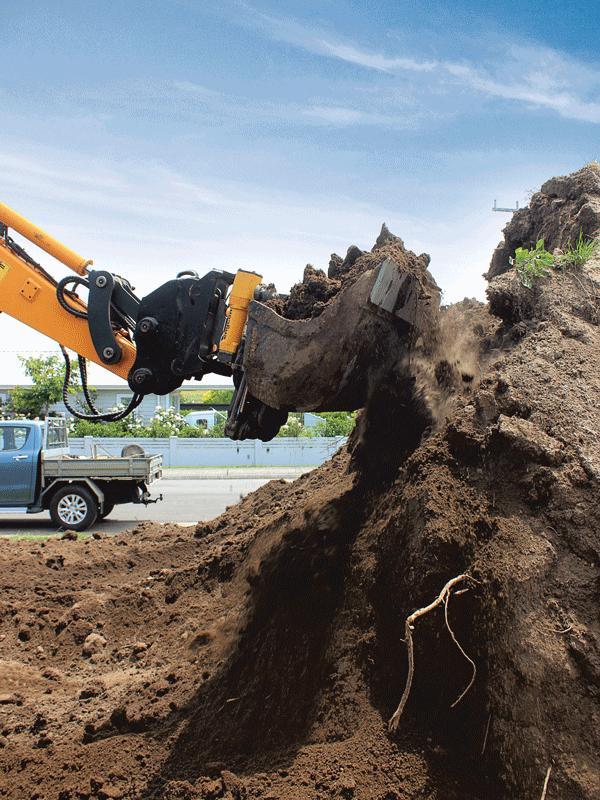 Find new and used heavy machinery for sale in NZ
Keep up to date in the industry by signing up to Deals on Wheels' free newsletter or liking us on Facebook.