Porter Press Extra: JPB Civil
---
Auckland contractor Gary Buggle from JPB Civil knew he wanted one of Hyundai's powerful and reliable HX series excavators before it was time to invest, thanks to the popularity of these machines on job sites everywhere.
This is the first excavator Gary Buggle of JPB Civil has owned outright since moving to New Zealand six years ago, and there are several reasons why he has chosen to invest in a Hyundai HX145CR.
Gary has been fortunate enough to have done all his pre-purchase research out on the job, having had something of an extended trial run over the last few years running Hyundai gear from Porter Hire's extensive rental fleet on a variety of projects around Auckland.
Time spent in Hyundai excavators served him well when it came time to decide what he wanted from an investment in a machine of his own.
"I don't think there was any argument for another brand of excavator. I decided some time ago that I was going to buy a Hyundai," he says. "They're everywhere on sites around Auckland.
You barely see anything else and there has to be a reason for that, right? Civil contractors are far too busy these days to be dealing with a machine that's going to break down or not do what it's supposed to, so if you see a particular brand in big numbers, then that speaks volumes."
Part of the attraction for civil construction entities is that for Hyundai, reliability remains paramount. For example, as we head into the busy summer contracting season, the Hyundai HX series features an upgraded durable cooling system with increased airflow, with improved lubricity of connecting parts between the machine and attachments with wear-resistant long-life pins, bushes, and polymer shims.
These are designed to lengthen front-line service life for the excavator's components and build on the already hard-wearing reputation Hyundai machinery enjoys across Auckland and beyond the Bombays.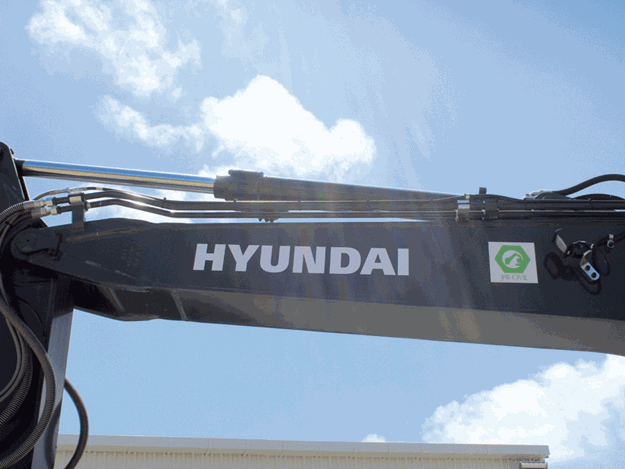 Elsewhere onboard, Hyundai's Variable Power Control system is designed to provide for even better fuel efficiency from the Cummins-developed turbo diesel engines across the Hyundai HX range.
The Variable Power Control system minimises equipment input and output control signals to improve fuel efficiency, using a three-stage power setting (Power, Standard, and Eco) to find the perfect balance between the highest performance and the most efficient fuel burn rate, depending on what the operator needs their machine to do.
Hyundai says Variable Power Control offers a seven percent improvement on fuel efficiency when loading, a five percent improvement when levelling, and an overall combined eight percent improvement across daily usage than Hyundai's previous 'dash 9' generation machines.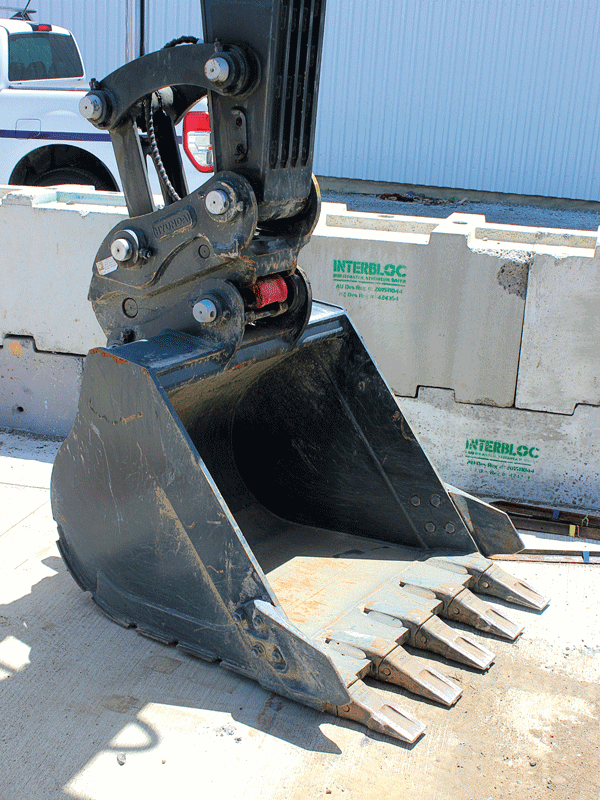 And Gary would agree. "The 14-tonner is very economical for its size. I'm really impressed with that aspect of it. You've got the Power mode there if you need it, but honestly, I rarely take it out of Eco mode.
It has plenty of power regardless. For everything I'm doing, like lifting manholes into place, that's enough. And I'm not burning through the diesel, which is a big consideration these days what with the price of the stuff."
Aside from the popularity of Hyundai's updated excavator range, Gary says the machines themselves are intuitive to use, have the necessary grunt, and are loaded with the necessary bells and whistles that make them great to spend a busy day in too.
"I'm a drainlayer so I'm in and out all day long. But I have to say that when I'm in the machine, I appreciate a cab that's comfortable to sit in and gives you good visibility out. I tend to do all my own digging just because I want to know it's done right, so I do spend a fair bit of time in the machine.
"Obviously you need a spotter with you, but the camera system on the 14-tonner is just phenomenal. You can see right around the machine, and it gives you a top-down view.
It's really impressive and very handy on a busy job site."
Gary's Hyundai HX145CR features the heavy machinery manufacturer's clever Advanced Around View Monitoring (AAVM) camera system, which has every corner covered.
The camera system provides the operator with a secure field of vision right around the excavator, thanks to multiple cameras. No less than nine views are available, including a 3D 'bird's-eye' view, which shows the machine and its immediate surroundings from above in real time.
Furthering Hyundai's 'belt and braces' approach to operator safety in HX series excavators, an additional part of the AAVM system is Hyundai's Intelligent Moving Object Detection system, which sounds an alarm to let the operator know when a person or object is detected within their range of operation, up to five metres away.
Gary says Porter Equipment made it easy for him to purchase the Hyundai HX145CR.
"They're very knowledgeable about the products and that's important. I might have used plenty of these machines over the years, but there are always going to be more questions when you're buying," Gary explains.
"The Porters guys were great. They made the whole purchase process easy. And because there are plenty of these machines out there, I know they have a good parts supply, as well as the back-up of their servicing.
"I've been on the job for 20 years, and over that time, I've been in and out of plenty of diggers in all sorts of conditions. But I think the Hyundais have the advantage over other brands.
"The reliability and value-for-money alone make them a no-brainer for contractors such as myself. But the fact you get some useful features and plenty of power too seals the deal. I'm very happy with the investment."  
Find new and used heavy machinery for sale in NZ
Keep up to date in the industry by signing up to Deals on Wheels' free newsletter or liking us on Facebook.