Business profile: O'Brien Tree Care
---
Starting a business is risky at any time, and the current, fluctuating lockdown levels make it even more so. However, arborist Shaun O'Brien looked at his options and decided that it was now or never.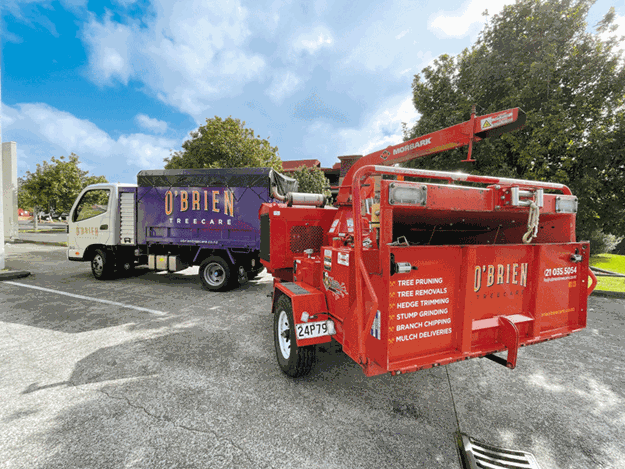 "I thought, there's no real comfortable time to be starting a business, so here we go. The upside in this new COVID world is, we're lucky to be outside with the trees and not in confined spaces," he says.
Shaun and his partner Paige Mortleman started O'Brien Tree Care in June this year, and five months later, the work is flowing in. Given the fact that Auckland, where he's based, has been under the most severe lockdown conditions in the country—at Level 4 for five weeks and now at Level 3 for six weeks and still counting—it's been a challenge. But Shaun sounds like an optimistic fellow. He's full of enthusiasm for his new venture, which is a good thing.
Arborist experience
Previously, Shaun worked for an arborist company for eight-and-a-half years. He got into it through a friend of his who was an arborist for Tree Brothers.
"I was working as a volunteer firefighter and in a supermarket, and he asked if I would want to give this a go?
I made the change, and here we are. I like working outside with the chainsaws and climbing with the gear. It gets the adrenalin going; it's a bit like a sport in that way."
Shaun trained as an arborist while working with Wise Tree Care, gaining his ITO, level three qualification, with level four still in progress.
Planning and marketing
Before launching O'Brien Tree Care, Shaun and Paige did the groundwork. They prepared themselves for three months by developing a business plan, marketing strategy, company name, and branding.
Paige, a brand manager for MARS NZ, was able to apply her skills and drive the venture forward.
"Paige went on an absolute mission and reached out to multiple companies and sites around Auckland, such as retirement villages, golf courses, commercial building sites, and real estate agents.
She got the word out that we were a new local arborist company with a passion for our work. She also managed all the digital aspects of the business—created our website and social accounts, including content, plus the health and safety side of the business, which has been incredibly important. I couldn't have done it on my own.
How we represent ourselves across all these channels took a lot of time and effort and Paige's work was totally on point. Overall, it took a massive drive to get the company going."
Set-up costs
Setting up is costly, and an arborist business is no exception. Shaun started with just one chainsaw and a harness, so he had a lot of ground to cover.
"It's not cheap to set up. Depending on the gear, you could easily spend $100 to $300,000 on a truck, a woodchipper, climbing gear, and chainsaws. It was big in terms of financials. We had to have financial backing and a fair amount of work lined up before we could begin."
Tree work
Being the new kid on the block, Shaun, who lives in Henderson in West Auckland, is not turning anything down.
"We will work anywhere and everywhere. At present, it's mostly in Central, West, and South Auckland—a wide range of locations.
"It's primarily residential work; we're a contractor for commercial real estate company, CBRE, who have many properties all over Auckland. We have public liability insurance up to the amount of $10 million, and this has allowed us to win work across several construction sites."
Ahead of the busy season, Shaun is looking forward to work ramping up as people want their properties tidied for summer. He and his team can tackle all jobs, large or small.
"If you have a tree, we can do anything you want; the list is huge. We do tree removal, work within power lines and over houses, hedges and tree shaping, reductions and crown lifting on trees, as well planting trees and shrubs.
We have a contractor who currently does the stump grinding work, and we plan to purchase a stump grinding machine soon. I employ a young guy who I'm currently training up as an arborist. He's got six months experience and is doing very well. We will also be looking for a third guy to get in and help with the workload."
The Morbark chipper
The chipper is the power unit of the company and what makes money. Shaun and Paige have no regrets about their choice of the Morbark M12 RX 12-inch chipper. The machine purchased was an ex-demonstrator model but in immaculate condition.
"It had been well maintained and in good condition; everything worked and looked nice, and it's easy to use. It was competitively priced for the hours it had done, and now it's up to 390 hours. It's an excellent machine and I'm supported well by [distributors] Stevens Group."
Besides this, the woodchipper has many features Shaun likes.
"The hydraulically driven, single feed roller drags the raw material in, doesn't jam, and chips very smoothly. The chute movement is nice and easy to work, depending on whether you need to aim the chute left, right, or backwards."
Shaun's favourite feature on the Morbark chipper is the QR-coded machinery parts.
"If there's an issue with a part, or you need to maintain it, you scan the code, and it takes you to the Morbark website and explains what needs to be done."
The Morbark also has a winch, so if you've lopped a big branch off a tree, you can winch-feed it into the machine. "It makes it effortless," says Shaun. Another feature is the lift crush setting.
"You can lift the feed roller or crush down, so it feeds in easily material such as bamboo that you can crush with the feed rollers. It grabs and pulls stuff through easily. "I really like two safety features on the Morbark: the safety control bar and the emergency stop in-feed cable. These reduce the risk of severe injuries that can happen in this trade."
Overall, the running costs are low, says Shaun.
"It's reasonable on diesel, and it's easy to maintain. We grease it daily and change the blades every two weeks. Like any machine, if you look after it, it will purr along"
The hauler
Shaun and Paige decided on a Foton truck for its compactness and ability to manoeuvre into tight spaces; it's easy to operate in an urban setting, where they do the bulk of their work.
"It gets down any number of driveways, power for weight, it's a good size, and it was competitively priced. We looked at a few other brands, but they were way higher in price. All in all, it's doing what we need it to do."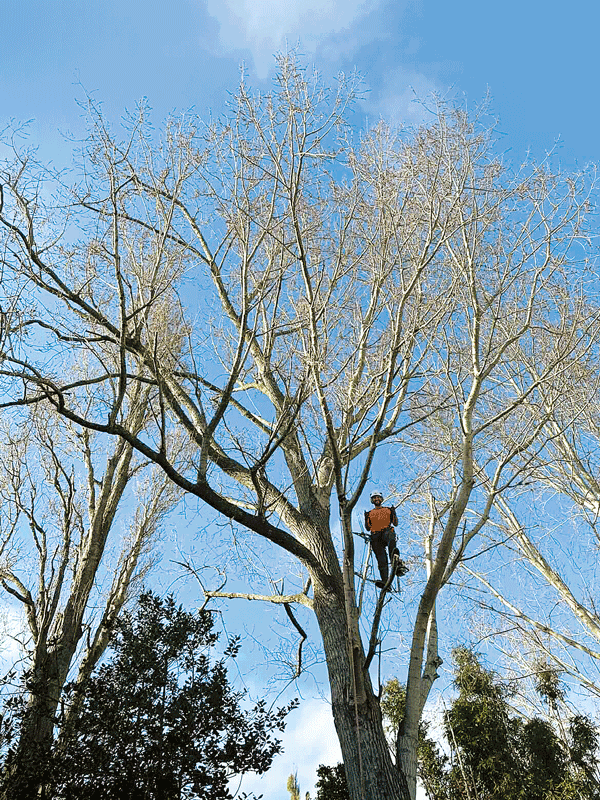 The Foton has all the features an arborist team needs at their fingertips.
"It has a tipping bin on the back that we mulch directly into. We can tip the tray with the pull of a handle.
"The two roller cage doors store all our gear: the saws, hedge trimmers, and climbing gear fit in there perfectly and can be locked away securely. As a company, we aim to make sustainable business choices, so the truck runs on AdBlue, alongside diesel, to help minimise emissions."
"The brand–new Foton now sports a bold, purple, and white colour scheme. A friend of the couple, Liam Bamford, designed their brand logo and colours. "We wanted to be bold and get out there and make a name for ourselves," says Shaun.
Looking forward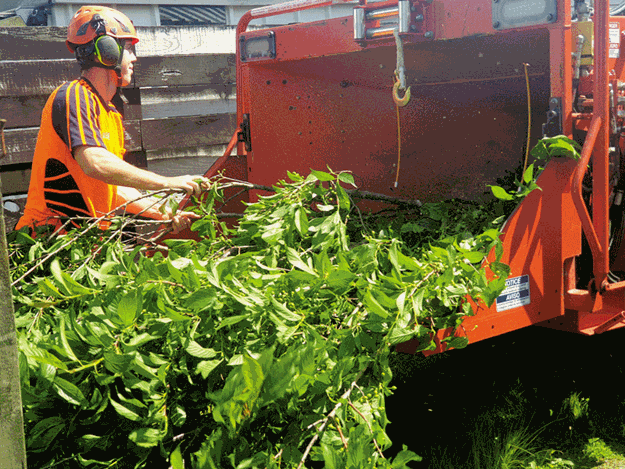 Shaun and Paige prove that with a solid foundation of research and marketing, a new business can thrive, even in tough times. The couple has the drive to make O'Brien Tree Care a success.
"Now that we've established ourselves and work is coming in, we don't want to slow down. Our goal is to be running two trucks and crews by the end of 2022. Purchasing a stump grinder and getting our own mulching yard where we can sell mulch is another goal.
We want to go for it. I love running my own company; we're proud of what we do and really enjoy looking after everyone's properties." Paige and Shaun are also proud to be supporters of native tree species with Trees that Count and are taking steps to make more sustainable business choices.
"We donate native trees to Trees That Count to help reduce our carbon footprint over the next 50 years and help absorb the carbon dioxide from the atmosphere.
"We are grateful that 90% of the waste generated from our work is turned into mulch and back in people's gardens. Anything that can't turn into mulch, we compost via Living Earth Group. These may be small steps, but they're ones we will make progress with," says Paige.
For more information, visit obrientreecare.co.nz or stevensgroup.co.nz.
Find new and used heavy machinery for sale in NZ
Keep up to date in the industry by signing up to Deals on Wheels' free newsletter or liking us on Facebook.