Product feature: Terex conveyors from MSC
---
The Terex Ecotec range of conveying systems offers self-powered tracked options, with conveying capacities of 400tph, along with newly introduced models
Compare efficient conveyor systems to using loaders and haul trucks and the result is clear: there are major cost savings to be made per day, week, month, and year when conveyors are utilised, rather than loaders and haul trucks, to move and stockpile material.
Terex conveyors bring many benefits to operators across a wide range of applications. The units can be fed by either large primary crushers, a secondary crusher, mobile screens, and also wheeled loaders. 
MSC's material handling range of equipment offers a wide range of tracked stackers and feeder conveyors to suit specific material handling requirements.
Terex conveying systems
Mobile Screening and Crushing NZ are distributors of Terex conveying systems throughout New Zealand. 
Established in 1995, MSC's 25 years in supplying equipment to the extractive and recycling industries enables them to recommend with confidence the most suitable conveying solution for your requirements, the company says.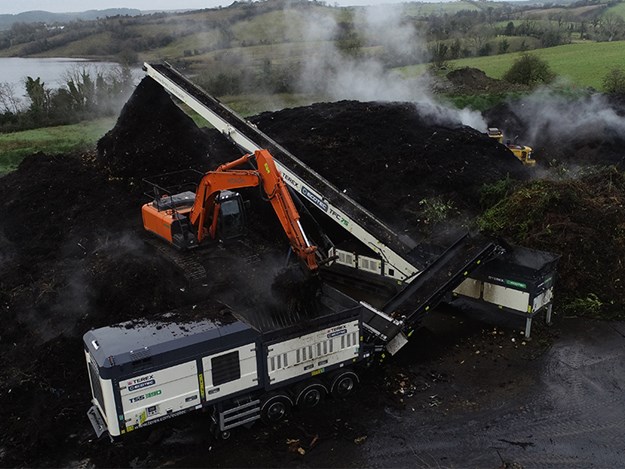 The Terex Ecotec range of conveying systems offers self-powered tracked options, TSC 65T (65ft) and TSC 80T (80ft), with conveying capacities of 400tph, along with newly introduced models: TSC 100T (100ft), TRC 75, TFC 75 and TFC 75L, and the HLF75 high-level feeder and LLF75 low-level feeder.
Ecotec TSC 80T Conveyor
The TSC 80T conveyor is designed to work in conjunction with screens and crushers increasing stockpile capacity while reducing on-site material handling.
The TSC 80T is a self-powered tracked stockpiler with impressive features and conveying capacities, MSC says. The intelligent design allows the machine to be folded small enough to fit inside a 40-feet container and be shipped cost-effectively New Zealand-wide. 
Hydraulic angle adjustment and belt speed adjustment ensure optimum performance in every application. A maximum discharge height of 10.5 metres (34' 6") and capacities of up to 400tph position the TSC 80T as a leader in the industry, MSC adds.
Specifications
Weight: 16,000kg
Conveyor length: 23.5m
Belt width: 1.05m
Maximum discharge height: 10.1m
Capacity: 400t/h
Belt scales: Optional
Terex EvoQuip TC65 Conveyor
Conveyor length: 20m (65'7")
Belt width: 1050mm (42")
Conveyor drive: Hydraulic 800cc
Discharge height: 8.7m (28'6") @ 24°
Max discharge height: 10m (32'10") @ 28°
Hydraulic folding head section
Hydraulic oil cooler as standard
Belt scales: Optional
Managing optimal flow with addition of belt scales
Enable monitoring of production without the use of wheel loaders
Ensure optimal production of material per day
Enables the operator to accurately record the amount of material processed in an hour/day
MSC Tracked Conveyor for Hire
Early 2021, MSC will add a TC65 conveyor to its hire fleet. The conveyor can be hired as a standalone unit or alongside one of MSC's screeners or crushers. The TC65 comes fitted with belt scales to accurately track tph.  
For hire enquiries, contact Matt Stone matt@mobilescreening.co.nz or 0272 255 525.
For more details, call 0800 MSC LTD or visit mobilescreening.co.nz.
Find new and used machinery for sale in NZ
Keep up to date in the industry by signing up to Deals on Wheels' free newsletter or liking us on Facebook.