Product feature: New Bobcat diggers and loaders
---
In a virtual launch, Bobcat introduced its new range of diggers and loaders that offer many new state-of-the-art features
It's a busy time for virtual launches of construction equipment and Bobcat became the latest company to introduce new machines using this method.
First up, the company launched its new R2-Series generation of five- to six-tonne Stage V compliant mini-excavators, namely the new E50z, E55z, and E60 models.
The R2-Series machines offer many new state-of-the-art features and options such as Bobcat's unique award-winning Advanced Selectable Auxiliary Control (A-SAC) system and the innovative Automatic Track Tensioning System (ATTS) technology.
One of the main features on the E50z and E55z models is Bobcat's unique Zero House Swing (ZHS) that adds another level of protection to the standard zero-tail swing design.
With ZHS, the rotation of the upper structure of the E50z and E55z remains fully within the footprint of the tracks. This includes the boom swing offset cylinder, front corners, handles, lights, and even the door in both open and closed positions.
The E50z ZHS model is an easy-to-use, robust machine optimised for specific rental industry needs while introducing the next level of operator comfort and features required by demanding owner-operators.
The weight has been increased and optimised in the E50z to maximise stability, which has allowed Bobcat to provide a long arm as standard equipment.
The new E60 is the R2-Series flagship model in all aspects, featuring a more powerful engine and a larger cab. In the E60, a tail overhang of only 280mm allows the machine to be operated in confined spaces.
The R2-Series mini-excavators are now powered by the new Bobcat D18 (E50z/E55z) and D24 (E60) Stage V high torque diesel engines, designed specifically for Bobcat compact equipment and based on a well-proven design installed in thousands of Bobcat machines worldwide.
The use of DPF technology allows the new mini-excavators to be employed in emission-regulated zones such as city centres.
Operator comfort
Like the successful Bobcat R-series two- to four-tonne machines launched in 2018, the new R2-Series mini-excavators are built around the operator and are designed to take this philosophy a big stage further.
All three excavators offer a best-in-class roomy cab with space where the operator really needs it, with more headroom, legroom, and plenty of storage areas.
A comfortable seat that can be optionally heated and fitted with a headrest ensures operators will enjoy working a full day in all of these new machines. The new five-inch display panel and the optional seven-inch touchscreen display with integrated radio and rear-view camera takes comfort and visibility to the next level.
The new R2-Series mini-excavators are equipped with state-of-the-art technology such as a latest-generation​​ main control valve, dual curve joysticks, and proportional thumb-controlled boom swing offset.
Increased versatility
Up to five arm-mounted hydraulic auxiliary lines and the optional A-SAC technology enable a wide choice of machine customisation options to match any attachment requirement, further enhancing the role of these excavators as excellent tool carriers.
The A-SAC system is a unique solution that enables operators to customise control patterns of auxiliary hydraulic circuits on Bobcat mini-excavators, depending on their set-up preferences for using hydraulic attachments.
Heavy-duty steel side channels and a counterweight acting as a bumper help to protect essential inner components and all other critical components, such as lights and hoses, have additional protection.
The R2-Series machines can also be supplied with the patented optional Cylinder-Inside-Boom (CIB) system to offer maximum protection of the boom cylinder as well as the load hold valve.
New option
Another new option is the Bobcat Automatic Track Tensioning System (ATTS), which utilises the machine's hydraulic system pressure to ensure a proper track tension at any time.
The machine track tension can be adjusted to match the site conditions in which it's working. This system eliminates the need to keep manually re-tensioning the tracks, resulting in minimised machine downtime, extended lifetime of undercarriage components, and simple track replacement.
New R Series loaders
Another newbie is the R-Series Stage V compact loaders that represent the most significant redesign of Bobcat loaders in 60 years.
The new R-Series models comprise the S66 and S76 skid-steer loaders and the T66 and T76 compact track loaders.
To ensure optimum performance and comfort, the stability of both types of loaders has been further improved with longer wheelbases and track footprints compared to the previous generation machines. The higher stability combined with enhanced efficiency from the hydraulics provides class-leading push and breakout forces and increased lift capacity, resulting in higher productivity even on the toughest jobs.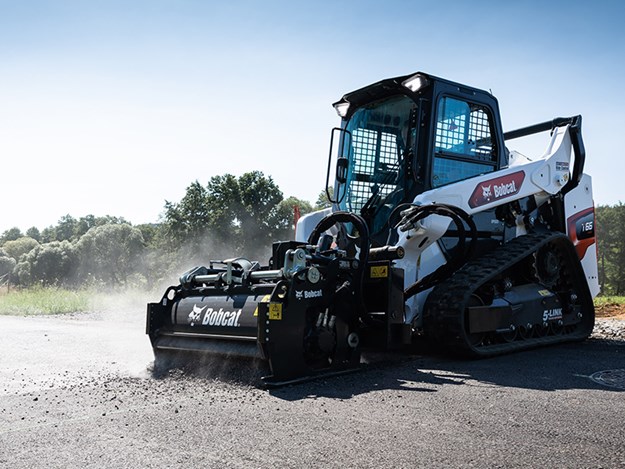 The longer wheelbases and tracks also ensure a smoother ride. The new T66 and T76 compact track loaders have a solid undercarriage system as standard but can be equipped with the optional 5-Link Torsion Suspension Undercarriage as an option guaranteeing an even better ride, tackling rough terrain with ease, feeling fewer bumps, and avoiding material spillage.
Stability and productivity can be further enhanced by the optional Auto Ride Control feature available on all R-Series loaders. This feature reduces material spillage and also increases operator comfort by offering a smoother ride.
One-piece cab
All R-Series machines come as standard with a fully enclosed one-piece deluxe cab with HVAC, a five-inch Deluxe Display, and an LED lighting system.
Available options are the Clear-Side cab, which has mesh-free side screens to aid visibility, a rear-view camera that connects to both the standard five-inch and the optional seven-inch touch display, as well as the Premium LED light package. The standard suspension seat can be replaced with a cloth heated air-ride seat option.
The new loaders feature a variety of performance, comfort, and visibility enhancements to help provide customers with increased productivity. As a result, many previous options are now built into the new R-Series loaders as standard features.
The standard controls on all the new R-Series loaders is the SJC system. Manual Hand and Foot controls are available as a no-cost option on the S66 and S76 skid-steer loaders.
Based on easy-to-use, low-effort joysticks, the SJC system provides the operator with Bobcat-exclusive features and fingertip switches. This automatically configures the loaders as tool carriers for working all day with the widest possible selection of Bobcat attachments, as well as providing increased operator comfort and unmatched joystick control of the loader itself.
John Chattaway, Bobcat loaders product manager, says: "Utilising decades of experience, Bobcat has always made the toughest market-leading loaders on the planet.
"This continues in the new R-Series loaders, which have been completely redesigned from the ground up with a focus on quality, reliability, durability, and first-class comfort. The new R-Series represents the next stage in the evolution of the compact equipment industry.
"The new R-Series loaders are also distinguished by a new naming system, which now uses two digits in the name rather than the three used in previous models. This also serves to separate the new R-Series loaders from our M-Series machines."
Bobcat enters European wheel loader market
In other news, Bobcat is spreading its wings and entering the European wheel loader market for compact wheel loaders and small articulated loaders.
To recap, the current Bobcat loader line-up in Europe is based on Skid-Steer Loaders (SSL), Compact Track Loaders (CTL), Mini-Track Loaders (MTL), and Telescopic Loaders (TL). Now, Bobcat is extending the range with Compact Wheel Loaders (CWLs) and Small Articulated Loaders (SALs).
Two new wheel loader models, the L65 and L85, have been designed and built by Bobcat at the company's campus in Dobris in the Czech Republic.
Bobcat CWLs are mainly aimed at the construction and rental markets but are also ideal for road work, snow removal, maintenance, and many other applications.
Find new and used machinery for sale in NZ
Keep up to date in the industry by signing up to Deals on Wheels' free newsletter or liking us on Facebook.