New release: Falcon incline screens range
---
MSC NZ have added the Falcon 1220 and Falcon 1320 finishing screens to its high-performing compact plant portfolio in New Zealand for 2021
The Falcon range of Incline Screens are versatile, robust, and designed for multiple industries, tackling everything from the toughest scalping applications to fine screening and stockpiling in self-contained units, the manufacturer says.
Both Falcon machines come with the T-Link telemetry system fitted as standard, providing the customer with real-time information on the performance of their machine for effective machine management and maximum uptime.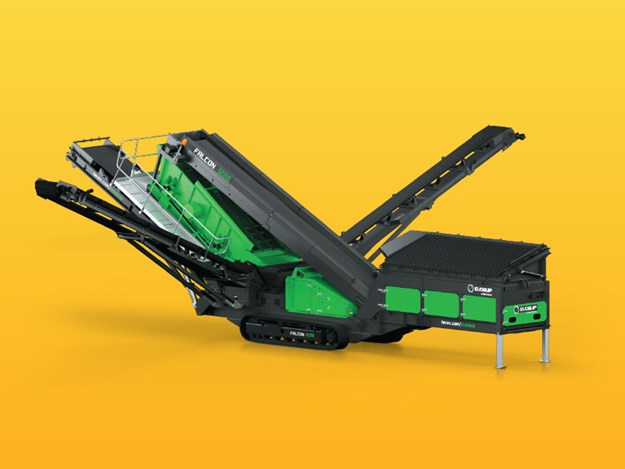 "Adding these highly aggressive finishing screens to our portfolio will enhance our product offerings," says Andy Meikle, MSC director.
"These ultra-efficient screening capacity screens are compact, easily transported in keeping with the EvoQuip ethos, yet offer operators the combination of scalping, screening, and stockpiling in one unit."
Dan Meikle, MSC operations manager, says: "The addition of the Falcon Series complements and significantly strengthens our existing product portfolio. These finishing screens will provide solutions to applications where retaining as many fines from a given material is of the utmost importance."
Falcon 1220
The Falcon 1220 Finishing screen is a compact, easily transportable machine that offers operators high productivity and efficient screening, MSC says. Its rugged design enables it to handle materials such as sand and gravel, crushed stone, coal, topsoil, and demolition waste.
The Falcon 1220 features a remote tipping reject grid, hydraulic screen tensioning of bottom deck mesh, and three on-board hydraulic folding conveyors as standard, plus the option to add a double-deck​​ vibrating grid.
Key features
Ultra-efficient screening capacities
Hydraulically adjustable screen angle
Combines scalping, screening, and stockpiling in one simple unit
Hydraulic tensioning of bottom deck
Ideal for urban use
Easy to transport
Technical specifications
Top deck: 3.66m x 1.53m
Bottom deck: 3m x 1.53m
Variable screen angle
8m3 hopper capacity
4.25m long tipping grid as standard
Up to 275tph
Wide conveyors: 1m wide main conveyor/1.2m wide fines conveyor/650mm wide mid-grade conveyor/650mm wide over-size conveyor
Falcon 1230
The Falcon 1230 Finishing screen is also a compact, easily transportable machine that offers operators rapid set-up and tear down times. The three-deck screenbox provides a large screening area of 15.7 square metres (170ft²) to provide efficient screening even at small fractions and high capacity.
The screenbox features quick wedge tensioning, access holes, and a bottom deck hydraulic tensioning system to reduce time required for mesh changes. All four discharge conveyors are adjustable and hydraulically fold for transport. The fourth product 'oversize' conveyor has variable tilt and side slew to accurately discharge material for recirculation and stockpiling.
Key features
Efficient classification of fines
Exceptional screen angle range
Versatile and configurable 3-deck screen
Achieve 4-sized products
Hydraulically adjustable screen angle
Oversize plus hydraulic folding and swivel
Technical specifications
Versatile and configurable 3-deck screen
3.66m x 1.52m top and middle deck screen
3m x 1.52m bottom deck screen
8m3 hopper capacity
4.25m long tipping grid as standard
Up to 300tph
Wide Conveyors: 1.2m wide fines conveyor/1m wide main conveyor/650mm wide mid-overs/650mm wide mid-fines/500mm wide oversize conveyor
For more information, contact 0800 MSC LTD or mobilescreening.co.nz
Find new and used machinery for sale in NZ
Keep up to date in the industry by signing up to Deals on Wheels' free newsletter or liking us on Facebook.