Cover story: Platform Basket RR14 EVO Rail Boom
---
The Monitor Platform Basket RR140 EVO Rail Boom Lift is the only EWP that's purpose-built for railway construction and maintenance
Auckland-based Rail Civil company Libbet Limited recently ordered five units from New Zealand distributor Youngman Richardson & Co Ltd (YRCO). The first of these has arrived in the country and is in the process of getting its 155 Health and Safety certification from KiwiRail.
"There are similar machines available worldwide, but most are based on an existing boom lift and need major modifications to bring them anywhere near the Platform Basket RR14 EVO Rail Boom Lift," says Libbet Limited's managing director, Wayne Edwards. "So special are these machines that only four or five will go to the Australasian market every year, which is why we have to order ahead of time to be certain of delivery."
Manufactured in Italy by Platform Basket, the RR14 EVO Rail Boom Lift has proven its worth in Europe for over 16 years and in Australia since 2012. It's hoped the new machines will gradually replace existing rail booms that are now coming to the end of their 10-year life span.
"Based on the greater efficiency of these machines and the prospect of long-term future work, we decided that purchasing these machines outright was a good investment. Added to that was the support of UDC Finance who without having seen anything like this in New Zealand before were still prepared to back us all the way," explains Wayne.
The future work that Wayne refers to is the ongoing development of the Auckland Metro City Rail Link from Britomart to Mount Eden, the electrification extension to Pukekohe, and the Westfield to Quay Park improvements, which will allow more frequent passenger and freight services. In the meantime, the first machine once certified will work on overhead line maintenance around the Auckland Metro area.
"Health and Safety has been a big factor in the purchase of the Platform Basket RR14 EVO Rail Boom Lifts, which is important when you consider the stringent industry requirements set by KiwiRail. Able to be converted to the New Zealand narrow-gauge rail, this machine has many safety features and back-up systems, which all adds up to a product whose performance is unmatched by anyone else," says Wayne.
This is not your ordinary modified boom lift
The RR14 EVO Rail Boom Lift that's designed specifically for rail comes with a wide range of features that provides fast and safe access for rail construction and maintenance crews. Designed from the ground up and unlike other modified machines, the RR14 EVO has features that among other things includes a unique self-levelling turret that ensure the boom and basket are kept level even when driving along sloping ground or rail, four-wheel steering, direct hydrostatic drive, a 400kg SWL (Safe Working Load), and an optional pantograph for measuring the height and stagger of overhead wires.
The self-levelling turret combines with its chassis design, giving an amazing horizontal reach of 9.3 metres when set up on rail. The turret automatically levels the boom on inclines of up to eight degrees and the oscillating axle ensures all four wheels maintain contact with the ground. Not only this but the RR14 EVO will also drive while elevated, greatly improving work efficiencies.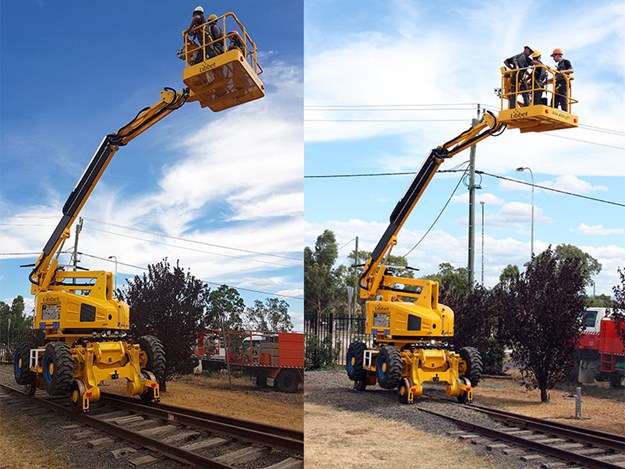 "The bigger Platform Basket capacity and the higher gauge clearing provides a more comfortable platform for the operators," says Wayne. "In our mind, one of the best features of the RR14 EVO is the basket that can hold up to three people and plenty of tools and materials with ease."
Safety has been considered the single most important factor in the RR14 EVO design. Every rail industry requirement has been thought of and catered for, with a back-up diesel engine for emergency retrieval, failsafe brakes, outreach and load control systems, automatic fire suppression to meet KiwiRail specifications, and directional LED lights as standard. Furthermore, optional extras include an on-board generator, work area lighting, rail equipment position indicators, and EDDs (Emergency Descent Device).
Libbet delivers positive results
Prior to moving to New Zealand 12 years ago, Wayne worked as a rail project manager in the UK. While working for Auckland-based Civil Engineering business J & R Contracting, Wayne established a Rail division, which he subsequently bought and renamed Libbet Limited.
Founded in 2015, Libbet Limited operates out of Auckland but services both the North and South Islands with clients that include local government organisations as well as other major owners of infrastructure assets. Libbet Limited has successfully delivered in excess of 500 projects across the rail, civil, and construction sectors.
"We pride ourselves in being able to work with industry leaders who are themselves working towards achieving the best possible outcomes with regards to customer service and safe workplaces," says Wayne.
"In this respect, Youngman Richardson & Co Ltd, who we have had a long working relationship from day one is just great to deal with. We've purchased several other products from them over the years and they have always been super helpful and responded well to all my quirky requests. I can't praise them highly enough."
At your service
YRCO has worked closely with Monitor Lifts in Australia since 2011 to distribute the Platform Basket range in New Zealand. Monitor Lifts support YRCO with technical support, parts, and workshop service training annually.
YRCO has always been committed to customer support and has the workshop facilities and a professional team of mobile mechanics to match.
Purpose-built mobile service utility vehicles based in Auckland, Wellington, and Christchurch have been specifically fitted out to handle planned and unplanned maintenance across all equipment. More efficient workplace layouts have been created to improve service times and the company's reputation for its fast turnaround of parts is second to none.
YRCO's new cloud-based product
YR Connect Asset Security & Service assists its customers with the servicing, maintenance, and security of its construction equipment assets, all from their mobile phones. This big step forward has not only added another level of service for the company but also furthered its reputation for outstanding customer support. 
For more information about the RR14 EVO Rail Boom Lift, contact YRCO: Auckland 09 443 2436, Wellington 04 212 2456, or for South Island enquiries, 03 341 6923.
Find new and used machinery for sale in NZ
Keep up to date in the industry by signing up to Deals on Wheels' free newsletter or liking us on Facebook.